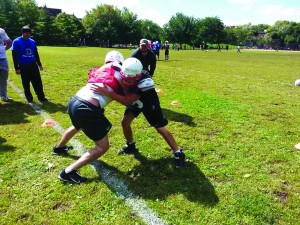 There's no denying the role football plays in the typical college experience. The tailgates, the allegiance, the pride and the bad decisions — it's all something to look forward to for most college students.
The Blue Demons haven't had the luxury of a football team — not in nearly 76 years.
That all changes on Sunday, Sept. 28, when DePaul's very own club football team takes the field against Loyola University at noon.
"We enter the year as confident as can be," said Devin Miller, a graduate student at DePaul. "We couldn't be more excited to bring football back to DePaul after all this time. We've got a great mix of veteran leadership and young talent that should bode well for us and bad for our opponents — starting with Loyola on the 28th."
The team enters its inaugural season under head coach Carlos Jones, who brings some legitimate gridiron experience as both a player and a coach.
Jones, a native of Dayton, Ohio, spent his playing days at Concordia University as a two-sport athlete while competing in both track and football before he made the permanent transition to the sidelines.
He spent his last seven years as a semi-pro assistant coach for both the ChiTown Blaze and the Chicago Force, the highest level of football for women in America. In addition, Jones has experience just up the road, serving as Loyola's club football assistant coach in 2012.
Jones will inherit a bevy of talent on both sides of the ball in his first year at the helm. Miller, a senior wideout, leads a talented group of big play receivers who plan to impose their will on defenses early and often. A physical and experienced group of receivers will take some of the pressure off the offense and sophomore quarterback.
On defense, the Blue Demons will throw an array of schemes and looks at opponents. They feature a good mix of speed and intelligence in the secondary led by twins Jake and Matt Jablanovec.
"They're both very flexible in terms of where they can play on the field," said Jones. "They're both very smart players who rely on their instincts. They play off of each other well and close windows particularly fast when the ball is in the air."
With football comes traditions. DePaul now has its own piece of  a cornerstone, and  they look for it to be a dominant one.
"We're looking to come out and win," said Jones. "We look at Loyola as a bigtime rivalry. 'The Redline Rivalry' is what I've been hearing. So we're looking to come out on the 28th and make a statement."
DePaul football's first game takes place in Wilmette at Loyola Academy High School. The game begins at noon and admission is free.