Trump free speech executive order complicates DePaul's history with controversial speakers
DePaul officials do not yet know how the university will be affected by a recent executive order from President Donald Trump.
Trump's order requires colleges and universities to "promote free and open debate" on their campuses.
Free speech at DePaul has long been controversial, with the university having a history of restricting speakers, signs and more allowed on campus. The university even received the Lifetime Censorship Award from the Foundation for Individual Rights in Education (FIRE) in 2016, and the same organization said in 2018 that DePaul might be among the worst universities for free speech, if not the worst.
Adam Steinbaugh, FIRE's director of the individual rights defense program, told The DePaulia that the university's handling of free speech issues over the past decade hasn't been great.
"It's difficult to gauge whether DePaul's commitment to freedom of expression is getting worse or getting better," he said in an email. "That's not great news, as the institution's response to controversy has been lackluster at best."
Among the most prominent examples of the university's struggle to handle controversial points of view is when the DePaul College Republicans brought conservative speaker Milo Yiannopoulos to campus in May 2016. The College Republicans chapter was required to pay for the security that the university required for the event to be held. After protesters disrupted that event, DePaul banned Yiannopoulos from rescheduling the event, citing safety concerns.
The university also responded by creating the Speech and Expression Advisory Committee, which advises the speaker review board on how to uphold the freedom of speech principles outlined in DePaul's "Guiding Principles for Free Speech and Expression" document.
That document states that DePaul aims "to provide a setting in which a broad and diverse range of ideas can be exchanged civilly and respectfully" and affirms "the right of individuals to express their viewpoints, even at the risk of controversy," among other points.
"When institutions allow students to invite and hear from speakers of their choice, they can't discriminate based on viewpoint," Steinbaugh said. "Giving a review board or the university's administration unfettered veto power is an invitation to viewpoint discrimination, which cannot be squared with any semblance of a commitment to freedom of expression."
Earlier in 2016, DePaul banned partisan chalking on campus after some students wrote pro-Trump messages on the Lincoln Park campus sidewalk with chalk. An email to students said the decision was because of the university's tax-exempt status, which does not allow DePaul to participate in political campaigns or support candidates for office.
"It's more likely that DePaul simply wanted to avoid potentially offensive chalking during a heated election season — to the detriment of students' civic engagement, which the university ought to be fostering rather than stifling," FIRE said in a statement in 2016.
It isn't yet clear if any of these instances will result in any consequences for DePaul under Trump's executive order.
"We are reviewing the recent federal administration's 'free inquiry' executive order," university spokeswoman Carol Hughes told the DePaulia in an email. "We cannot know the full effect of the order before it is implemented. However, at the point, we do not anticipate any changes to DePaul's current policy and practice."
Steinbaugh agreed that it's uncertain what changes, if any, DePaul or any other private university would be required to make.
"The order directs other agencies within the federal government to 'take appropriate steps' to further the order's goals, so it remains to be seen what steps those agencies will take," he said.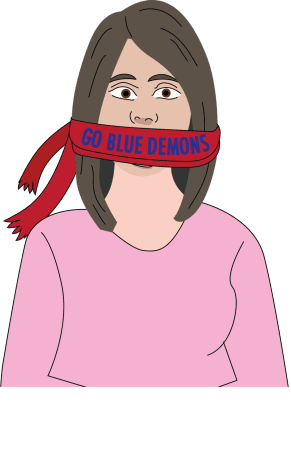 The executive order states that institutions of higher education should be "accountable for both student outcomes and for student outcomes on campus."
"Free inquiry is an essential feature of our nation's democracy, and it promotes learning, scientific discovery and economic prosperity," according to the order. "We must encourage institutions to appropriately account for this bedrock principle in their administration of student life and to avoid creating environments that stifle competing perspectives, thereby potentially impeding beneficial research and undermining learning."
Also mentioned in the executive order is a requirement for higher education institutions to be more transparent about salaries students are likely to make after graduating from their particular degree programs. It states that "too many programs of study fail to prepare students for success in today's job market."
FIRE said in a recent news release that although the organization will be watching to see if there will be unintended consequences from the order, it might also help prevent issues of campus censorship.
"To the extent that today's executive order asks colleges and universities to meet their existing legal obligations, it should be uncontroversial," FIRE said in the statement.