DePaul club hockey sweeps Illinois over weekend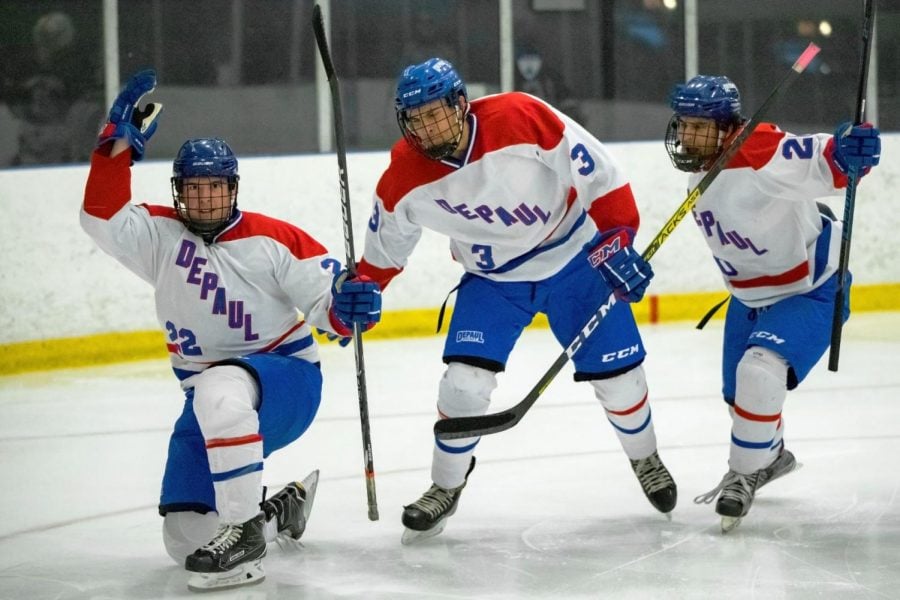 Before Friday's game at Johnny's Ice House West, head coach Danny Randall felt the energy in the locker room and said, "Smells like a win tonight, boys." Those same words were replicated during Saturday's game by defenseman Tyler Hanson, which propelled the Blue Demons over Illinois this past weekend.
After a rough start against Indiana and then Wisconsin, DePaul managed to find their groove and sweep the Fighting Illini.
"I think we're really growing as a team," forward Brock Ash said.
Friday's matchup was fueled by the frustration built up from the past two weekends. In the first period, Illinois opened the scoring halfway through the game; however, the Blue Demons later scored two goals from Ash and Jackson Leptich within the final two minutes of the period.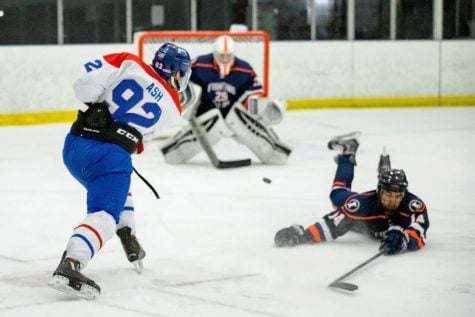 It didn't take long for the Blue Demons to expand on their 2-1 lead, as Connor McNally scored their third goal three minutes into the second period. Illinois was quick to respond with one of their own, but DePaul bounced back at the 12-minute mark from Ash again to make it 4-2.
The Fighting Illini didn't hold back, as they scored their third goal six minutes into the third. For more than 11 minutes, anxiety built throughout the rink as penalties continued to be called and more chances came from both sides. But the Blue Demons were able to seal the game with a fifth goal from forward Mike Helf to make it 5-3.
Helf led the night with a goal and two assists, Ash scored two goals, Brenton Wadsworth helped with two assists and goaltender AJ Grzbek stopped 52 of 55 shots for a .945 save percentage.
"We just kind of had fun with it," forward Ryan Hasty said. "We saw that they were losing their minds and we took a positive outlook at that."
Although Friday featured the team's first win, they didn't let it get to their heads as Saturday's game plan was to replicate and build upon what happened the night before.
DePaul came soaring out the gate in the first period, scoring three-straight goals from Konrad Wujkowski, Wadsworth and Chris Tran.
The second period saw no goals from the Blue Demons and two from the Fighting Illini. Those two goals by Illinois proved to be their only ones of the game as Helf scored a pair of goals in the third period to officially sweep them, 5-2.
"We had good puck movement, we got pucks deep and capitalized on their mistakes," Helf said. "I think rebounds and moving the puck, especially on the power play – that helped us a lot."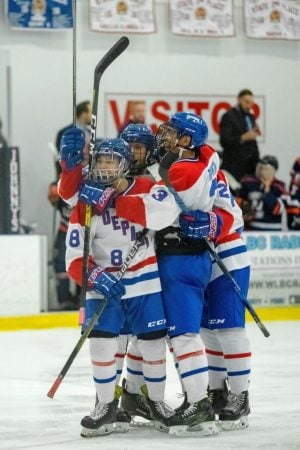 He led the scoring with two goals in the game, along with a goal and an assist from Wadsworth and two assists from Jack Hemmingway. Goaltender Rudy Hodgson stopped 42 of 44 shots for a .954 save percentage.
"Earlier in the season, we would have guys that would get chippy and take penalties – I think we've done a really good job of staying disciplined and that helped us with the win," Ash said.
DePaul's next pair of games will be played at Marquette University next Friday and Saturday, along with St. Norbert College the following week. The Blue Demons' next pair of home games are on Friday, Oct. 25 at 8:30 p.m. and Saturday, October 26 at 3:30 p.m. against Northern Michigan at Johnny's Ice House West.