Breaking barriers: Favianna Rodriguez sheds light on slut phobia, gender equality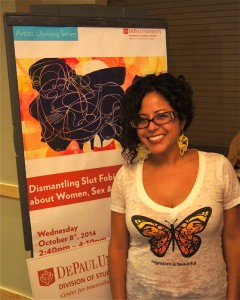 With her head barely peaking over the podium, Favianna Rodriguez waited eagerly for students and faculty to pile into the first floor of the Student Center on Thursday afternoon. She took the audience on a roller coaster of uncomfortable discussions surrounding topics of slut phobia, gender equality, immigration and climate change that are typically left unaddressed and hidden in the dark in today's culture. She attempted to shift these dialogues from being taboo toward a more open and comfortable interaction.
"Discomfort is a necessary part of my art," Rodriguez said. "To be honest, it's my objective because it forces people to talk about the things they don't want to address."
A native of Oakland, California, Rodriguez has traveled the world, leading workshops and discussions while using her different lines of artwork to convey her feelings about migration, global politics, social inequality, patriarchy and the power that art has to confront and combat these topics. She is dedicated to empowering women and people of color to transform the current sate of the nation.
Through using an informal approach to run her talks, the event morphed into more of an open dialogue, rather than somebody spewing facts and opinions onto an audience. As she smiled and stomped on stage with every word, audience members chimed in from time to time, creating a true communal feel that had almost everyone in attendance feeling comfortable.
"There's only one way to break the silence on these topics, and that's to talk about them in an authentic way to inform the uninformed," Rodriguez said.
Through growing up in the era of NAFTA and witnessing the contradiction between the decisions of those in power and the realities taking place on the ground firsthand, Rodriguez pledged to dismantle the negative representations of women and people of color who she saw growing up as a Latina.
"Why is it that women are constantly framed as somebody's property, as these docile little figures who don't have any power?" she said. "I've used my art to allow me to speak out against these issues and not have to be apologetic about it. It's a safe zone where I can showcase my power."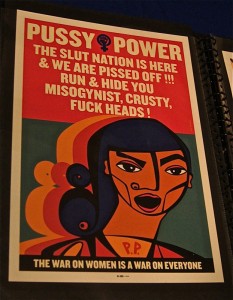 In creating her own identity as a Latina, Rodriguez coined the formerly derogatory terms of "slut" and "pussy" and has redefined them to fuel her campaign titled Pussy Power. The campaign is designed to provide women with a feeling of power and control over their bodies, and how they choose to use them.
Along with this project, Rodriguez is constantly creating art, along with different T-shirts and posters, which convey her views as loudly and as passionately as she did in person. Throughout this process, the Monarch butterfly emerged as an overreaching symbol for her work consistently featured in her designs on immigration and women's rights.
"Twenty-two percent of deported parents have an American child, and the Monarch butterfly is the longest-migrating insect in the world which is why I wanted to use it to symbolize the true beauty in migration, whether it be with people or insects," Rodriguez said.
With only a handful of unoccupied seats sparsely scattered across the room, those in attendance erupted into a loud round of applause after Rodriguez finished up her speech that followed with a Q&A segment.
Ana Karen is a California native who previously knew of Rodriguez's work. She's now working for a nonprofit organization in Chicago, and said Rodriguez's work is inspiring.
"Favianna makes me feel right at home, and it's always so refreshing to see her speak to such large crowds," Karen said. "These are very taboo topics that don't get addressed all that often, so it's nice to hear somebody who feels comfortable sharing their own personal stories to shed a different, much needed, light on these things."
And Rodriguez was nothing short of upfront when it came to her personal connections to these topics. From details on her love life, her emotional journey after having an abortion,, and discovering her body and who she was, Rodriguez left a piece of herself at DePaul.
"Pleasure is a beautiful thing, and my body never ceases to amaze me, I continue to learn new things about myself every day," Rodriguez said. "I just want women to feel empowered and comfortable with being who they want to be, and not someone society tells them they should be."