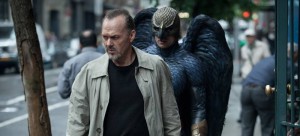 After directing critically acclaimed dramas such as  "Babel" and "Biutiful," Mexican filmmaker, Alejandro G. Iñárritu, has created his first black comedy, "Birdman or (The Unexpected Virtue of Ignorance)." Starring Michael Keaton as a washed-up actor, Riggan Thompson, who decides to write, direct and star in a Broadway play, and starts to have a mental breakdown. During a conference call, Iñárritu spoke about his inspirations and the illusion of superhero movies.  "Birdman" opens Friday, Oct. 24.
The DePaulia:  How did you communicate to your cast the complex tone you wanted to portray?
Alejandro G. Iñárritu: I think every scene has an objective and every character has something that they want to achieve in each scene; and then there are ways I will say get that done, the ways to get what they wish can be different every time.  But when you have cleared your objective, and try one or two possible ways to get that objective done through an action verb, I think that simplifies and clarifies the work not only for me, but for everybody and obviously the cast.
DP: What were some of the challenges you and the cast and crew experienced in regards to blocking and shooting?
AI: Basically, it was a very short shooting.  It was 29 days, so it was a very, very, very fast shooting, very effective.  We rehearsed a lot before arriving on the set, and basically it was a very intense and meticulous work of precision. The actors, cameras and the crew and everything were designed to match the needs of the film that was pre-decided in rehearsal.
DP: In real life Keaton is overshadowed by his 1990 portrayal in Tim Burton's "Batman." Was that an intentional casting decision that you made and, if so, why? 
AI: He is one of the few persons that have worn that cape and he is a pioneer of that superhero thing, but at the same time, he has the craft and the range to play in dramas and comedies, where very few actors in the world can do that.  He played a prick in this film and I needed somebody who was adorable, somebody who you could really like and he has that likeness and that lightness that was required.
DP: What kinds of influences did you take from real stage plays, maybe in the production or maybe in your vision for the final product?
AI: I think I wanted to escape from the conventional theater, because I thought that Riggan Thompson would be trying to do something very pretentious and very ambitious, in a way. At the same time I wanted something very cinematic, so none of the types of plays that I had seen recently really matched with the idea of reproducing. Raymond Carver is very realistic, and so there's a part of that, but then there's a part of madness in it.  So I will say that the wrong choices were made deliberately to obviously show how wrong everything would be going.
DP:  Were there any cultural critiques about our cinematic tendency as a society to categorize our idols and superheroes on the screen
AI: There's a bunch of films that don't mean anything; they are not about nothing, but they are just full of explosions and special effects and the superhero in a way is an illusion that doesn't exist. They are really tied to that, and corporations and hedge funds want to make money and squeeze money out of those things that are in a way poisoning the cinema as a possibility for human expression.  So yes, there's a view of that with the sense of humor and the celebrity kind of disease that our society now has with the social media.  The need of validation and all those things were explored deliberately and, again, approaching it with humor and the expectation to laugh about it, because they are tragic, but at the same time they can be really fun.
DP:  After filming several dramas, what made you want to pursue a movie with comedic elements, and why do you think those touches of humor were a good fit for "Birdman?"
AI: I think the comedy, more than anything was the same source and the same theme regarding the meaning of life, and it's a painful kind of thing. But I wanted to approach it in a lighter way because it would be unbearable to do a film about that and not have a sense of humor because it can be painful. But I think with a sense of humor it becomes a much more attractive thing to be explored and observed.  After having made so many dramas, I needed a vacation and I wanted to add some sugar to the plate, and I really enjoyed it. It was the first time that I laughed in a set, so that was great.