Brain tumor keeps Karen Lewis from Chicago mayor's race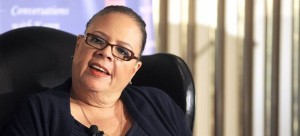 Chicago Teachers Union President Karen Lewis ruled out a mayoral run last week after she underwent emergency surgery, leaving the city's progressive community without a standard bearer to go up against Mayor Rahm Emanuel in the February election.
"Karen Lewis has decided  to not pursue a mayoral bid," Jay Travis, coordinator for the Karen Lewis Exploratory Committee ,said in an email to supporters. "Yet she charges us to continue fighting for strong schools, safe neighborhoods, and good jobs in every community."
Lewis, by all indications, was ready to jump into the race until she checked into a hospital Oct. 5 after experiencing discomfort. Sources told the Chicago Sun-Times' Michael Sneed that the feisty union leader had a cancerous brain tumor that required major surgery immediately.
Friends and enemies of Lewis alike wished her a speedy recovery, including her biggest antagonist, Emanuel.
In a statement, the mayor said, "Karen Lewis is a passionate advocate for her beliefs and has always been willing to speak up for her view of what's best — not only for the teachers that she represents, but also for issues critical to the future of our city. Along with all Chicagoans, we will keep Karen and her family in our thoughts and prayers, and we hope to see her on her feet very soon."
While she was released from the hospital last week, a mayoral candidacy is out of the cards, which has left many of Lewis' supporters understandably disappointed.
"When I think of Karen Lewis, I think of the word advocacy,"  said Nassir Faulkner, vice president of the DePaul College Democrats. "Time and time again Karen Lewis has fought for those in Chicago whose voices have gone unheard."
In 2012, Lewis led the teachers on their first strike in nearly 25 years, and became the mayor's most vocal critic of the mass school closings largely in minority neighborhoods on the South and West sides. She openly derided Emanuel as the 'murder mayor'.
"Education is clearly the issue she is most passionate about, and I think she has done great work in protecting our local public schools and the hardworking public school teachers," Faulkner said. "As a student of public schools my whole life up until now, I know the struggles that schools go through in terms of funding, and Karen Lewis has fought for public school funding tirelessly."
Her decision has left Ald. Bob Fioretti (2nd Ward), one of the Emanuel's few enemies on the city council, as the only major challenger to the mayor. Many have doubts, however, that Fioretti can compete with Emanuel given his lack of money, name recognition and charisma.
"I do think Karen Lewis could have beaten the mayor. We have seen over the past few years a long list of progressive candidates win mayoral elections in big cities." Faulkner said. "Those who feel disenfranchised since the mayor's term began would find that Karen Lewis is the progressive that this city is desperately seeking."
"On Bob Fioretti, I'm not sure if he could beat the mayor," he said. "This isn't to say that he isn't right on policy, it's just that the people of the city have no idea who he is."
In Chicago, a mayoral candidate must receive over 50 percent of the vote in order to avoid a runoff. Some observers believed that there was a chance that a Fioretti-Lewis tag team could have held the mayor under that threshold. Now, that is looking quite unlikely.
However, progressives are still trying to organize under the principles that Lewis advocated for.
"Together, we are changing the political landscape," Travis said. "We must hold our public officials—on every level—accountable for their track records on school closings, unemployment, violence and nickel-and-diming working families."