From a family of athletes, Derrick Wood is ready for DePaul men's basketball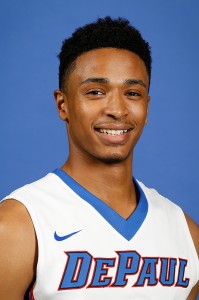 By the time Darrick Wood committed to DePaul in April, Wood didn't need any more selling from the program. From the instant he visited the Chicago campus, his roots with assistant head coach Renard Phillips and the connection with his soon-to-be teammates already made DePaul feel like home.
"I feel like if I went anywhere else, I wouldn't  be in as close of a family situation with my coaches and teammates," Wood said. "I felt like I could fit right in. When I came here on my visit, everyone wasn't uptight. It was like they already knew me. I felt like I was already here."
Wood, a 6-foot-5 guard, was the fourth player to transfer to DePaul for this upcoming season. Unlike his teammates Myke Henry, Rashaun Stimage, Aaron Simpson, Wood will have three years of eligibility due to having only played at a junior college for one season.
With the season approaching, Wood, who was ranked as a three-star recruit out of high school, said he is excited to prove his worth as a crafty, combo-guard. So far in practice, knee tendonitis has hindered his schedule, which has required him to miss portions on and off. 
But he and the rest of his teammates are eager to reverse DePaul's history of losing seasons.
"We're working hard," Wood said. "I see it in their eyes — we're tired of losing.  When we're practicing, I'll be out there and see it in their eyes. They're looking at me with a fire in their eyes. We're tired of losing."
From Alexandria, Virginia, Wood's parents were both athletes with his father playing basketball and his mother being a track athlete. Wood said his father, Darrick Sr., and his mother, Jerri, helped him instill a competitive drive in Wood.  Wood went on to play high school basketball in Maine where Phillips coached him.
In his only season at Hutchinson Community College in Kansas, Wood averaged 13.6 points per game, 3.7 rebounds and 2.7 assists per game. As a player who can play either at shooting guard or even point guard, Wood's length allows him to be potentially dynamic.
DePaul head coach Oliver Purnell said he  liked what he saw in Saturday's scrimmage from Wood.
"He showed in a scrimmage setting, he can be effective," Purnell said. " He has some things to work on, but clearly he's talented. We saw Darrick handle the ball pretty decently today, which is encouraging."
There was a period where Wood wasn't a Blue Demon. Coming out of high school, Wood originally committed to St. John's in New York. Wood, however, de-committed from the school, noting that it had nothing to do with the coaches, but he said that it wasn't the right fit.
In fact, around that time Wood knew nothing of DePaul.
"I'll be honest. I really didn't know anything about DePaul before the coaches got here," Wood said. "I honestly would have never seen myself here. But when Billy (Garrett Jr.) came here, it really changed everything."
Wood and Garrett are familiar with each other because of their experiences on the AAU circuit, and it's a pairing that Wood is looking forward to. When Wood committed to DePaul, Garrett tweeted that "DePaul fans are in for a pleasant surprise next year."
Wood isn't sure he'll be in the starting lineup next to Garrett, but said that he would like to be one of the five called upon in the final five minutes of a close game. He also gave the standard answer of just doing what he can to help the team win.
Even then, Wood isn't sure that his game will end up being a surprise to people by the end of the season.
"I'm new to the NCAA and all that, but I feel like once I come and put in hard work, everything will be fine," Wood said.