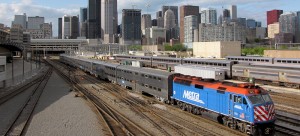 DePaul students who use Metra should expect to pony up as the commuter transit agency announced that it will increase its fares by an average of 10.8 percent as early as this February.
The transit service based this proposal off plans to modernize, as well as cover its traditional business needs. The fare increase will specifically be covering a debt service that will help fund the modernization plan, estimated to be worth $2.4 billion.
"(It is a) plan in which we announced to try and fund two of our priorities; one is to pay for a safety system called Positive Train Control that we're required to put on our trains by the Federal Government," Michael Gillis, a Metra spokesman, said. "The other component is to buy new cars and locomotives."
According to the Association of American Railroads, PTC is a highly advanced set of technologies designed to stop or slow down trains to prevent certain accidents, such as collisions between trains and excessive speed that causes derailment.
Over the next decade, Metra will issue bonds four times, worth $100 million each, to help cover the total estimate. The fare increase should offset this number, according to the commuter service. About another $700 million would be received from the Federal Government, also over the next decade, through an allotment for which they are granted every year. The other $1.1 billion is currently up in the air, as the agency is aggressively looking for other financial sources. 
"Such things are unnecessary," Raeanne Radusewicz, a DePaul senior, said. "I do not think they have student commuters in mind with this increase."
Metra will bring back the one-day grace period for monthly passes, in which the first day of every month will still accept the previous month's pass. Though these fares are still expected to increase anywhere between 10.9 and 18.6 percent, depending on one's zone.
For Radusewicz, this means having to dedicate more money from her student loans to her transportation costs. And that's only if she has any left over after book expenses. She takes the train five days per week just to attend class.
"I may have to start commuting via Pace and CTA," she said. "Seeing as this expense is paid for by my tuition and is much cheaper."
Radusewicz is not alone with this issue as commuters make up a majority of the university's student population, with many requiring Metra's services.
"I take the train every Tuesday and Thursday," sophomore Alexis Rocha said. "The reason why I fit four classes in one day is because I commute to school, and in order to save money, I want to limit the amount of times I ride the train."
Still, Rocha believes Metra is only acting in accordance to the best interests as a business.
"It's not Metra's responsibility to accommodate to my budget needs," she said. "I understand Metra is a business, but I do wish they would be a little bit more considerate (of student commuters)."
She does admit she's unsure of how she will be paying for this increase, but is determined to make it work.
Metra's board members will come together on Nov. 15 to make a final vote on the decision.