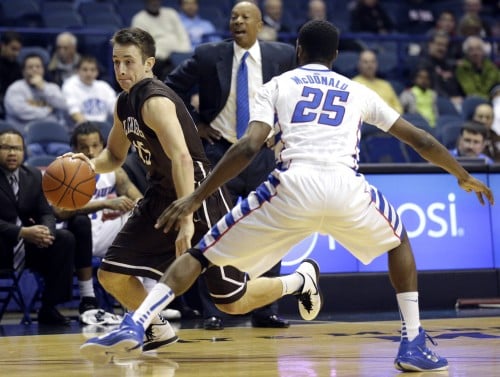 A sloppy start from DePaul men's basketball proved to be costly as they would fall to Lehigh University, 86-74 for the team's first loss of the season.
The Blue Demons, who hadn't played since last Monday due to finals, looked out of sync early, settling for perimeter jumpers rather than establishing some presence in the painted area.
The Mountain Hawks (1-4), would take advantage of DePaul's miscues and jump out to a 19-7 lead seven minutes into the game, forcing the team to play from behind for the duration of the game.
The three-point shot was the difference in the first half, as Lehigh hit seven of their first 11 field goals from beyond the arc.
Despite Lehigh's 1-4 record, The Mountain Hawks played competitive games to start the season, including a tough battle with top-ranked Villanova.
Their 0-13 performance from the field against Columbia on Sunday wasn't fooling head coach Oliver Purnell, who was aware of Lehigh's shooters coming into Wednesday night's contest.
"They out played us in the first half with energy and effort, which led to open shots," Purnell said.
"We allowed them to get comfortable, they showed some mental toughness that we didn't in the first half. We played the second half that we needed to play overall, we just couldn't come up with enough stops to go."
If not for junior Myke Henry's hot hand, the 11-point halftime deficit could've been much larger.
Henry scored a career high 24 points on 9-16 shooting. He also snatched 10 rebounds and recorded the team's first double-double of the season.
"It was okay," Henry answered when asked how he felt about his individual performance.
"It's just disappointing to lose to be honest with you, I'm not even thinking about it much. I'm only focused on how we can get better on the defensive end."
Lehigh shot a whopping 56.9 percent from the field, while showing some overall team depth — with their bench players outscoring DePaul's reserves 32-10.
Sophomore Billy Garrett struggled to find a rhythm throughout the night, finishing 2-11 from the field.
For Lehigh, sophomore center Tim Kempton controlled the paint for the duration of the game, and senior guard Corey Schaefer set the tempo offensively for Lehigh with 17 points. He would add five rebounds and five assists.
For DePaul, sophomore Tommy Hamilton continued his consistent play with 12 points on 4-9 shooting while corralling six rebounds.
DePaul (2-1) will look to turn the page quickly as Stanford visits the Allstate Arena on Sunday.