How to have a Vincentian winter break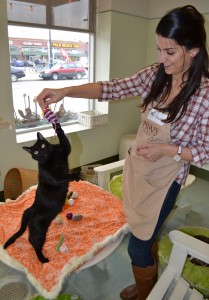 Ah, winter break. Yes, with fall classes finally coming to a close and the weather slowly inching closer to becoming a snowy mess, it's easy to fall into the temptation of bunkering down in your apartment to binge on Netflix and keep warm. But what if there was a positive, productive way to use your time over break ‒ a Vincentian way to give back and serve the community.
Among other things, DePaul University is dedicated to ensuring that all students embody the Vincentian values that the school was funded on; teaching, research and public service. The Lincoln Park community provides a plethora of options for students to easily get involved with over break that allow for experiences in service learning and serving other individuals in the area. And you don't even have to look far.
Right on DePaul's campus is the St. Vincent de Paul Parish where volunteers have dedicated their time over the years to create a unique atmosphere for those in need. Instead of cramming yourself with food over the course of break, consider the parish that counts solely on volunteers to help maintain their food pantry that occurs once a week as well as their sandwich kitchen that runs Monday through Saturday to provide those in need with food.
"All of our food services are entirely dependent on volunteers," Matthew Hannau, desk receptionist at the parish, said. "I would say that most all of our volunteers are DePaul students, it's an easy way to get involved right on campus."
In a similar light, the Lincoln Park Community Shelter focuses its attention on bringing communities together to empower homeless individuals to make and sustain life changes. Through removing barriers and leading their members in a positive direction, the shelter relies on a large volunteer base to maintain their expectations. As homelessness continues to persist in Chicago, the shelter strives for accountability and determination to provide its members with a constructive space to function in.
Volunteers are given the opportunity to perform a wide variety of tasks from watching the shelter throughout the overnight hours, prepping and serving meals, leading classes on personal and social skills as well as being someone for the members to speak to.
"We have a huge volunteer base that helps us out here, we wouldn't survive without them," Shannon Campbell, interim housing coordinator, said. "We offer a place for the homeless to focus on their needs and goals in hopes of bettering their lives."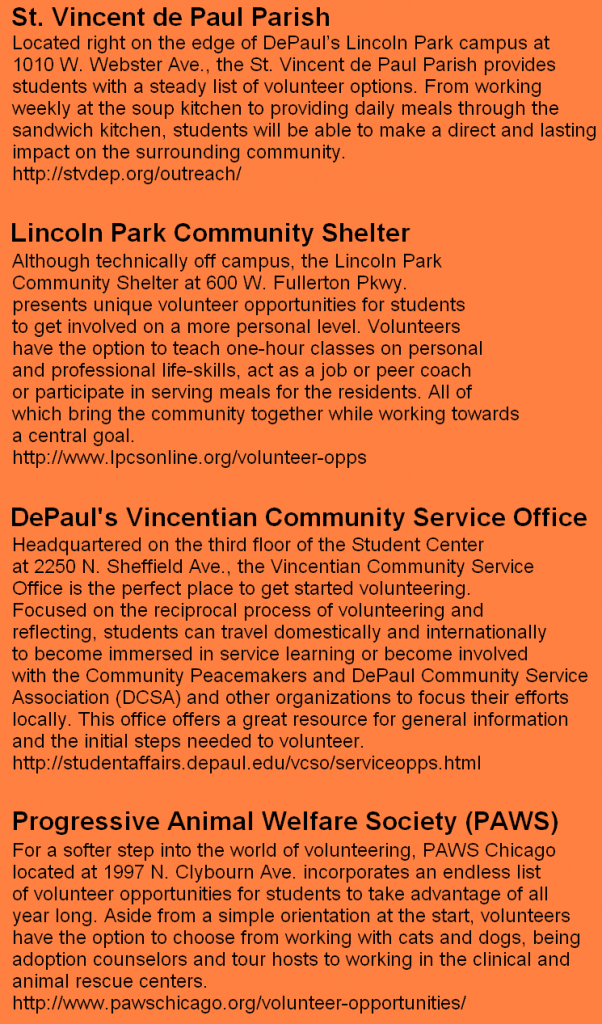 Still not enough to get you out of bed, then DePaul's Vincentian Community Service Office might be better suited for you. Committed to empowering students to promote the human dignity of all people through education and building relationships, a variety of service opportunities are available for students to take advantage of throughout the school year and break.
From intensive, weeklong service immersion trips throughout winter or spring break in various global destinations to volunteering at diverse community service sites around Chicago, students are presented with countless options. Jake Wild Crea, a senior peace studies major at DePaul, has organized a group of students through this office to travel to Bogota, Colombia, over winter break to display and experience DePaul's Vincentian values.
"St. Vincent's philosophy focused on the 'go' and 'then' parts of service," Wild Crea said. "Go experience and walk with different people through awareness, dialogue and solidarity. Then come back and do something about it."
You might be asking yourself if there are other ways to volunteer around campus that don't seem as intense, and there are. PAWS, the Progressive Animal Welfare Society, offers students many volunteer options all year long, with several furry friends anxiously waiting. PAWS is dedicated to saving thousands of homeless animals each year and providing them with the services needed to regain their health and well-being.
"A dedicated team of volunteers plays an invaluable role in every aspect of PAWS Chicago," Sarah Ahlberg, PAWS Chicago spokesperson, said. "Saving lives truly is a community effort, without the impassioned volunteer labor force, PAWS simply couldn't do it."
Whether it is fully immersing yourself into a community of people you know nothing about, helping those in need by making meals and lending out a hand at the soup kitchen or just providing care and comfort for a homeless feline, the Lincoln Park community has an assortment of ways to get involved this winter break.
So before you dive into bed and write off any sort of physical activity for the six weeks students have off from classes, take a look around the community and find a home for the volunteer that resides in all of us. Put the Vincentian values DePaul has worked to instill on full display, the opportunities are endless.