The Society of Hispanic Professional Engineers (SHPE) restarted its DePaul chapter after being dissolved in 2018. SHPE seeks to empower the Hispanic community through access and guidance in STEM.
On a national level, SHPE has over 13,000 members and 286 student and professional chapters. DePaul's chapter now has 18 official members. 
SHPE promotes a vision where "Hispanics are highly valued and influential as the leading innovators, scientists, mathematicians and engineers," according to their official mission. 
The term Hispanic refers to anyone from a Spanish-speaking country, whereas the term Latino refers specifically to those from Latin American countries. 
President Samuel Saldaña and vice president Giana Aguilar-Valencia lead DePaul's SHPE chapter. Both are trying to promote the benefits and resources that joining SHPE offers for members. 
"We're trying to bolster the Hispanic community," Saldaña said. 
Community building is at the core of SHPE's mission, and DePaul's chapter offers guidance and mentorship to students who may not have had those resources in the past.
SHPE is aligned closely with the high enrollment trends in the College of Computing and Digital Media (CDM)  at DePaul, as both Saldaña and Aguilar-Valencia are involved in computer science programs. 
DePaul has yet to establish an official engineering program and major. 
DePaul's enrollment summary ranks CDM as the department with the highest level of enrollment, with 3,673 students in 2022.
Along with bi-weekly chapter meetings at DePaul, SHPE offers the opportunity to attend an annual national convention, being held this year in Salt Lake City, Utah. 
The convention allows members to attend workshops and network through job interviews and possible hiring opportunities with participating companies. 
Gina Gomez, treasurer of DePaul's SHPE chapter, explains how companies such as Bank of America, EcoLab and Goldman Sachs are among the various corporations that reached out for interviews through the convention.
"Even if you don't plan on actually working for these companies, it's great interview practice," Gomez said.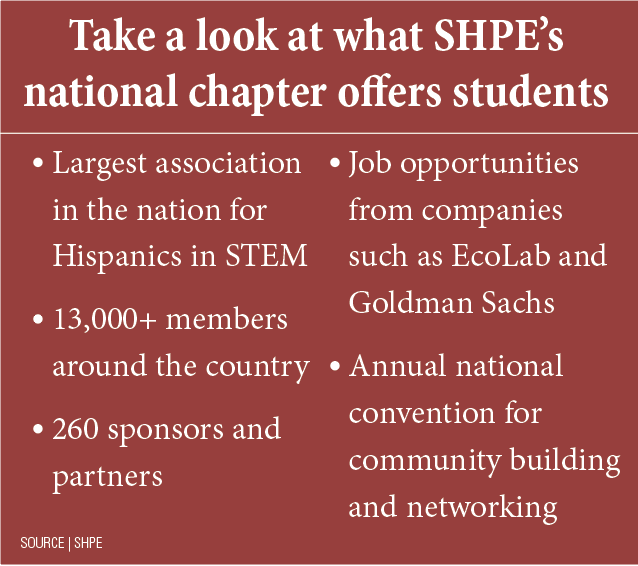 Saldaña points to the convention's appeal, but identifies funding concerns from the university about attending this year's rendition in November.
"We have limited funding so we're trying to have more fundraising opportunities with local businesses, or anything else we can do so we can bring more people to the convention," Saldaña said. "Thankfully, we've had a rise in interest [and] we want that to keep increasing."
DePaul's SHPE board also says that students don't have to be Latino to participate in the organization. Nevertheless, the chapter's main goal remains to advance the Latino presence in STEM.
"This entire summer we have been working together to get more members involved and get our chapter out there at DePaul," Aguilar-Valencia said. "I know we have a good population of Latino students at DePaul."
 DePaul's official mission characterizes the university as an emerging Hispanic Serving Institution and formed a task force to better serve Latino students.
To be officially granted the title of a Hispanic Serving Institution (HSI), DePaul must reach an enrollment of 25 percent Hispanic undergraduate full-time students. 
DePaul's enrollment summary shows 4,107 Hispanic/Latino undergraduate students enrolled in 2022, equating to 23%.
 Still, the university has yet to announce if DePaul has met the threshold to establish itself as an HSI officially. 
The university identified establishing itself as an HSI as a primary goal in Designing DePaul. 
Saldaña said he is also trying to offer guidance in financial literacy for his peers in SHPE, such as paying taxes on time or setting up a 401K for themselves or for their parents, "that a lot of people have no idea about, rightfully so."
SHPE seeks to work with high schools in the Chicagoland area to set up a mentorship program in hopes of exposing more students to the world of STEM at a younger age.
"We're really trying to push STEM into younger Hispanics," Saldaña said. "When I was in high school I didn't think about computer science, I wish I did," Saldaña says. 
Saldaña and Aguilar-Valencia emphasize the community that SHPE brings through mentorship, guidance and access to job opportunities and scholarships, and seek more prospective members to bring recognition to DePaul's chapter.
"We've been working together to get more members involved and get our chapter out there," Aguilar-Valencia said