Forrest Robinson scores 20 points as DePaul upsets Creighton 70-60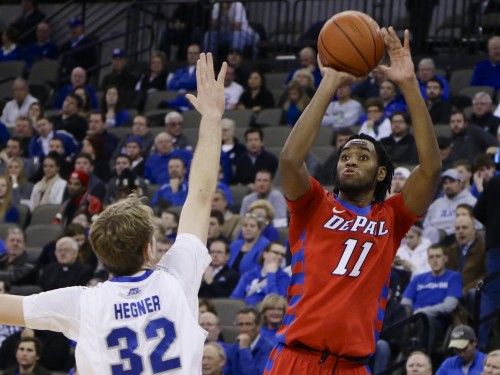 The day before DePaul men's basketball's game at Creighton, forward Forrest Robinson said to have success on the road, the team would have to focus. The Blue Demons, who were 1-7 on the road, were going into a stadium that averaged 17,000 people and were facing a Creighton team that was 7-1 at home.
"We really have to come together in a tough environment like that," Robinson said. "We need to not get outside of ourselves. We know that it's just us —us against everybody."
Robinson and the rest of the team bought in. Robinson scored a career-high 20 points and the Blue Demons marched out of Omaha Wednesday with a 70-60 win over the Bluejays.
Even more amazing, DePaul (9-7, 3-0 Big East) took sole possession of first place in the Big East conference in what was easily the most impressive performance of the season.
"Our shooting early really gave us a boost and helped us," DePaul head coach Oliver Purnell said. "I thought it was a combination of our shooting early, which is a luxury, and us denying their 3-point shooting.  … I give our team credit for recognizing Creighton would make a run. Our guys knew it was coming, and they didn't get rattled. That's probably the most important thing."
Slow starts had previously been a main deterrent to the Blue Demons on the road. But this time, it was DePaul who raced out of the gate.
Robinson lit up the Bluejays (9-7, 0-3) from beyond the arc, making five 3-pointers in the first five minutes — four of which opened the ballgame. Robinson's 15 points shot DePaul out to a 20-5 lead with 14:24 remaining.
Robinson, who has started the last three games in place of forward Tommy Hamilton, finished with another career-high. His previous high was 17 points, which game against Xavier on Saturday.
The Blue Demons shot 50 percent from three (11-22) and 43 percent overall. DePaul's strong start led the Bluejays to try and play catch up all game, and the Blue Demons went into the locker room with a 39-25 lead at the half.
In the second half, Creighton made multiple pushes to cut into DePaul's lead. The Bluejays relied heavily on their 3-point offense to 66-60 with two minutes left. Creighton trailed in the second half by as many as 17.
However, the Blue Demons again closed out a close game for the third consecutive time thanks to free throws down the stretch. They went 4-6 in the final two minutes from the line, finishing the game 15-20. Heading into the game, DePaul were second in the Big East in free throw percentage at 74.5 percent.
DePaul executed a brilliant game plan from Purnell, who said Tuesday that they had to limit Creighton's 3-pointers and close out on shooters in the corner. Creighton leads the Big East in 3-point attempts per game, but DePaul's defense held the Bluejays to 35.7 percent (10-28) from deep.
The Bluejays shot only 35 percent the whole game, and dropped their fourth game in a row — something they haven't done since the 1999-00 season. Creighton forward Toby Hegner led his team with 15 points.
Meanwhile, the Blue Demons moved to 3-0 for the first time ever in the Big East. The last time they opened a season with three straight wins in conference play was the 1993-94 season. DePaul has already matched their conference wins from a year ago as well.
"It's early, but I'm just real happy our team is getting better," Purnell said. "After each timeout, our guys are getting better and better. I think it's a result of hard work in practice, us staying together and believing in what we're doing."
DePaul forward Myke Henry added 11 points while forward Jamee Crockett and guard Billy Garrett Jr. each had nine.
DePaul next faces their biggest test of the season Saturday at 3 p.m. when they take on No. 8 Villanova (14-1, 2-1). The Wildcats took both meetings last year, winning by a combined 51 points.
"It's coming at the right time for us," Purnell said. "We've won three in a row and now gone on the road and won. This is a high-caliber team there's no question about it. It's coming at the right time to give us a gauge. We're going in to the game with the mindset like we can win, just like we did here if we can do certain things."