The hole truth: Artisan doughnuts take over Chicago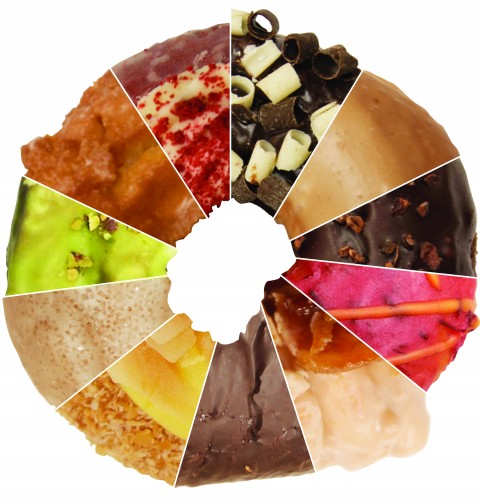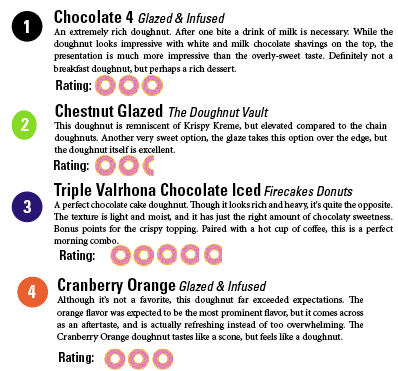 In a city like Chicago, where trends start, are improved upon then often perfected, it was only a matter of time before many would compete for top doughnut in the city.
Artisan shops have popped up everywhere.
Courtney Hicks, a 25-year-old law student from Bartlett is one of the city's many residents who has been haunting these bakeries.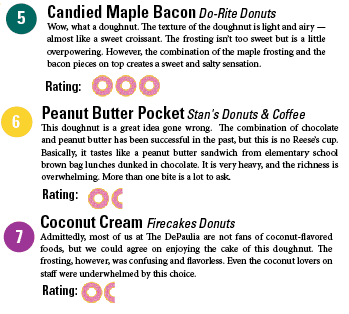 Hicks, who spends most of her days in the Loop, is no stranger to the blossoming bunch of "designer bakeries" as she calls them.
"These doughnuts at Firecakes (Donuts) are not of this world, and will surpass any expectation you walk in there with," she said.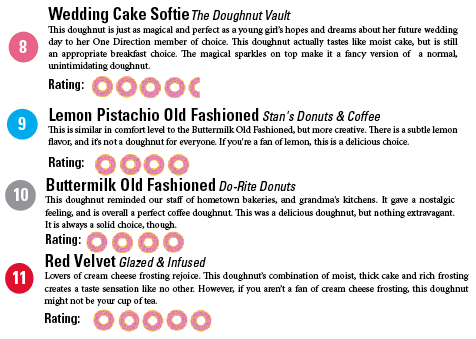 Equating a long-time American comfort food to an extraterrestrial experience is a stretch, but at times, food can have that affect on us. It's that unexplainable euphoric sense you feel when your taste buds reach ultimate satisfaction. That feeling can be tough to match and even harder to explain.
Innovative food and cutting-edge culture is nothing new to Chicagoans. We've been spoiled with incredible chefs who understand what quality means to foodies in this town. However, we've been deprived of a real boutique-type bakery for the better part of the urban existence.
The Doughnut Vault elevated the bakery playing field when it opened in 2011. And it's crashing a doughnut wave into a city that was apparently longing for it.
The Doughnut Vault, located in River North at 401 N. Franklin St., just north of the Merchandise Mart, will celebrate its four-year anniversary in April.
In that four-year period, the company has developed an outrageous following around the city that includes patrons lining up around 7 a.m. every morning. They even have a vintage food truck that travels around the city selling doughnuts from early morning through late evening.
The Doughnut Vault is a different kind of establishment. You won't find any set hours here — once the doughnuts are gone, they simply close, which could be at noon, 3 or even 7 p.m.
Owner Brendan Sodikoff, who also owns Gilt Bar just around the corner on West Kedzie Avenue, has relied on the highest quality ingredients for each doughnut made. No icing is left until texture and sweetness have reached their highest potential. No handspun doughnut is fried until the oil temperatures are just right.
These aren't your shabby glazed doughnuts, either.
Sure, a variation of the standard classic exists. It's hardly standard however, as vanilla and hazelnut flavors play a starring role in the glaze.
It's the minor details that have raised the doughnut standard in this city, and what we have seen play out is a battle for pastry supremacy — a struggle that the public will put up with any day of the week.
Glazed and Infused, a modern coffee house with outrageous flavor options, opened up multiple locations, with the most recent being in River North, as well.
Hot Chocolate Snowball and Cranberry Orange are a few of the heavy-hitting flavor favorites.
Doughnuts have been heating up so quickly that a major national player has stepped up to dunk their classic pastry in Chicago's proverbial cup of joe.
Stan's Donuts and Coffee, originally from Los Angeles, opened in Wicker Park in October 2013, and has put pressure on Glazed and Infused and The Doughnut Vault.
"Stan's is an institution," P.J. Muck, a resident in Wicker Park who's been to an original Stan's in Southern California, said. "They've been there since the '60s, and when I was younger visiting family in that area, we always had doughnuts. We've been seeing a lot more options around here lately, and it's been fun seeing different shops push the limits a little."
Pushing the public to the brink of doughnut insanity comes in the form of a Maple Glazed Pineapple and Bacon doughnut that you can find at the aforementioned Firecakes. Don't be timid, it plays nice.
With all these different establishments looking to capture our cold-blooded demographic with warm, unique sinfully sweet doughnuts, you're inclined to ask what sets them apart?
"There aren't many places like this one," Patrick, a Doughnut Vault employee who preferred to have his last name undisclosed, said. "The feeling you get from this place isn't like the others. There's nowhere to sit, there's no glass case to choose from, there's no menu other than the one we have on the outside the building. This place has a unique environment to go along with the awesome doughnuts."
This establishment truly is a vault, unlike the newly opened Do-Rite Donuts in Streeterville that has a more vintage Krispy Kreme-esque feel to it.
You would be hard pressed to find a true difference in quality of these doughnuts, however.
Personal preference is always a factor, but no one doubts the credibility of these up-and-coming bakeries.
The doughnut scene in Chicago offers a sinfully warm and delicious opportunity to cut into these brutal winter days. The scene is competitive for all the right reasons.
These establishments all seem to be in it for the long haul, which puts doughnut lovers everywhere in a particularly sweet mood.