DePaul men's basketball 'Bench Mob' brings energy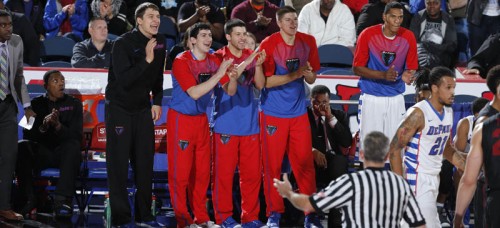 As sophomore guard Billy Garrett Jr. blew past his defender toward the rim, he absorbed some contact while completing the play for an AND-1 opportunity. Instantly, four of his teammates at the end of the bench sprung into action. To celebrate the play, the four formed into a baseball diamond.
One guy squatted and turned into a catcher, one the umpire. Another morphed into a batter, and of course, a pitcher got into position.
They then simulated a pitch, getting hit in a very embellished and hilarious way, thus approving and appreciating what their teammate Garrett did on the court.
The self-proclaimed Bench Mob comprised of four players primarily isn't just an obnoxious group of players looking to ruffle the feathers of referees and opposing players.
The group junior Peter Ryckbosch, along with junior Cory Dolins, freshman Joe Hanel and junior David Molinari understood that their antics provide a consistent spark for the team. It's a spark that has helped lead them to the top of the Big East with a 3-1 record.
With the sudden surprise and joy surrounding the Blue Demons' first place start in the Big East, the Bench Mob added another element in unifying the team.
"We really just want to contribute to the team as best we can," Dolins said. "Whatever we can do to provide our teammates with some positivity is what we're going to do, and while we're at it, why not have fun with it?"
The mob has become known for their quick and entertaining antics that they do after their teammates make good things happen on the court.
The Bench Mob's foundation began when Ryckbosch started and fellow walk-on Stuart Perry taught some of the different celebrations that could be done at the end of the bench. After Perry graduated, current graduate assistant and former walk-on Edwind McGhee took over the role of keeping guys positive.
"Perry was a senior when we were freshmen, but we didn't have a full slate of four or five guys committed to the celebrations like we do now," Ryckbosch said.
The mob started to enjoy some national attention dating back to last season. Ryckbosch was featured on ESPN's "Sports Nation" for his courtside antics in the Big East Tournament, which included celebrating a play by eating an imaginary bowl of spaghetti.
This year, however, they are up to the same tricks, and people are starting to take notice. The four players get a lot of airtime during broadcasts on Fox Sports 1, which has led to significant feedback. It prompted the mob to create a twitter account
@Depaul_Benchmob, giving them a chance to welcome naysayers and supporters.
But don't get it twisted. These guys are competitors. They're not cheerleaders. Of course, they'd rather be playing more minutes than they currently do, but they understand what they're doing has a significant impact on team's chemistry both on and off the court. And for good teams, that chemistry is invaluable.
As a player, it's hard not to be appreciative on the court when seeing the mob at the end of the bench going nuts.
"We've seen it on film a lot the past few seasons, but it's really taken off since the Big East Tournament last year," DePaul forward Forrest Robinson said. "How can you not get amped up when your guys are supporting you like that? It's almost impossible to not feed off the energy and do your best to stay productive while you're in the game."
Most skits aren't always rehearsed or thought out. Some just materialize from brainstorming or even performing the act. The squat skit, for example, is the group's personal favorite.
"The squat skit was formed in the weight room, and then we just kind of go through how we can squeeze it onto the bench," Hanel said. "We've got to keep our guys loose. If we have a dry spell on the court or things aren't going our way, we feel like it is our job to keep the guys up and motivated."
Though it may not be their job, they're certainly doing just that — motivating. Before the season started, DePaul head coach Oliver Purnell stressed the importance of chemistry within the team. He said he sees the impact the bench mob is having with that task.
"Guys pulling for one another is something that's underappreciated throughout sports," Purnell said. "Intangibles help, it's like a family member pulling for you and encouraging you. Those things help you relax and, in turn, play better."
The Bench Mob has added a new dimension to a team that has  underachieved the past few seasons. After the team's six-game slide during the winter break, they've opened conference play with impressive wins against Marquette, Xavier and Creighton.
This team is finding its identity. As that process continues throughout the season, the mob's impact cannot be taken for granted. And
Ryckbosch, possibly the mob's most enthusiastic member, agrees whole-heartedly.
"We can't all be on the court at the same time," he said. "We have to find ways to help our guys, and we take a lot of pride in that."