The right to joke: Which topics can satirists tackle after Charlie Hebdo?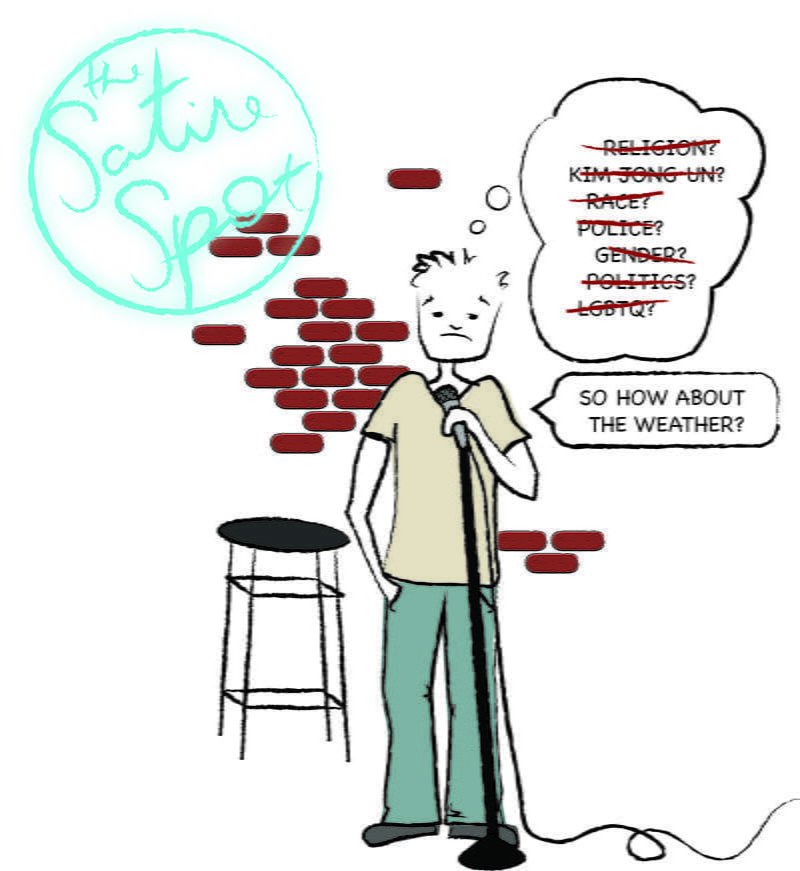 After the recent terrorist attacks in Paris, some wonder if satirists shouldn't tackle certain topics
To some, satire is light-hearted humor, using comedy to poke fun at politics or recent events. But lately, satire has come under attack, with extremists taking drastic measures to punish satirists for their risqué comedy. 
The Jan. 7 attack on Paris-based magazine Charlie Hebdo resulted in the death of 12 journalists and cartoonists. The Yemen branch of al-Qaida claimed responsibility for the attacks, declaring the act as revenge for what certain Muslims found to be offensive cartoons of the Prophet Muhammad. The Paris attack is one of many recent satires that have sparked an upheaval in the media over the past few months.
The satirical movie "The Interview," released in December 2014, sparked controversy for its offensive portrayal of North Korea's desperate state under Supreme Leader Kim Jong-Un. The movie's release was delayed after Sony Pictures Entertainment's computer system underwent a cyber attack, allegedly perpetrated by North Korea, in which Sony employees were locked out of their computer network and their personal information, emails and several unreleased movies were leaked online.
The pointed satirical humor employed in "The Interview" and Charlie Hebdo have forced the ancient free speech debate to take a drastic turn. The tongue-in-cheek movie and magazine have pushed the issue of freedom of expression into the realm of public and private safety.
Amy Roeder, improvisational comedy teacher at Chicago's Second City, has been dealing with audience response to offensive comedy for 16 years. Roeder said that satire as a delivery system for criticizing religion, culture and politics has recently been under fire with many questioning its ethics.
"The messages are speaking a more pointed truth to power," she said. "Is satire sometimes disrespectful? Yes. Is it sometimes ham-fisted? Yes. But as a tool, it is valid and will likely always be so." 
Roeder said she has experienced the debate that comedians like Seth Rogen ­— writer, director, and star of The Interview — face when deciding whether or not a joke is offensive in light of particular circumstances.
"I remember the discussions we had at the improv theater I worked at in Boston following Sept. 11," Roeder said. "From the perspective of today, it seems weird to think that people would even consider if humor, theater and laughter were appropriate following Sept. 11, but we honestly didn't know if our jobs still mattered."
Although satirical humor always seems to shock the public, its usage is not just a recent phenomenon.
Jonathon Swift's 1729 essay, "A Modest Proposal," is one of the earliest and most renowned examples of satirical writings in the English language. In Swift's essay, he provides a solution in response to the impoverished, famished state of Ireland during the 18th century. His solution was for the Irish people to eat their young. Swift was not suggesting this as a literal solution to famine, but rather used it as a vehicle to blame the oppressive plantation system that exploited the labor of farmers.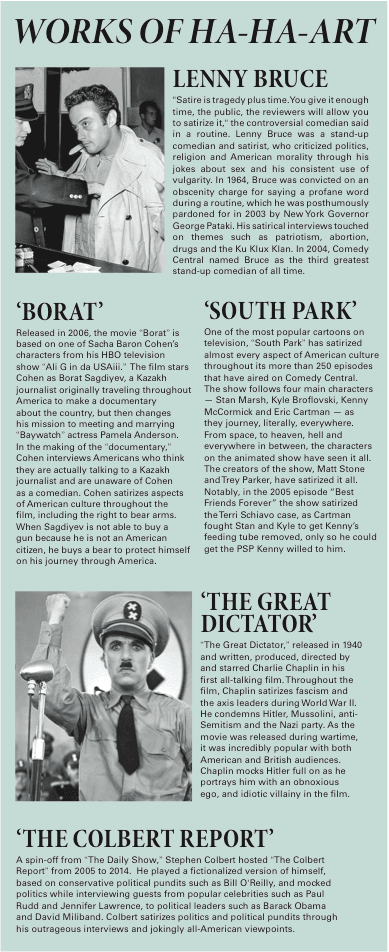 Paul Booth, an associate professor of media studies at DePaul, cites "A Modest Proposal" as playing an integral role in the development of satire as a stylistic voice.
"The danger with satire is that the best satires are the ones that are hard to identify. 'A Modest Proposal' was met with horror when it was first published because people thought it was actually advocating eating children," Booth said. "People take it at face value when its true impact is only found in its critical thinking."
The satirical digital news publication, The Onion, founded in 1988, boasts headlines such as, "Report: Only 2% of Internet Worth Sitting Through 15-Second Ad," "U.S. Government Offers 100 Million Americans Generous Severance Deal To Leave Country" and "Gay Teen Worried He May Be Christian."
In an interview with NPR's Renee Montagne, The Onion editor Joe Randazzo said that when featuring sensitive stories, writers do their best to not make "jokes about horrible things with no context or no point or no heart."
Before the 1980s gave us The Onion, 1953 offered MAD, a monthly satirical magazine founded by editor Harvey Kurtzman and publisher William Gaines. MAD started as a comic book and transitioned into a satirical publication that covered on 20th-century politics, sports, popular culture and entertainment.
A widely recognized MAD cover was published after the 1961 American presidential election. The cover congratulates John F. Kennedy for his presidential win. The bottom of the cover reads "We were with you all the way, Jack!" The cover's flipside depicts a mirrored presidential congratulation, but offered to Richard Nixon, reading, "We were with you all the way, Dick!" The MAD mascot on the cover waves a Nixon flag and wears a button that reads "I like Dick."
"Religiously and politically charged art has been causing controversy for years," said animation student Abigail Bokun. She cited the cartoonists who published caricatures that crudely and negatively depicted incoming immigrants coming through Ellis Island between 1892 until 1954 as an example of satire's long history.
As a young animator, the brutal murders of cartoonists at Charlie Hebdo were particularly impactful on Bokun.
"In a world that is so bent on making things politically correct, artists who use satire to make fun of politically-charged controversy will have to use their own judgment from now on," Bokun said. "It shouldn't have to be like that, and I'm saddened to see that artists feel threatened by the current situation. But I also believe that we as a group of individuals who can create, can also use our creations to bring about peace and happiness in a way that doesn't throw a religious group or culture under the bus."
The recent response to satire has been violent and aggressive, as in the case of last week's Charlie Hebdo massacre. Some argue that the benefits of publishing Hebdo's cartoons must be weighed against the threat that staffs may face from terrorist groups.
"(Hebdo's cartoons) seem to have polarized people into thinking this is either about free speech or respect for religion when I don't think  it's that simple or that those two things are opposite," Booth said. "If Hebdo hadn't been shot, how many people would have actually seen his cartoon? Sixty-thousand? One hundred-thousand? How many have seen it now? Millions, I would bet. If the terrorists wanted to hide the cartoon, then they utterly failed."
View Comments (2)