Commentary: Growing up with ESPN Broadcaster Stuart Scott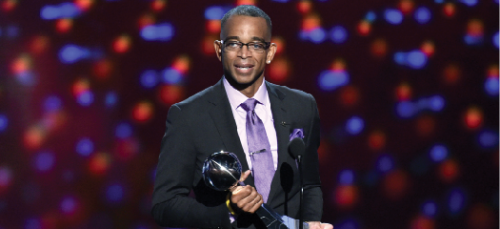 "Guys are much less likely to go to the doctor,"  ESPN Broadcaster Stuart Scott said as he spoke on cancer awareness during a SportsCenter "Man Up" segment in 2013.
"We think we're too macho — guys, stop it. I've fought cancer three times and I'm winning. With early detection you can too. It is time to man up."
Scott died on the morning of Jan. 4 after several battles with cancer. He was 49.
Scott's words are hardly just fluffy fillers for cancer awareness; they have substance. Since his first broadcast on ESPN2 in 1993 to his final "Monday Night Football" game in the fall of 2014, Scott's words have made an impact in ways that even he couldn't have imagined.
"I'm not a big sports fan, but I knew who Stuart Scott was in high school," former DePaul student Kenny Watkins said.
"My friends would use some of his catch phrases like 'booyah' and 'the lord said you gotta rise up!' which always made me laugh."
Scott was a Chicago native who moved to North Carolina when he was young.  There he would go on to graduate from the University of North Carolina at Chapel Hill with a degree in arts and speech communication. Before landing at ESPN, Scott spent time at a local news affiliate in Florence, S.C., as well as three years with NBC.
Over the last 20 plus years, Scott pioneered a new wave of broadcasting that related to a demographic that wasn't necessarily represented on that stage before: younger African Americans.
Scott's voice was distinct in every highlight he commentated and every interview he conducted. When considering the platform he was on, his "urban" vernacular and high energy delivery was the first of its kind.
Scott started appearing regularly on SportsCenter in 1996, and as the network grew larger and larger his style became that much more popular. Stuart's delivery could be felt through the television screen. And with the rise of cable television and sports media, others in the industry would begin to question Scott's cutting-edge language.
"Stuart created some competition amongst fellow anchors," Ed Sherman, a sports journalism instructor at DePaul and contributing media writer for the Chicago Tribune, said.
"All these guys started dropping outrageous punchlines that really didn't relate to the sport in any way. Management, I'm sure, had to reel them in at some point because in my opinion it was a little over top."
Scott was no stranger to those who felt his style was too much.
In fact, he received backlash from those within the African-American community.
The New York Times cited an NPR excerpt from 2002 when Scott was told he was dragging his race down by using slang and improper language.
Scott, being the cool customer that he was, simply responded with, "All right, man. We are better than that. That's not going to change what I do and how I do it."
Listening to him call highlights and apply words to games we were watching was spectacular. His flare, his confidence and his delivery are all iconic to our generation. His willingness to embrace life even when things were gloomy transcended sports. His impact left the realm of basketball, football and competition. He served as an example for so many who shared his battle throughout the country.
When reading and hearing what colleagues said about Scott in light of his death, it's easy to tell why he was so widely respected. 
This was a man of great pride and self-worth. He understood what made him happy and what kind of impact he had on others; and he wasn't going to change because of a few people's opinions.
Scott's popularity rose once he became a spokesman against cancer.
He battled the disease in three separate instances starting with his diagnosis in 2007.
Scott, the father of two daughters, did not take the standard route when it came to dealing with his cancer. He continued to live life in the fashion he already was; one that was full of energy and positivity. He even continued to work on ESPN's many platforms, including SportsCenter and Monday Night Football.
His well-documented, seven-year battle with cancer was culminated at the ESPY's this past summer when he was awarded the Jimmy V award for courage and perseverance. 
Scott's speech would be one for the ages.
He spoke of his daughters, his loved ones and his life experiences. He would close the speech by saying, "Have a great rest of your night, and have a great rest of your life," reminding the audience that no matter how bad things may be, never take any day for granted.
The few days after Scott died, practically every professional sporting event honored him with a moment of silence before their respective games. This validated Scott's significance, not just in the sports world, but also in common American society.
Thank you, Stuart. Your work will always be greatly appreciated.
View Comments (1)