DePaul male cheerleaders bring 'fresh' perspective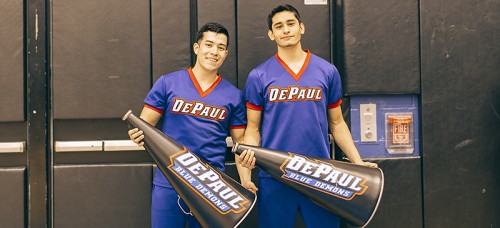 Two DePaul students walk into a corner of the McGrath-Phillips Arena with gym bags in hand, ready to warm-up to for their three-hour practice. The guys tirelessly prepare for this weekend's basketball game and upcoming cheerleading national championship. In order to be ready for the championship and perfect their routine, their practices often last long into the night or the team will add more practice time throughout the week. For the DePaul University cheerleading squad, it'll all be worth it. 
And this season, the presence of two male students marks the first time in more than two years that DePaul has had two male cheerleaders.  The additions of freshmen Irvin Bello and Henry Prado are a welcome change, DePaul Athletics Spirit Director Shanon Lersch said.
"While many of our female cheerleaders are extremely strong and powerful, the males do bring a new heightened level of strength to our stunts and pyramids, allowing for the stunts to be dynamic and powerful," Lersch said.
Within the last decade, there have been about two to six male members on the cheer squad every season.  Lersch said that DePaul's cheerleading squad has lacked male members and was slowly becoming an all-female team.
However, both Bello and Prado each had their own reasons for getting involved.
At 6 feet tall, Bello towers over all of the other cheerleaders. For the freshman, joining the cheerleader squad was based on his positive experience in high school at St. Ignaitus College Prep.
"I cheered my senior year of high school," Bello said. "I just tried it once and I liked it." After graduating high school, Bello was encouraged by his friends and past cheer team members to continue his cheerleading career on the collegiate level. 
"My high school coach contacted the spirit director," Bello said. "I gave it a go to see if I would still like it or not." Bello tried out and made it on to the squad.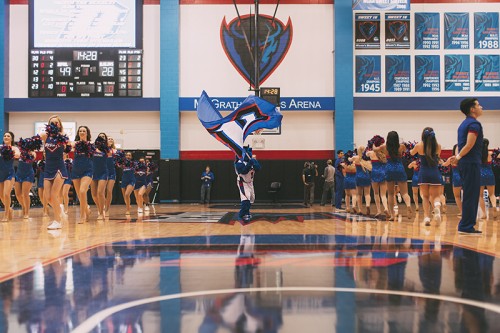 Prado didn't come to DePaul with the idea of cheering. After four years training as a United States Marine, Prado returned to Chicago and reached out to his old cheer coach.
"I came to DePaul not thinking I was going to be doing cheer," Prado said. "My old high school coach convinced me to do it again. I tried out and went to a week of camp and after that, it just brought back memories of high school and reminded me how much I liked it," he said.
Prado first began his cheerleading career while at Lane Tech College Prep. Prado said he and his friends decided to try out for all the sport teams the school had to offer. Like Bello, he didn't expect much would come from it but was quickly surprised to find out how much he loved cheerleading.
"When I got chosen to cheer in high school I thought it was nothing, but then I ended up cheering for years," Prado said.
Hersch credits the increase of male members on the squad to an increasingly respected  societal view of cheerleading. Lersch said cheerleading has become a widely recognized sport, one where more males are beginning to join.
"My goal is to keep increasing the number of males on the squad and ultimately have an even ratio," Lersch said.
Bello and Prado both said  being the only two male cheerleaders on the squad has caused mixed reactions from both peers and friends.
"It started off as a joke to most people, but now it's like people are shocked or they respect it in a way," Bello said.
Prado has been facing backlash for cheering ever since being in high school.
"Just because it was an all-girls squad it seemed degraded to people," he said. "It's like a guy is homosexual if he does the sport. But it's a contact sport. I've been asked why I do it and I just say 'I like the sport'. I don't care what anyone might think of me."
Regardless of the amount of male and female members on the squad, the bond the team has undoubtedly contributed to the success they have seen this season. For the first time in the teams' history, they will compete at the UCA & UDA College Cheerleading and Dance Team National Chapmionship in Daytona Beach, Florida.  Freshman cheerleader Nandi Howard said having the guys on the squad has helped the team achieve more complex stunts.
"The boys are great," she said. "They jumped right on the team and are literally the backbone of the squad and are so strong when it comes to holding up all the stunts."
Lersch also sees the change that has been brought on to the squad by the male cheerleaders.
"The male cheerleaders that we do have on the squad this season have brought a strong sense of work ethic as well as teamwork and dedication," Lersch said. "But this is across the board with all our members.Their focus and commitment has allowed this team to reach new heights."
View Comments (1)