In final season, DePaul senior shot-putter Matt Babicz still has goals to fulfill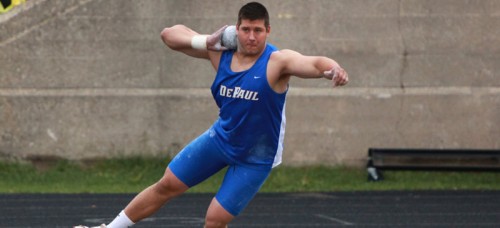 There's an explosive burst that's required when throwing a 16-pound shot put, one that senior Matt Babicz knows all too well. For the last four years,  the DePaul track and field star overcame injuries and the wear and tear that arises with the sport.
But the best throws, Babicz said, are the ones where the thrower "feels the effortlessness."  Last season, Babicz set Big East records for indoor (19.43 meters) and outdoor (19.27 meters). On each throw, Babicz knew right away that they were his best.
"It just flies and you feel it," Babicz said. "You don't even have to see it. You just feel it off your hand. The days where you can string those together are the best."
Babicz spent the last four years putting in the time and effort to become one of the best shot-putters in the Big East conference. Alongside setting records for career-best throws, Babicz has made three separate trips to the NCAA tournament.
As his final season gets under way, there are still goals Babicz has yet to accomplish. Among them, Babicz wants to be an All-American indoor and outdoor shot put athlete as well as place top three  in the nation for throwing.
"I'd like to think of myself as a highly competitive person," Babicz said. "I like to climb that ladder, and the support of the coaches and teammates around me makes it easier.  I really enjoy track and field, especially the shot put. I look forward to practicing every day."
Part of Babicz's support system starts with his throwing coach Brandon Murer. Murer has worked closely with Babicz in his throwing technique, making sure he gets it down perfect.
Murer said Babicz's preparation starts with the mental aspect.  Being prepared and focused allows his training to be more centered.
"He's starting to do the little things every year that (create) a national athlete," Murer said. "It's continued work inside of the ring. You have to technically become more and more efficient. As they say, 'it's not practice that makes perfect — it's perfect practice that makes perfect.'"
Babicz has developed a routine that's allowed him to feel calm right before he's about to perform. One of the biggest obstacles for him is nerves, which he said overcame him at the outdoor NCAA trials.
Babicz finished 20th in the country with a best throw of 18.29 meters. He said that trip as well as two other trips to the NCAA's has given him a valuable experience for the future.
"I feel the most calm I ever have in the ring," Babicz said. "With throwing and shot put specifically, it's likened to a controlled chaos. It's about finding that balance between relaxation and explosiveness."
At 6 feet and 270 pounds, Babicz is considered smaller than some of his peers who excel at shot put.  However, he's used his speed to become a world-class collegiate athlete.
"It's about becoming as smooth as possible and speed," Babicz said. "It takes a lot of discipline because a lot of distance comes with patience. The more patient and the more discipline, there's often more technique in your throw.
"Sometimes watching the video of myself I go, 'whoa how did I move that fast,'" Babicz said. "But it's all about repeating the same motion day in and day out. Hopefully you get better and it's something we focus on."
Murer said that it's Babicz's talent and work ethic that have driven him.
"In the 10 years I've been here, I haven't seen an athlete work as hard as Matt," Murer said. "And that's saying a lot because I've really had some phenomenal athletes. From the second he steps on to the ring or the second he steps into the weight room, he makes that situation better because he's there.  He will bring his attitude and his excitement not just to his own practice, but to everybody's."
Babicz has managed to stay positive even while overcoming injuries. He was designated as a redshirt his freshman year for surgery to repair both labrums in his shoulders. In his sophomore year, Babicz needed surgery after tearing tendons and ligaments in his wrist while lifting weights.
Even during the summer, Babicz needed another surgery on his right hand to repair the partially dislocated middle finger that he dealt with all throughout his record-setting seasons last year.
"It was tough because I had to compete last year with a busted finger," he said.
"But seeing how I did last year with a busted finger shines some light for what's in store this year," he said, smiling.