DePaul provost search: Alan Ray touts mission, some concerned about lack of committment to research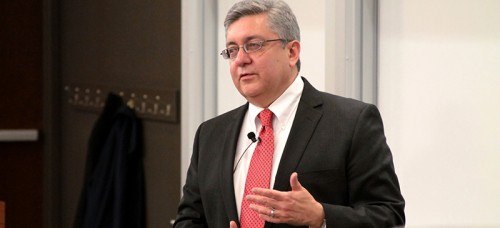 The current president of Elmhurst College, located about 20 miles west of Chicago, visited DePaul Wednesday and Thursday last week as the third provost candidate to meet with faculty, staff and students. Alan Ray emphasized his Native American ancestry and his Vincentian education as key differentiators from the other candidates.
Ray, who has served as the president of Elmhurst College since 2008, guided most of his answers to the mission of the university. He explained that in higher education there is a constant balance between the mission and economics.
"You are fortunate here to have a very clear definition of your mission," Ray said. "Part of the provost job is to be a head cheerleader for academic programs and the balancing of all programs guided by the strategic mission."
However, Ray's resignation from Elmhurst College did raise questions in one open campus session.
"My real passion is in building academic programs and providing faculty support," Ray said. Additionally, a president position consists of lots of external work, and with young children Ray said his "commitment to DePaul would be long term" and that this position would not be a "stepping stone to something else."
One hot-button issue to many faculty right now is research. When asked about his views on the importance of research, he went back to DePaul's mission indicating that DePaul is primarily a teaching institution.
"I don't see (research) as part of the mission, and so I would have some questions about that," Ray said. However, some faculty are concerned with a lack of support from administration and the Board of Directors and want them to better understand the importance of research and creativity for their teaching.
Another university-wide issue brought up is the levels of contingent faculty at DePaul. Although Ray has no experience as a tenured faculty member, he cited his development and teaching of political science, law and his published articles as equivalent experience to tenure.
Ray has an extensive liberal arts education ranging from his Vincentian undergraduate education at St. Thomas Seminary College, to degrees from Harvard in philosophy and religion to his Law degree at the University of California, Hastings College of Law. Prior to Elmhurst College, he served as the senior vice provost at the University of New Hampshire, Durham and an associate dean for academic affairs at the Harvard Law School.
Along with his studies of Federal Indian Law, he said it is important to prepare for life in an interdisciplinary world and that he's done so with his "composite of interests in a coherent manner." With that, Ray said he believes a liberal arts curriculum is essential.
Another important issue to many faculty are their salaries and the lack of raises over the past few years. Ray said that more market research would need to be done first and that raises should be given.
"We need great buildings, but we need to compensate people," Ray said. "There should be greater transparency around financial work."
Transparency continued to be a common word from faculty and staff in all of the open campus provost sessions, and Ray addressed those concerns at the end of the first open campus session.
As the new provost, he said he would "provide leadership to the academic side of the house that helps re-inspire faculty, build morale and provide a vision of leadership."
View Comments (3)