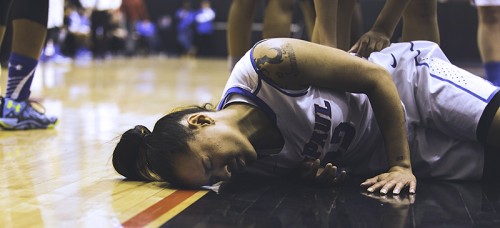 A furious Doug Bruno used Friday's post-game press conference to vent about his team's lack of execution after DePaul lost another close game. The Blue Demons head coach's hands were flailing and his voice got louder the longer he talked.
And who could blame him? Of DePaul's seven losses, Friday's 81-80 loss to Seton Hall was the Blue Demons' third loss by three points or less. Furthermore, five of DePaul's seven losses have been by six points or less.
DePaul's loss against Seton Hall was particularly frustrating because of the inability to make a defensive stop. Seton Hall guard Ka-Deidre Simmons coasted down the floor in the course of four seconds and hit the game-winning layup. It deflated any joy that was brought from Brittany Hrynko's 3-pointer, which gave DePaul a one-point lead with seven seconds left.
If there's an emotional swing with these games, Bruno doesn't want to hear about it.
"You talk about the emotional swing?" Bruno asked while hitting his hands on the desk. "That's not an emotional swing. That's a simple understanding of how to play basketball. And if you understand that God gave you this gift (to make the shot), but anybody can do that gift (of playing defense), then you better get back down the floor, and we better be ready to make the stop. That stuff has been practiced here.
"(Simmons' shot) is what happens in basketball often," Bruno said. "Go watch SportsCenter every night and you're seeing a top ten play because that's what happens."
There's something wrong with the Blue Demons this year. Just as it seemed DePaul was turning the corner with a six game winning streak, Seton Hall was another frustrating loss that the Blue Demons couldn't afford to suffer.
DePaul is averaging a second-best in the nation 88 points per game, but against Seton Hall, DePaul went long stretches without being able to hit a 3-pointer in the second half after hitting 13 threes in the first.
The Blue Demons are still a very good offensive team, but this season has been filled with challenges.  The team is still searching for an inside presence since Jasmine Penny graduated.  Forward Megan Podkowa has developed post moves, but she isn't as a consistent scorer as Penny was.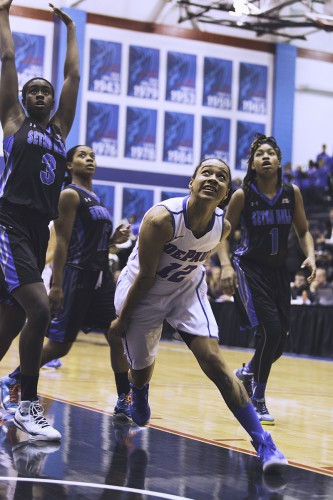 Bruno also said that senior Megan Rogowski's ACL tear has created a huge problem. Without two of their top scorers from a season ago, DePaul is shooting 43.2 percent from the field compared to 45 percent last season.
"When you have one player on the floor that can't score the ball outside, they load up the paint," Bruno said. "You have to try and get some rhythm … We're a good basketball team as a little engine that could, so we can score the ball. But at the same time, we'd like to be able to get to the rim."
But the most frustrating part about these losses is how winnable these games are. Against Seton Hall, the Blue Demons lost an 18-point lead and failed to make a defensive stop on the last play. They were also missed free throws away in crunch-time from upsetting No. 2 Notre Dame. The Blue Demons also lost at Villanova where they led in the final 50 seconds.
"You just have to keep your head up," Hrynko said. "There's nothing we can do about it now. We can't have it back. We could have made the stop, but since we didn't, we just have to stay strong."
The Blue Demons are in danger of missing the NCAA tournament for the first time since the 2001-02 season. They rank 59 in RPI, which floats on the borderline for making the 64-team tournament. ESPN's bracketology has the Blue Demons in the tournament for now, but DePaul can't afford a slip up to Big East teams like Creighton or Marquette.
The best way to earn a tournament berth is win the conference tournament in March, but Bruno is more concerned with getting his team prepared in the short term. It started with St. John's  Sunday, which the Blue Demons rebounded with an 82-55 win.
"March is a long ways out," Bruno said. "I tell this team all the time that I love them, but they're hard to coach because they're stubborn. They are resilient about defending and rebounding because we can score so easy.
"The scenario is the same as it was six weeks ago (with Texas A&M)," Bruno said. "We have to make stops and handle the rock in crunch time. I love these players, but at the same time, come on."