Whole Foods Market at DePaul opens Wednesday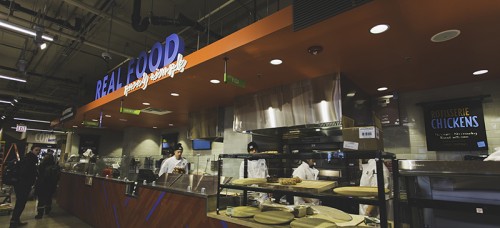 After sitting empty for more than a year, DePaul's go-to grocery store on campus comes back to life this week.
With the official opening set for Wednesday, Whole Foods Market will fill the void of the on-campus grocery store since Dominick's closed Dec. 28, 2013. Each Whole Foods location is customized to fit the needs of the community and this location aims to provide convenient options for students.
"I know a lot of the DePaul students were kept in mind when developing this store," said Allison Phelps, a Whole Foods spokeswoman. "But we didn't want to forget about the other parts of the community—there's commuters, families and even faculty and staff."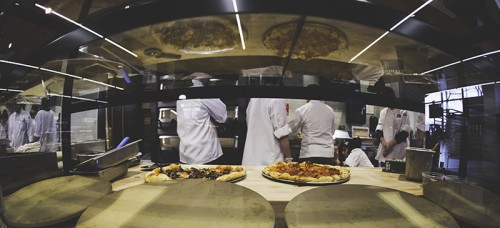 Compared to Lincoln Park's other Whole Foods Location near North Avenue, which spans 77,000 square feet, the compact DePaul location at 959 W. Fullerton Ave. is only 29,600 square feet. Despite its smaller size, the store has still has everything that a typical location offers.
The first floor is designed to include grab-and-go options including many of prepared foods, while the second floor is more of a typical grocery store layout with other items for a pantry or refrigerator. This location also includes a few firsts for Whole Foods including a to go coffee window along Fullerton Avenue and a taqueria—something that no other locations in the Midwest have.
"The Cuban-inspired taqueria is a first for any of our stores. We've done ones in the past, but we wanted to draw more of a Latin flavor as opposed to a Mexican style," said Matthew Mell, the executive coordinator for purchasing at Whole Foods. "We know that in this area both students and the folks who live in Lincoln Park are really big on food trends and trying new stuff, so they usually are more adventurous."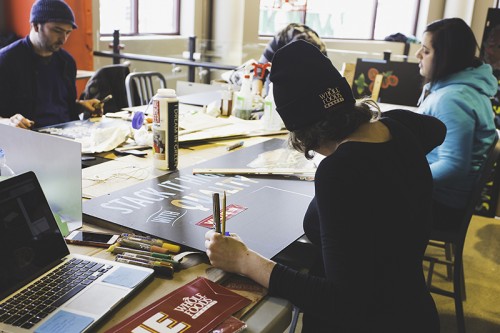 The coffee window will open early and feature a limited menu with coffee, tea and some pastries. The coffee bar uses La Marzocco espresso, although specific prices were not set during a visit to the store last week.
Another highlight is the Red Star Bar on the store's second floor. This space, complete with many tables, is the perfect spot to grab a beer or glass of wine. It will also feature an exclusive Fullerton Stop beer as well as cut cheeses.
All new Whole Foods locations take a standard 12 to 15 months to rennovate before opening, Phelps said. The Fullerton store was gutted completely down to a cement floor so they could start with a fresh canvas.
Blue accents are prevalent throughout the store to acknowledge DePaul, including pieces of reused wood floor used throughout for decoration. But not only is each store visually customized, the products also vary from each Whole Foods location.
"Each store has its own buyers and specials," Phelps said. "So what sells at one store might not sell at another store, and so they're able to customize the product that you see to that community and based on the demands from that community."
A common concern for many DePaul students is price. However, Whole Foods has their Everyday 365 Value brand, which is more reasonably priced compared to products from other suppliers. But for those students looking to shop at Whole Foods on a budget, their in-store team is available to give complementary value tours to help find the right food on a budget.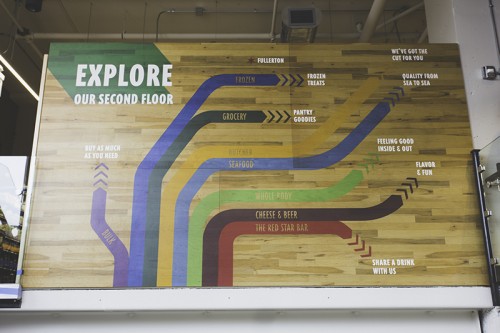 Kristen Harris, the store's marketing and community relations specialist, said she wants students to know that they can shop at Whole Foods on a budget by focusing on some of the different value items. Over the past few weeks, she worked to connect with the community through the store's social media accounts and create some excitement.
"I really wanted the community to feel like this was their store, so I did the best to understand and see what people in the area cared about," Harris said.
The store's to go coffee window will conduct practice runs prior to opening on Monday and Tuesday where guests can try one 12-ounce beverage between 9:30-11:30 a.m. and 1:30-3:30 p.m. The beverages are free, but they ask guests to make a voluntary donation to the Whole Planet Foundation.
Whole Foods opens Wednesday, Feb. 25 at 9 a.m. The first 500 people in the store will receive a gift card ranging between $5 and $50, with one special $500 gift card.
View Comments (4)