Big attendance at DePaul's Ash Wednesday celebration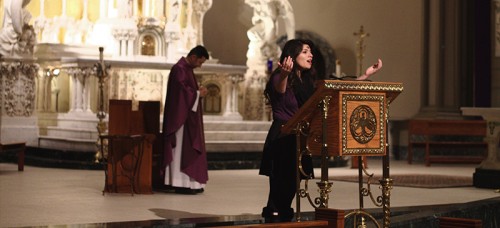 The saintly voices of the choir reverberated through the church while the ash-marked congregation stood attention Wednesday night at DePaul's largest Mass of the year. 
Though not an obligatory holy day, Ash Wednesday is a highlight on Catholics' calendars, Matt Merkt from DePaul Catholic Campus Ministry said.
Merkt, the Chaplain for Liturgy and Music, said of all DePaul's Masses — excluding Easter and Christmas, which fall during school breaks — Ash Wednesday is the most popular.
"I think it has special meaning for people, whether it's something tangible or beyond the norm of marking your forehead with ashes," Merkt said.
But to understand the kick-off to the season of sacrifice, rewind 24 hours to Mardi Gras, the beaded, jazzy, New Orleans party known to Catholics as Fat Tuesday.
Down south, celebrations for Mardi Gras start two weeks before Ash Wednesday, Cat Habel, a junior from Louisiana State University, said. Students have the Monday and Tuesday off of school, and partiers collect beads, bedazzled high heels and boas from the 20 to 40 musical floats parading through the city.
Nathan Babb, also a junior from LSU, said his family tradition is to dress up, drink beer and eat Popeye's chicken. But most important, the Louisiana natives said, was the cinnamon King's cake.
"Its oval shape symbolizes the path the three wise men made to find baby Jesus, which is symbolized by a little plastic baby hidden inside of the cake. Whoever 'finds' the baby in the cake has to buy the next one," Babb said.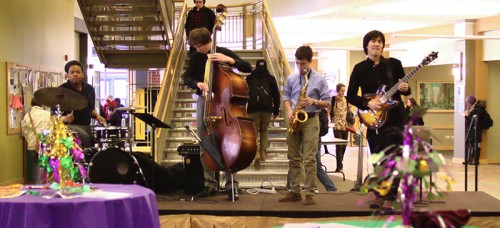 DePaul served its own sweets at its Mardi Gras celebration in the student center, where a student jazz band serenaded lines of students filling bowls of ice cream.
"Mardi Gras means Fat Tuesday in French. That's kind of the American way of celebrating Fat Tuesday," DePaul junior Ryan McGrail said as he scooped generous helpings of vanilla for students. "So the point of that is eating as much as you can before the beginning of Lent, the season of fasting and sacrifice."
The Catholic Student Union and Student Government Association event was one of the few celebrations on campus and in the city. When asked for comment, the DePaul Activities Board said they had not planned any Mardi Gras events, and the Chicago Department of Cultural Affairs and Special Events said in an email that the city was not hosting anything either.
DePaul's Polish Student Alliance also served sweets on Fat Tuesday, but in the Polish tradition, the indulgence starts the week before on Fat Thursday.
Paczkis are a student favorite, DePaul junior Joanna Gwizdz said as she sold the jelly-filled donuts to students. The profits from the sale went towards their annual fundraiser for a Polish charity in the city.
Junior Wiktor Ezlakowski said he spends Fat Thursday baking with his family, and on Ash Wednesday he goes to a Polish Mass, where he receives a charcoal-colored cross on his forehead.
Ashes are traditionally made from the palm fronds used during all the Palm Sundays before Lent, Merkt said. The reason Catholics celebrate the beginning of Lent on a Wednesday is because the 40-day season of fasting officially ends on Easter Sunday. Excluding Sundays, on which Catholics are allowed to feast, a Wednesday is always the 40th day before Easter.
But walking around with the cross on his forehead isn't always easy, Ezlakowski said.
"I feel like people are staring. For people who don't know what [the cross] is, they're curious," Ezlakowski said. "But that they're staring, it doesn't bother me."
Assistant Director of Catholic Campus Ministry Jackie Posek said the practice of putting ashes on one's forehead dates back to the Old Testament as a sign of repentance.
"The ashes themselves are a symbol of human mortality and frailty. Thus we note both our mortality in the symbol of ashes and our Christian faith in the sign of the cross," Posek said.
"For me my faith is really private and personal, and [Ash Wednesday] is one of the few times that I'm [outspoken] about it," senior Michael Hoppenrath said.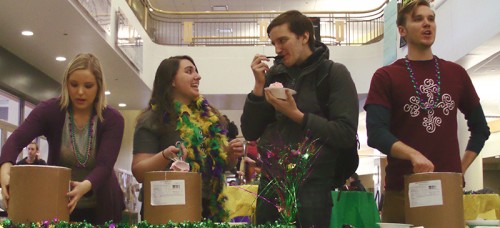 Hoppenrath is a recent convert to Catholicism and was an altar server at the Mass offered in the loop's DePaul Center. Hoppenrath said the convenient location helped draw about 200 attendees to the midday Mass.
Hoppenrath planned to follow tradition and fast on Ash Wednesday. "I will be hungry and I will probably be a little cranky all day. But it's a good thing overall and it's something I willingly do," Hoppenrath said.
Juniors Christina Teach and McGrail are active in the Catholic Student Union and were both raised Catholic. They said it wasn't until they were older that they embraced a deeper meaning of Lent, something bigger than giving up sweets or cartoons.
Teach sang and read parts of the night Mass on Ash Wednesday, and when she came to DePaul, she thought about Lent in a new way.
"[Lent] is a time to evaluate our lives and understand who we are and who we've been the past year," Teach said. "It's a time to renew yourself."
Sometimes instead of giving something up, McGrail said he thinks about doing something "for the positive."
"It's a good opportunity to use that time to see where you can progress in your life," McGrail said. "And that one thing [you do for Lent], you can really concentrate on it and focus on it throughout [the season]."