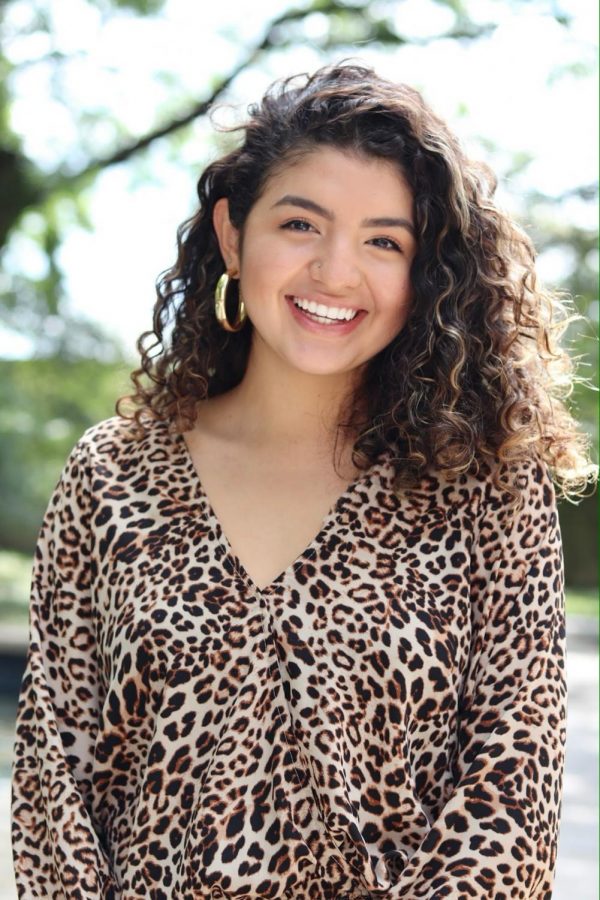 María
Marta Guzmán is
 an undergrad student majoring in journalism and double-minoring in Spanish and film production. She was born in Managua, Nicaragua and raised in Miami, Florida. Her favorite things consist of going to the beach, running, exploring coffee shops and visiting museums.
Contact Information:
Email Mar
í
a at managingladepaulia@depauliaonline.com.
Follow her on Twitter @themariague.
María Marta Guzmán, La DePaulia Managing Editor
Jan 07, 2021

DePaul Art Museum launches LatinXAmerican exhibition

(Story)

Jan 07, 2021

El museo de arte de DePaul lanza exposición LatinXAmerican

(Story)

Dec 08, 2020

Dagmara 'Dee' Avelar, primera latina en ser elegida representante del distrito 85

(Story)

Oct 26, 2020

Restaurantes latinos enfrentan un futuro incierto al acercarse el invierno

(Story)

Oct 13, 2020

Dolores Huerta habla sobre temas relevantes a la comunidad latinx en un evento virtual

(Story)

Oct 09, 2020

Dolores Huerta talks issues relevant to Latinx community at virtual event

(Story)

Oct 08, 2020

Clases en linea 'difícil,' dicen estudiantes y padres de CPS

(Story)

Oct 06, 2020

Empresa de moda en Chicago usa sus diseños para 'empoderar a la mujer latina'

(Story)

Sep 27, 2020

"Murder in the Woods" rompe estereotipos de Hollywood con un elenco lleno de latinos

(Story)

Sep 18, 2020

"Esto va a dejar de ser algo que es nuestra cultura": Residentes y vendedores de La Villita expresan preocupación sobre el futuro del Discount Mall

(Story)

Sep 07, 2020

Family members, community residents demand answers and justice for Miguel Vega

(Story)

Sep 07, 2020

Familia y residentes de Pilsen exigen justicia y aclaración sobre la muerte de Miguel Vega

(Story)

Sep 03, 2020

Biden, Trump arrive in Kenosha in the aftermath of Jacob Blake shooting

(Story)

Sep 02, 2020

Local Mexican artist brings hope to Chicago through aerosol wall murals

(Story)

Sep 01, 2020

Artista mexicano trae esperanzas a Chicago a través de sus murales

(Story)

Jul 23, 2020

Los inmigrantes indocumentados serán excluidos del Censo 2020

(Story)

Jul 23, 2020

Undocumented immigrants will be excluded from the 2020 census

(Story)

Jul 19, 2020

"Nunca me sentí como parte del grupo": los estudiantes de color critican el racismo en las hermandades de DePaul

(Story)

Jul 16, 2020

"I never really felt like a member": Students of color criticize racism in DePaul sororities

(Story)

Jul 12, 2020

Cientos de manifestantes protestan contra ICE en el centro de Chicago

(Story)

Jul 10, 2020

Hundreds of Chicagoans protest ICE in downtown march

(Story)

Jun 01, 2020

La comunidad latinx se une para defender vidas afroamericanas ante protestas en Chicago

(Story)

Jun 01, 2020

Latinx community unites to advocate for Black lives amid Chicago protests

(Story)

May 21, 2020

Little Village student beats the odds, becomes one of few in Latino community to obtain doctorate degree

(Story)

May 01, 2020

Little Village alleges environmental racism after coal plant demolition

(Story)

Mar 05, 2020

Miedo de estudiantes indocumentados aumenta por detenciones realizadas por ICE

(Story)

Feb 05, 2020

Redadas de ICE disminuyen actividades de negocios en La Villita

(Story)

Nov 18, 2019

Tribune shuts down Spanish-language media Hoy

(Story)

Nov 18, 2019

Tribune Cierra Sus Medios En Español

(Story)

Oct 21, 2019

Understaffed and overcrowded: Chicago teachers on strike

(Story)

Jan 22, 2019

March for Life protestors face off with counter-protests

(Story)