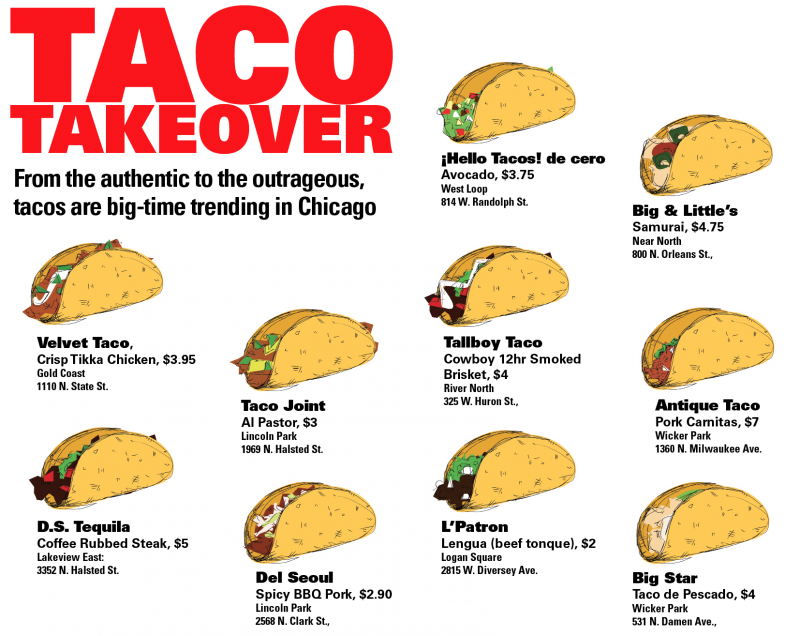 Known for its over-the-top hot dogs and deep-dish pizzas, Chicago adds another food staple to its repertoire: the taco. Don't be fooled: the small, simple dish packs a punch with authentic and interesting takes. And they're certainly not those hard shell excuses found at a certain bell-branded franchise.
With Cinco de Mayo around the corner, Chicago has hopped on the taco bandwagon sweeping the nation.
Although neighborhoods like Wicker Park and Logan Square have gained notoriety for their taco outposts (think Big Star and L'Patron), the rest of the city is starting to catch on to the craze. It seems every few months another taco restaurant is opening up.
This past October, Lettuce Entertain You Enterprises (LEYE) added Tallboy Taco to its long list of cuisine hotspots. Situated inside the same space as River North's Nacional 27, Tallboy Taco brings in a younger, more frugal crowd for lunches and late nights for (what else?) tacos and tallboy beers.
Shane Mones, 23, is a manager at Tallboy Taco and recent a DePaul University alum. He understands the fad from a business and customer perspective.
"First of all, tacos are a very low-cost food item," Mones said. "In terms of assembly and paid labor, you don't necessarily have to have a sous chef or someone with deep culinary roots. It's quick and cheap, and you're able to sell a lot of them."
Tallboy Taco reels in customers with a list of traditional and standout items. Mones said the best selling tacos are the classic beer-battered fish taco with chipotle aioli and the brisket taco made with beef from LEYE's Bub City.
From the customer's perspective, Mones noted that tacos are catching on for their convenience. "I feel like in an urban setting, people are always trying to move," Mones said. "Time is of the essence, so tacos are fast and quick to assemble."
That quick and easy mentality drives the Gold Coast's Velvet Taco, which opened up this February. In a neighborhood known for high-grade restaurants like Carmine's and Nico Osteria, it would seem Velvet Taco would stick out like a sore thumb. However, the Texas-based franchise looks for downtown locations, especially when the strip of bars on Clark and Division streets is not too far away.
Rory Jenkins, 25, is a manager at Velvet Taco and helped open the new Chicago outpost.
"We want an uptown feel around a bunch of bars," Jenkins said. "Normally they are open later and we are open late, too. It's a nice spot you can come for dinner and then go out with friends, and you can come back for a snack when you head home."
Velvet Taco is known for its creative taco fillings, such as crisp tikka chicken, shrimp and grits, falafel, Cuban pig and the fan-favorite, grilled flank steak.
Jenkins also believed convenience has pushed the trend.
"They're a quick, easy food," Jenkins said. "They're handheld and you can put pretty much whatever you want in them."
Beyond the ideals of frugality and quickness, Matt Timms, 41, believes there is more to the taco trend. Timms is the founder of the Takedown series, a nationwide organization that hosts food competitions for home cooks. On April 19, Timms held the Taco Takedown at Lincoln Park's historic Lincoln Hall.
The competition featured about 10 taco varieties, including a fiery Texas brisket with green apples and a sweet, chili pork with mashed sweet potatoes and plantains. Timms expected to sell 200 tickets for the event.
While the tasty dish is easy to handle even in a packed room, Timms believes the taco fad is all about the cycle of food trends and consciousness.
"I think every now and then there's hills and valleys of foods that are exciting to people," Timm said. "Maybe seven years ago was when bacon had this tidal wave of popularity."
The taco wave doesn't seem to be slowing down for Chicago. Lincoln Square welcomed Taco in a Bag on April 22 for a tortilla-less experience, and Lakeview will hold its popular Sam Adams Taco Fest for the third year this fall. Lakeview residents can also be on the lookout for Barcocina in May, which will serve creative taco flavors like lamb French dip, Hawaiian pineapple pork and cheeseburger.
"People are more conscious of authentic Mexican food than they've ever been because people are more conscious about food in general," Timms said. "People understand this is exactly how you should be eating tacos. There's a million ways and interpretations of that."