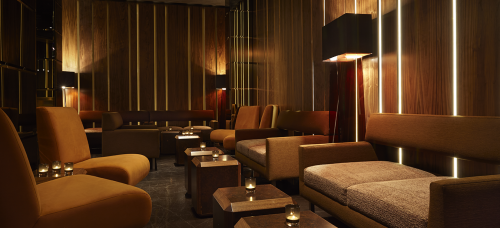 There are plenty of bar hoppers in Chicago who believe standing in line for way too long in clothes way too tight will make them look cool (ahem, Studio Paris). Those in the know are slipping into the trendiest spots without blinking an eye, and the payoff is craft cocktail heaven without getting jostled by a crowd. 
Where are such places? Look closely: it's the concealed door to a staircase, the elusive entrance leading underground to an unmarked establishment. Call the 1920s: secret bars are making a comeback. 
Chicago commanded center stage during the Prohibition era thanks to Scarface himself: Al Capone. The city has now romanticized the gangster's illegal dealings by emulating the speakeasies that  he conducted his business out of. Some places have been preserved as shrines, like Uptown's Green Mill Cocktail Lounge, which was a hideout of Capone's, or River North's The Green Door Tavern, the hideout of his enemies. But the past few years have seen an influx of modern hard-to-find bars. 
The inception of this trend can be traced back to almost 10 years ago when Wicker Park's The Violet Hour opened in 2006. Now a James Beard Foundation Award winner, the dark and sexy spot is known for its strict rules and extensive cocktail list made with the finest ingredients to create a sophisticated atmosphere. However, it has become so popular that anyone, local or not, can find the hidden door behind the street art mural, leading to a huge wait on any weekend night.
The past three years have seen secret bars pop up that are trendy but without the same hassle. Open since 2012, River North's Untitled Supper Club, just another black door on Kinzie Street if you don't slow down, has also perpetuated the trend. Known for its modern speakeasy style, patrons enter via long staircase to a mahogany and candlelit underground soiree, with one of the most extensive whiskey libraries imaginable. Cocktail swillers can grab a table near the stage just in time for belly dancing or burlesque.
In August 2013, The James Chicago hotel hopped on the secret bar bandwagon with JIMMY, the "If you blink, you'll miss it" side bar on the first floor. Enter through a curtain of silver beads to a small lounge inspired by the '70s instead of the '20s, which encourages mingling and slow sipping — you'd more likely see Bianca Jagger here than any of Capone's cronies. 
Matt Hunnel, a managing mixologist at JIMMY, thinks the secret bar trend has been a long time coming in Chicago. 
"I think the trend of secret bars in Chicago is kind of a step behind where New York or San Francisco are," Hunnel said. "Recently Chicago has picked up on the craft spirit industry and has hit the ground running with it. People have been realizing this has been trendy in other cities where the bar scene has been more craft focused for a long time." 
In addition to Chicago's craft spirit scene, Hunnel believes it's all about honoring the past. 
"I think the history of Prohibition here makes our market a shoe-in for it," Hunnel said. "People love that rich history and we're now embracing it. And some could argue we are embracing it and wearing it a lot better than the other cities that have been doing it for a little bit of time." 
In JIMMY's case, the bar has seen a transformation over the last two years, going from a very exclusive spot to something more accessible for anyone wanting to experience high-end drinks in a secluded environment. 
"When it opened they first went with a very New York-centralized theme," Hunnel said. "They opened it to be extremely exclusive, and extremely hard to find and get into. What we're doing now is we've taken away all exclusivity and we're riding that fine line of being a hidden gem and off the beaten path, but at the same time being accessible and known about for everybody." 
Located on the second floor above Wicker Park's Black Bull tapas restaurant, Bordel is a true speakeasy behind a hidden wall and up the stairs, where patrons sip punch out of teacups Prohibition-style while watching nightly performances including flamenco and jazz.
Paloma Martinez is a manager at Bordel and speaks to how well the bar has been doing since it opened in 2014.
"Every single day we have a different show and that's why people love this place," Martinez said. "In the end, most of these bars are about the same things, and people are hungry for a new place, new things and experiences. It's very exclusive because people don't know how to come up."
This year's most recent secret bar comes at the newest hotel in town: the Virgin Hotels Chicago. With the 26th floor rooftop bar, Cerise, just opening last month, you would think the hotel would be set for bars with the second floor Commons Club. However, if you look to the left as you step down to the 25th floor restrooms, there is a side patio considered the hotel's secret bar. Behind a plain metal door lies a quiet space to relax on a couch or rocking chair as the trendy crowd mingles above. 
The bar is so secret it's not even open at all times. Delaney Lux of Lincoln Park, tried to enter on Memorial Day but found it locked.
"The fact that's it's not popular in the general population makes people want to come here, because they want to experience the craft cocktails and atmosphere you're not going to find at a regular sports bar around the city," Lux said. "I think that will always entice people to come to these bars: the notion that it's somewhat forbidden."