In honor of Cinco de Mayo and maybe some warm weather at some point in the next three months, The DePaulia took up the all-important task of a margarita taste test. While there are plenty of options for margaritas around the city, we chose five locations close to the Lincoln Park campus—Bodega, Taco Joint, Fiesta Mexicana, Las Fuentes and Chipotle.
At each establishment we tested the traditional or lime margarita and a flavored option, when available. Each margarita was given a score from one to five on taste, size, price and alcohol content. All margaritas were served on the rocks because frozen margaritas aren't margaritas. Drink a slurpee from 7/11.
Disclaimer: The writers of this story are 22 and 21, respectively. Underage drinking is bad.
Bodega

Courtney: The Bodega margarita was the smallest of all tried in this adventure, yet somehow not the cheapest. At $8 this strawberry marg was just decent. Would I drink it again? Probably. Would I go somewhere else if given the chance? Absolutely. The menu claimed fresh fruit puree was used in the drink, but it had a very syrup-y taste. There were strawberry seeds in the drink, so maybe I believe them and they just make a bad puree with too much simple syrup. Bonus points, however, for using a fresh lime wedge on the edge of the glass in this dark time of a lime shortage we're in. Negative points for Bodega being completely empty at 6 p.m. on a Wednesday.
Grant: Not going to lie, I haven't been to Bodega since Twisted Lizard closed because I'm still a little bitter. I was excited to try their margaritas because I had heard good things, but was disappointed when the margarita came in a little, short glass. Their traditional marg tasted watery and flat … and was a strange white-ish color. Like any good margarita, you could taste the alcohol but the non-descript flavor was pretty underwhelming. I would at least recommend one of their flavored margaritas to feel like you're getting a little bit more for money.
Taco Joint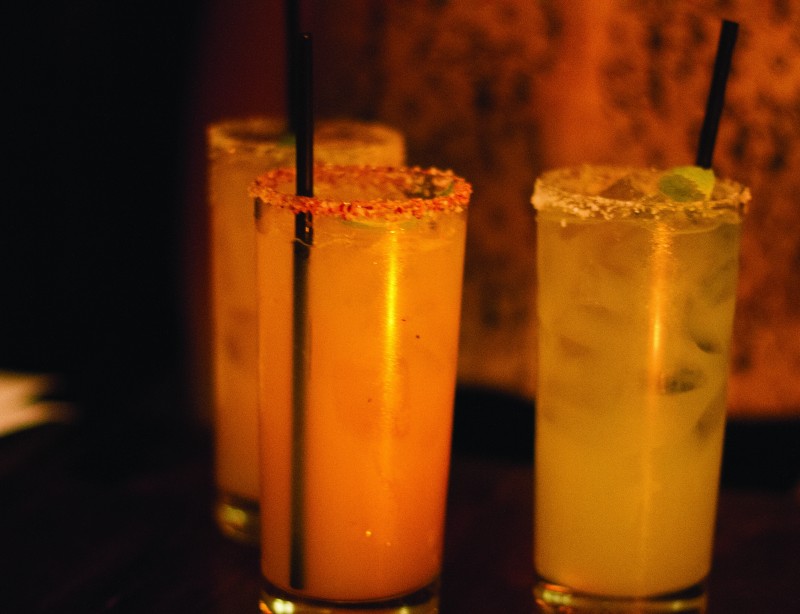 C: Taco Joint, light of my life, fire of my loins. My sin, my soul. Ta-co-Joint. Taco Joint's margaritas were the most expensive of the lot, but they were by and far the best. It's obvious fresh fruit was used in the drink as well as higher-quality tequila. I'm cheap and don't usually buy drinks with my meals, but I would 100 percent without a doubt buy a margarita next time I go to Taco Joint for dinner. All margs are $5 on  Monday as well so, you know where you'll find
me every. single. Monday.
G: Hands down the best traditional margarita on our taste test adventure. If you haven't been to Taco Joint yet, stop settling for some average margs and treat yourself.
Although some of their drinks are pricier, their traditional margarita (the Zocalo Margarita) is
actually pretty average, priced at $8.50. The best part is you can taste the lime juice in the margarita rather than some sour mix, which makes this one a winner. They also have an extensive tequila list and many unique margarita options like a chile mango margarita. Although this  wasn't the strongest drink, the flavor made up for it. I'll be back on Monday with Courtney for $5 margs, see you there.
Fiesta Mexicana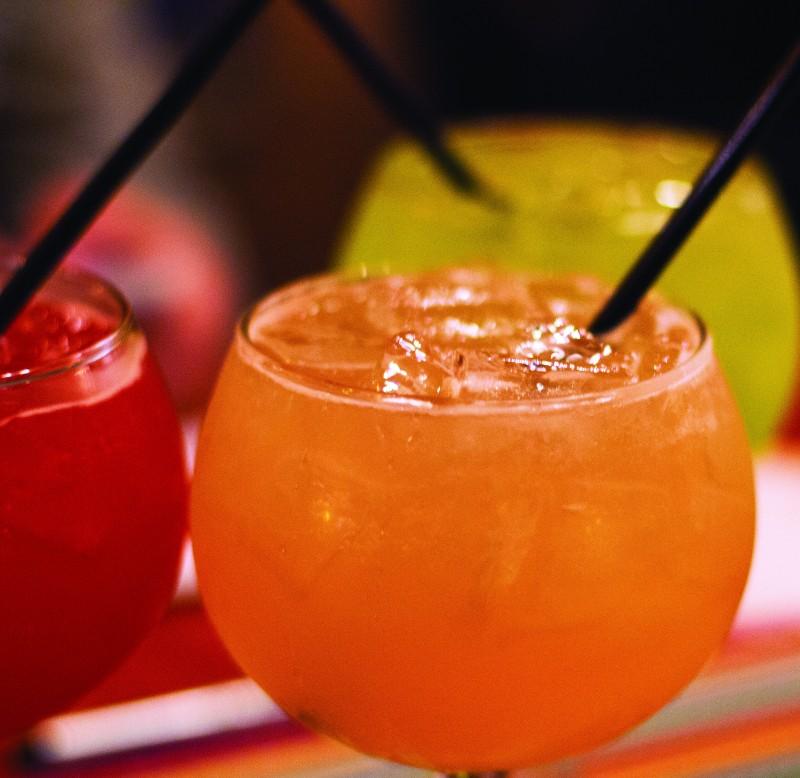 C: It's a shame these were the largest margaritas because no one should have to drink all of this s**t. It's as if the watermelon mix was made from melting down Jolly Ranchers and then adding more sugar, mixing it with tequila, and fooling DePaul students that this is what a margarita should taste like. It should not. Perhaps it's my fault, maybe I should've sprung for the premium watermelon margarita with real watermelon puree, but I'm  not willing to go back and give it a try. Shouts to the melon margarita that shone with the color of radiation and tasted of formaldehyde. Can the USDA look into this drink? I swear, this drink must violate some government sanctions on what is edible.
G: Despite Courtney's tragic experience, Fiesta Mexicana's margarita de la casa was average and drinkable … nothing too special here. The best part about their margs is the size — they come in the typical, tall and round glass that you would expect. Unlike the radioactive melon margarita, the house margarita was strong with a sour and salty mix. The price is right in line with others at $8 and definitely a good value for the size. As we looked around the restaurant, most everyone was drinking a house margarita. Moral of the story: get the house margarita here.
Las Fuentes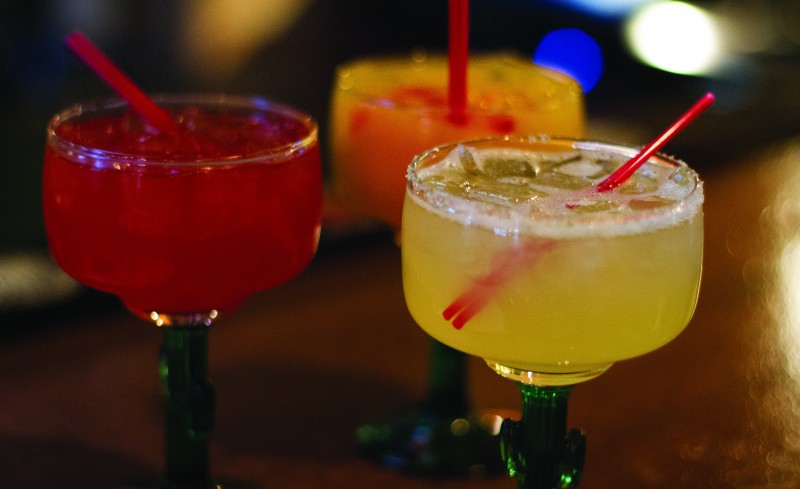 C: As the cheapest margs of the bunch ($6 for a 12 oz. glass) my expectations were low, but welp, not low enough. There were no fresh mangos within 5 miles of this drink — the syrup was so thick at times I thought I was drinking the frozen iteration of the drink. Nope. I can't say
much more about this drink because I didn't finish it.
G: This lime margarita tasted just like Fiesta Mexicana's — maybe they use the same mix? It has that same sour and salty flavor that begs the question if there's actually any real lime juice in the drink. Regardless, the price made it totally worth it. It's a great value for an average margarita.
The variety of their other margaritas was pretty standard with typical flavors like strawberry and
mango. Plus, bonus for getting chips and salsa.
Chipotle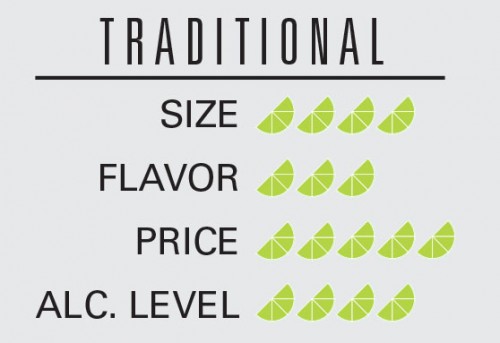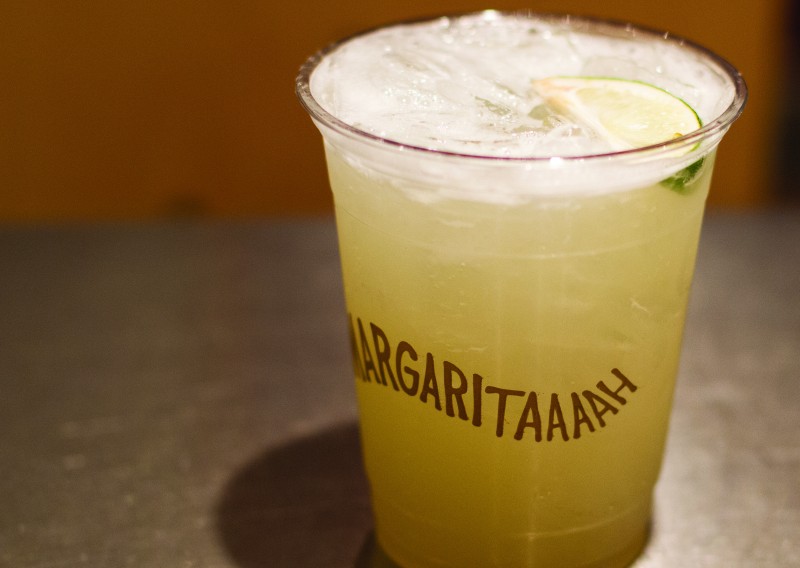 C: Unfortunately not all Chipotles have margaritas, the biggest tragedy is that the Chipotle closest to campus does not serve alcohol (but the 14 E. Jackson location does…+1 for Loop Campus students). There's a cheaper version, but $7 will buy you a Patron margarita and it's surprisingly really good. It doesn't taste like it's made from a mix, and even if it is it's a high quality one.  There are no flavors at Chipotle, but hey get a little crazy and throw some fruit punch from the soda machine in your margarita if you're feeling wild.
G: I've never had a Chipotle margarita because that just seemed weird to me, but now I feel like I've been missing out. We opted for the pricier patron margarita since it was comparable in price to all of the other margaritas we tried. I thought the marg would be very 'meh' but it was definitely one of my favorites … even better than Fiesta Mexicana and Las Fuentes. The margarita tasted less sour and artificial and came with a lime, too!