Fraternity offers membership to transgender men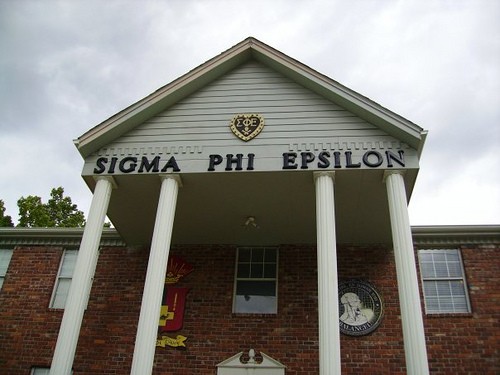 A national fraternity with a DePaul presence made history this summer by becoming the first non-LGBTQ fraternity in the country to allow members of the transgender community to join. 
The fraternity, Sigma Phi Epsilon, approved the change in policy unanimously at their national board of directors' meeting on Aug. 2.
"Sigma Phi Epsilon is a national fraternity built on the brotherhood and fellowship of men. Any individual who identifies as a man is welcome to seek membership in the fraternity," said Sawyer Hicks, a student director who graduated from Davidson University last year. "This policy is intended to uphold the mission of Sigma Phi Epsilon as a fellowship of men and should not be interpreted as changing the all-male character of the fraternity or as a waiver of the fraternity's exempt status under Title IX."
While fraternities geared towards the LGBTQ community exist, this is the first fraternity on campus to open up at all to the LGBTQ community as DePaul does not have any open LGBTQ fraternities or sororities on campus.
"I think this might be sort of a testing ground for frats. Maybe other frats will look to Sigma Phi as an example," said Wolf Romero, vice president of Spectrum, one of the many LGBTQ clubs at DePaul. I don't know how the (other fraternities) would feel about allowing trans individuals into their frats, but hopefully they'll see that it's a good option."
SigEp is known for being a progressive fraternity. In 1959, it passed legislation to open up membership to men of any race. In April, the Alpha Chapter at Arizona State collaborated with Man Up, a worldwide youth-empowerment campaign, to help raise awareness and prevent sexual assault. Eric Horvath is the chapter president of SigEp at DePaul. Horvath said that it is a step in the right direction for both transgender people and for Greek life.
"I think it is a smart decision for our nationals to have the courage to take a stance in such a hot topic in today's social world. It makes me proud that the organization I represent is a fair organization that is adamant on evolving to today's social issues," Horvath said. "Right now fraternities have a bad stereotype and hopefully these stereotypes start getting laid to rest. This will allow for a more diverse greek community which benefits everyone."
While most fraternities often have a service aspect to them, instances of intolerance, such as when members of a frat at the University of Oklahoma chanted racial slurs earlier this year, have led to a negative portrayal of Greek life for some students.
A 2003 study conducted by students at Indiana University found that survey participants (fraternity brothers) were less tolerant of homosexuals than they rated themselves.
"Of course you're always going to have those scenarios where people that come to college may not have ever been exposed to LGBTQ culture, or maybe they have never known a person who identifies as a part of that community," said Oliver Debe, a volunteer chapter counselor at SigEp who serves as a liaison between the national committee and the DePaul Chapter. "But I think it's important that fraternities in general provide training for undergraduate brothers on creating a safe space for people who identify as that."
The SigEp tagline says that "This fraternity will be different"
"And it truly is different," Debe said. "It's not the stereotypical fraternity that many people and, of course, the media are accustomed to."
Although fraternities and sororities specifically for the LGBTQ community do exist, SigEp is taking major strides toward acceptance.
"As our society becomes more progressive, it definitely creates more of societal safe space culture a lot of times people have people who may not be out yet or may not necessarily know someone that identifies as gay," Debe said. "But once they get the time to get to know somebody, they see that the person is just the same as they are. Sexual orientation is not a visual characteristic that people can see or understand, so you have to have those conversations."
View Comments (1)