DePaul buzzwords and the Vincentian mission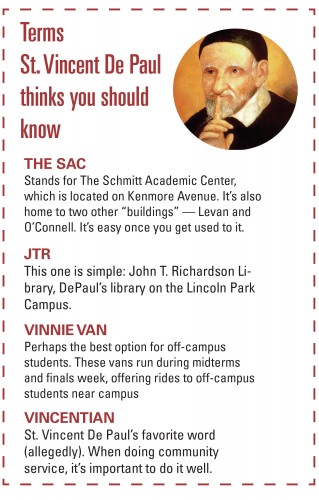 As new students juggle moving into a new home, settling into a Discover or Explore class and navigating the CTA, they are likely to hear the repetition of a few choice words during their immersion week, welcoming students to DePaul and showing them the facets of the school's mission.
These buzzwords include "Vincentian," "diversity," "multicultural" and "non-traditional student," and are deeply ingrained in DePaul's mission of service.
"We hold a lot of different events during the welcome weekend," Mark Laboe, associate vice president of University Ministry, said. "We try to bring together all aspects of work and community."
University Ministry (UMIN) is one part of the religious makeup of DePaul, encompassing Catholic Campus Ministry, the Vincentian Community Service Office and the Office of Religious Diversity.
The university's mission is to pursue "the preservation, enrichment, and transmission of knowledge and culture across a broad scope of academic disciplines," as it pertains to its Catholic, Vincentian and "urban character," according to the Mission and Values website. The mission can be broken down further by central purpose, students and faculty, and DePaul's effort to connect with the Catholic community and the community DePaul students call home.
Though move-in week focuses on incoming freshmen students, DePaul tries not to forget about its non-traditional students, who are adults coming to DePaul after taking a break from the academic field.
Jennifer Finstrom, a Writing, Rhetoric and Discourse professors and a non-traditional student, finds the term limiting, though her experience was welcoming.
"I don't think there is such a thing as a traditional student," Finstrom said. "Everyone brings so many identities with them that the term didn't feel like it helped."
For Finstrom, outreach programs and the university's mission of service helped her feel connected and a part of the community. Because she could relate to the mission, she tries to keep it in mind when teaching and tutoring at the University Center for Writing-based Learning.
"In the roles I have, I've found (the mission) fosters awareness of where you may be of help," Finstrom said.
The Vincentian mission DePaul is closely tied to stresses an acceptance of all religions in its community. However what it means to be Vincentian largely depends on who you ask. For Laboe, it stems from service and context, understanding the students' role not just at DePaul, but in the world around them.
"To be Vincentian means, to me, that you understand your own life in a larger context or mission," he said. "You understand life isn't all about you, but how you contribute to the larger world around you."
That's the goal of orientation, move-in week and the Discover or Explore classes: to be shown a larger mission they can contribute to. It doesn't necessarily matter who they are — religious or not, traditional or non-traditional, minority or otherwise — DePaul's "buzzwords," as well as its mission, know that all students are different but somehow they all ended up here.
View Comments (1)