Students believe in safety despite news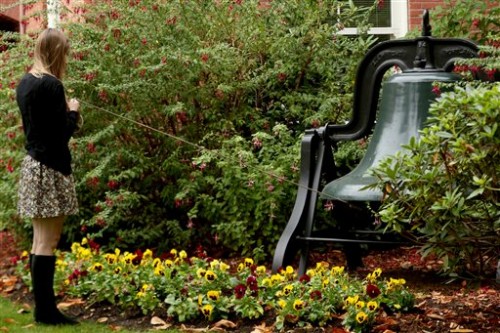 Around 7 p.m. Thursday, as students were settling into night classes or the beginning of their weekends, a bomb threat was issued at campuses across the region, including DePaul's O'Hare campus and many of the satellite campuses of Northern Illinois University. 
The threat, which comes on the heels of the mass shooting at Umpqua Community College in Roseburg, Oregon nearly a week ago, highlights the efforts of public safety officers at universities in Chicago and nationally, as well as police officers to keep campuses safe, but ultimately puts safety on campus into question.
At DePaul, the situation is unique. Though the school itself is private, its buildings — most notably the library on the Lincoln Park Campus and the Barnes and Noble on the Loop campus — are open to the public, meaning anyone can use the facilities though they are primarily used by students. It is not unusual to find a mother picnicking with her children on a spring day and, on occasion, a homeless man or woman "loitering" in the library.
Public buildings or not, however, tragedy can still strike. DePaul's public safety tries to get the word out by sending alerts to students and doing quarterly DPU alerts to simulating emergency situations that students may find themselves be confronted with — cellphones being stolen in the middle of the day, sexual assaults in the dead of night and armed robberies in the peak hours of the morning — but as witnessed at Umpqua and any of the other 266 mass shootings this year, sometimes it is the enemy you know that can hurt you.
Students at DePaul still say they feel safe however, citing the campus bubble and their own personal bubbles as factors that help protect them from the dour news that dominates the media cycles.
"I have felt safe, but I don't have broader awareness,"Trisha Mahoney, a sophomore, said. "I think sometimes I live in a closed off world. It's wonderful that our resources can be offered to a broader community, but we may need to step up security."
Stepping up security on campuses may be helpful, but gun violence itself may be the ultimate problem to fix in the city and nationally. From New Year's Day to last Thursday, there were 2,360 shooting victims, according to the Chicago Tribune's "Crime in Chicagoland."
The Gun Violence Archive, which documents instances of gun violence nationally, reports that the total number of incidents is 40,449, and puts the number of deaths at 10,184. One of the most interesting numbers, cited by Everytown, a gun safety support fund, is that there have been 143 school shootings since 2013, just a few weeks after the Sandy Hook Elementary School shooting that left 28, including the perpetrator, dead.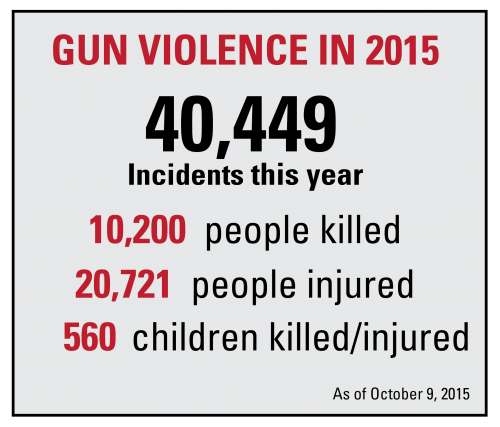 President Obama, in his address after the Umpqua shooting, has called the situation — meaning the shooting, the outpouring of support and the responses of politicians including himself — routine. Though no one can predict where the next shooting will happen, it has become so commonplace that some seem desensitized. Mahoney stated that she believes this could never happen to her, though she knows that is not true.
Some, like Mahoney, hold the idea that it can't happen here, that DePaul is different from other schools in the likelihood of a shooting happening, but others have different beliefs.
"I think it's possible in any situation or location, unfortunately," McKenna Shier, an information desk receptionist, said. "But I think that it can also happen in many other places. There are shootings at grocery stores or at movie theaters. I think it's just as likely here as any other space."
As instances of gun violence continue to be prevalent, it is worth noting that it is not only students who may be affected, but also their professors. Hannah Lee, a first-year writing professor, feels safe, but tries to remain aware of circumstances even while handing out grades.
"I do worry about bad grades. I'm careful not to penalize students, but to look for improvement and try to foster that improvement," Lee said. "In a way it's good that it's more apparent now and in our realm of immediate attention because instructors are in a position of immediate interaction that may help influence students and help them get resources."
Though resources and awareness may be helpful in supporting students and potentially preventing these incidents, the overall concern is still gun violence and preventing more unneccessary deaths. Before the president could speak on this topic to grieving family members reports of another mass shooting happened, this time at a university in Arizona, killing one and injuring three others. Shortly after there was news of another on-campus shooting in Texas.