Call of the Wild: Explore acres of animals at Chicago zoos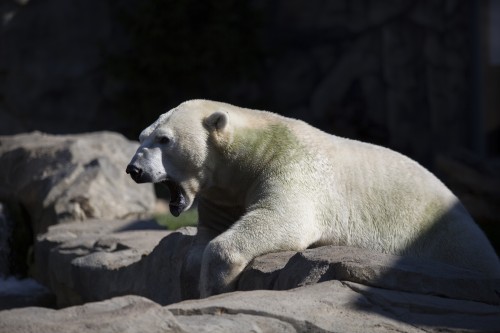 With temperatures finally starting to cool, we're all looking for fun ways to explore the city before the winter chill sets in. Luckily, there are two award-winning zoos situated right in our back yard. Both the Lincoln Park and Brookfield Zoos have world-class facilities and house hundreds of species of animals, but which one is right for you?
If you were building a zoo in Chicago, you couldn't pick a more scenic location than Lincoln Park Zoo's current home. Situated right off the lake, it's easy to forget that you're still in the nation's third largest city. Green grass, trees and cool lake breezes allow you to experience nature and still be within a walk or short bus ride from your home.
"We come here almost every day," said Irmina Valnonvic, a resident of Lincoln Park. "We live across the street. How can you beat a free zoo which has all of these animals?"
A unique feature of the Lincoln Park Zoo is that it is free every day and there are no additional fees for any of the different animal houses, programs or lectures that the zoo offers. This, combined with its lakefront location and free street parking, makes the Lincoln Park Zoo ideal for an afternoon adventure.
"Our main goal here is accessibility," said Evelyn Bray, a guest engagement ambassador at the Lincoln Park Zoo. "We truly are a neighborhood zoo an we strive to serve not just Lincoln Park, but all of Chicago. We're open 365 days a year and never charge an entrance fee. We don't want to limit this experience for anyone."
[aesop_gallery id="16506″]
Brookfield Zoo, however, is a very different animal. It's located in Brookfield, Ill., a southwest suburb just outside of city limits. The most efficient way to arrive is by car, as it would take three different train rides to get there from Lincoln Park (Brown line, Pink line, and BNSF metra). Before even entering the campus, there is a $10 fee to park, and once you arrive at the entrance gate adult tickets cost $15.95. If you'd like to see the additional attractions, such as the dolphin show or ride the carousel, tickets are $24.95. This is without taking into consideration fuel cost and commute time, making a trip to the Brookfield Zoo more of an all day excursion, as opposed to a leisurely afternoon trip. The zoo is free on Tuesdays and Thursdays from Oct. 1 to Dec. 31, but parking still costs $10 and you are charged for any additional attractions you'd like to see.
While the entrance fee to Brookfield Zoo isn't particularly cheap, the experience and facilities are second to none. Sitting on 216 acres, roughly the size of a small college campus, the zoo is home to around 450 different species of animals, reptiles, birds and amphibians. Of course you can see lions, tigers and polar bears, but the zoo is also home to critically endangered species such as the Mexican Grey Wolf and Bornean Orangutan, as well as dolphins and other marine mammals.
Once you pass through the gates, every sign you read or member of their impressively large staff that you encounter is there for the sole purpose of education. Zookeepers that are not working with animals engage visitors and answer questions, pop up stations are erected to provide a hands-on experience and guided tours are available to everyone. 
Exhibits are designed to allow visitors complete immersion in animal habitats. Tropic World, formerly known as the primate house, features walkways that traverse through sections that were designed to recreate both the temperature and landscape of Asia, South America and Africa, all while monkeys climb the trees and rocks. It is the closest you can get to actually being there without leaving Chicago.
"My son loves it here because of how interactive the exhibits are," Sharee King, a zoo patron said. "It doesn't feel like we're in the suburbs anymore."
In addition to providing an engaging guest experience, Brookfield Zoo engineers are pioneering new ways for animals to engage with their environments. In the past few years, zookeepers have designed habitats and feeding tools that simulate how animals must hunt and scavenge in the wild, such as the new red panda exhibit. This habitat includes an artificial tree, which, at random intervals throughout the day, disperses food in the trees various knotholes, promoting behavior akin to what they'd display in their natural homes.
[aesop_gallery id="16519″]
In contrast to Brookfield's grand campus, Lincoln Park's atmosphere is much more casual and lacks the same extravagance. It almost feels like you're taking a leisurely stroll through one of the city's parks that just so happens to house wild animals from all over the world. Exhibits are less immersive, but allow visitors the ability to take a much more relaxed approach to their zoo experience.
While there is staff on hand to answer any of your questions, you're left to explore more at your own leisure, a much more manageable feat here, seeing as the Zoo only covers about 56 acres. The Lincoln Park Zoo is home to around 200 species of animals, birds, reptiles and amphibians, and all of the hall of famers are present — Amur tigers, snow leopards, African lions, giraffes and even black rhinos. The main differences between the two zoo's animal portfolios lie in the depth and quantity. Brookfield has over double the amount of species that Lincoln Park does, and a higher quantity of each species. The Lincoln Park Zoo offers fewer species, but brings them to your doorstep.
Trying to create a competition between the Brookfield Zoo and Lincoln Park Zoo, however, seems contradictory to their mission.
"The zoos collaborate together on many fronts, and our main goal is to promote wildlife conservation," said Cindy Zeigler, chief advancement officer of the Chicago Zoological Society, the organization that runs the Brookfield Zoo. "Our PR departments share strategies, the Animal Programs staffs work closely on projects and they participate together on several local conservation programs. Even the zoo directors communicate regularly on zoo business."
[box]QUIZ: Which Chicago zoo is right for you?[/box]
In fact, the zoos recently collaborated on a primate breeding project that saw one of the Lincoln Park Zoo's lowland gorillas make the short road trip over to Brookfield in order to be matched a suitable mate.
With all this in mind, it's not a matter of which zoo is better, but a matter of which zoo fits your needs. Live downtown and want a cost effective way to experience wildlife on a lazy afternoon? The Lincoln Park Zoo is the perfect option. Or do you want a full day trip, with bigger exhibits that span the area of a college campus, even if that means paying a bit? Pay the Brookfield Zoo a visit.  In reality, the Brookfield Zoo and Lincoln Park Zoo are just different sides of the same coin. Regardless of which zoo you visit, you're sure to have a first class experience, see some amazing animals and help promote conservation in the Chicago area and across the world.
View Comments (1)