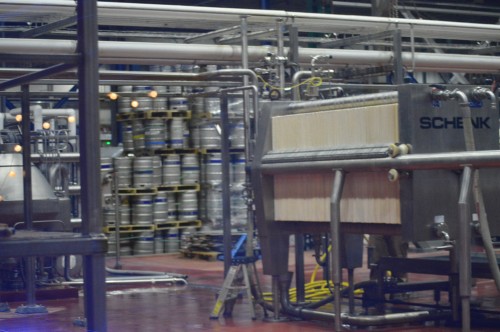 "Hold your breath, make a wish, count to three," are the famous words that Gene Wilder uttered before he delved into performing "Pure Imagination"s — the most iconic song from "Willy Wonka & the Chocolate Factory.
At Lagunitas Brewing Company in Pilsen, "Pure Imagination" and LED lights filled the hallways and welcomed visitors into its spacious factory.
Lagunitas Brewing Company has not always been located in Pilsen, however. The beer itself was founded in Lagunitas, California, and is headquartered in Petaluma, California. Fortunately in 2012, the president of Lagunitas and Chicago native, Tony Magee, recognized several benefits in bringing the beer to the Land of Lincoln.
The brewery finally opened its doors to visitors in June 2014 and is currently building two 250-barrel brew houses. Its factory in Pilsen has a 100-year lease and is located next to Cinescape Studios with neighbors like Chicago Fire, Empire and DePaul CDM students.
Although weekly tours of the brewery are free to the public, Lagunitas added a few special guests for their Chicago Ideas Week lab. The tour included not only a guide, but also a brewer and a quality assurance representative.
The staff was attentive and the brewery's construction hardly distracted any visitors during their presentations. The holding room reminded visitors of a backyard barbeque complete with a calm aura, fluffy brown couches, arcade games and wooden tabletops with complimentary pretzels —way better than peanuts.
As we waited for more guests to arrive, the quality assurance professional began distributing Pilsner samples and informational forms: a colored taste guide and sheets explaining the brewing process in depth. After a brief introduction from a Lagunitas brewer, the tasting began.
Visitors were able to taste beer in every stage of the brewing process. Beers are evaluated in four categories: visual, aroma, taste and mouth feel.  Before beer becomes the cold, crisp drink that consumers know it to be, it begins as "wort"— a combination of sugars from malt and filtered water.
The malt used to make beer will affect the finished product's taste. For example, caramel or crystal malts tend to provide a sweeter taste, while Munich malts create a nuttier flavor. While sweet, "wort" gives off a slightly bitter taste, leaving many guests disgusted.
The next phase of the tasting was the fermented alcohol. Once the yeast is added, the alcohol is passed through cooling tubes, bottled and capped shut.
The Lagunitas staff continued to generously pour guests samples of their favorite Lagunitas beers, like "Lagunitas Sucks," "Little Sumpin' Sumpin'," and even an unreleased seasonal beer. The Lagunitas host also offered guests tall pours to take along on the catwalk tour.
On the tour, visitors learned that Lagunitas has a bar dedicated to fundraising. Lagunitas' fundraising space is so popular that it is completely booked for the year of 2016, and is now accepting reservations for 2017 events.
The tour also highlighted Lagunitas new partnership with Heineken NV.  As of Oct. 15,  Lagunitas will operate as a subsidiary of Heineken NV.  According to Lagunitas, Heineken has acquired a 50 percent stake in the company to help expand its operations globally.
With the joint venture, Lagunitas will be able to continue operations in the U.S., while Heineken will expose the leading craft beer to an international market.