DePaul Theatre Union gives non-acting majors opportunities to act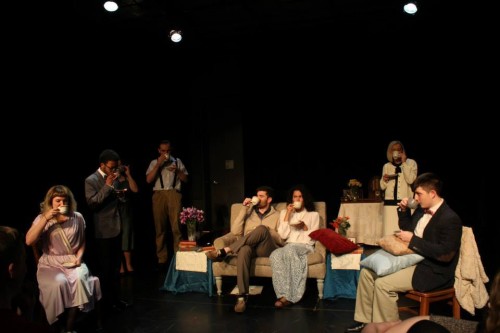 The Theatre School at DePaul has a rich history of producing some of the most talented actors and actresses, such as John C. Reilly and Gillian Anderson. However, there is another theater organization on campus that is quickly making a name for itself. The DePaul Theatre Union is a completely student run organization that produces three shows a year and is open to participation from DePaul students in any college.
"I was drawn to DTU because even though I'm not a performing major, I love to perform," Caroline Pramas, a senior theater management major said. "One thing that not a lot of people understand about the Theatre School is that only acting majors can be in the shows, and only design majors can design the shows. So even though I have this awesome opportunity to be a part of this wonderful conservatory, I am not able to perform alongside my friends who are acting majors. DePaul Theatre Union gave me an opportunity to continue to perform."
Creative democracy is a cornerstone of the DePaul Theatre Union. The organization was founded in 2011 and the original members were all theater majors, but this quickly changed.
"As it stands right now, the official membership of DTU includes far more non-theater majors than theater majors," Barry Brunetti, a theater professor at DePaul and DTU's faculty advisor said. "The DTU gives non-theater majors an opportunity to exercise their theater and performing muscles."
This openness and acceptance of non-theater majors is also what drew in Tyler Stone, a senior history major.
"We have so many majors coming through DTU with varying past experiences that have shaped their perspectives," Stone said. "But we all have one goal: to put on theater and perform. This is the lasting hook of DTU that I've loved so much."
One of the most notable aspects of the organization is how each show is produced and funded. DePaul Theatre Union doesn't rely on direction from their faculty advisor but instead from members of the organization, many of whom only have experience in high school production.
Members such as Stone, who directed "Almost Maine" in 2014, handle all aspects of the performance from casting to sound design, as well as fundraising.  Student Activity Funding Board only covers the cost of acquiring the licensing for shows. Fundraising by DTU's members covers the additional cost of producing a performance. According to Stone, each show launches online campaigns using crowdfunding platforms such as GoFundMe and kickstarter in order to pay for costumes and props. DTU does not sell tickets or charge to see shows, but satisfied patrons are allowed to leave donations.
Passion for performing and producing these shows is what draws students to the organization, but the bonds they build with each other while involved is what has helped the organization move from strength to strength, and the door is always open to prospective members.
"Some of my closest friends have come from DTU," Donyae Lewis, a sophomore majoring in journalism and creative writing said. "During all of the productions I've been involved with, we've become a family. That's the beauty of theater."
"You spend so much time with these individuals in rehearsals, and you build such a strong bond," Lewis said. "I recently went to the fall production of "Scapin," and it was a joy to see my friends that I've worked with in the past do their thing on stage. DTU is one big, happy, family and I'm eager to extend more branches to this family tree."