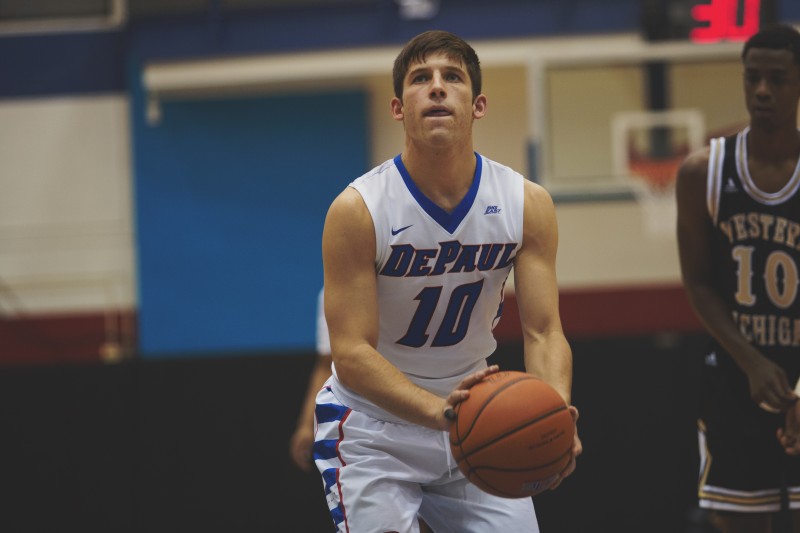 Sports films evoke strong emotional reactions, even in people who have no idea what the difference is between a jump shot and a free throw, for a reason: they tell both relatable and powerful stories of dedication and redemption, of hard work paying off, of dreams coming true.
David Molinari, a senior economics major from Peoria, Ill., has one of those kinds of stories.
The DePaul men's basketball guard, joined the program as a walk-on last season after an injury at his previous school made it seem like he may never play college basketball again. Now, he has been awarded an athletic scholarship.
"It's been a goal of mine since I was a sophomore in high school," Molinari said. "It's something I dreamed about and worked really hard for, and it didn't materialize during high school."
After playing at his high school in Peoria, Molinari went on to play Division III basketball at Illinois Wesleyan. Two concussions later, he was on a break from the game he'd been immersed in his entire life.
Molinari's dad is Jim Molinari, current assistant coach at Nebraska, former Illinois Wesleyan basketball player, and former DePaul assistant coach from 1987-89.
"It was weird when I stopped playing for a little bit, because I was so used to growing up with my dad, going to all of his games and playing all of the time," Molinari said.
Molinari said the news of the scholarship was "awesome for my family too, because I knew they'd be really proud."
Head coach Dave Leitao said that growing up in a basketball household contributed to Molinari's success on the team.
"I think the connection was immediate because he's a coach's son, so he gets it," Leitao aid. "You know, being in the office, not just talking basketball but talking life from the same language his father has spoken to him over and over again over the years."
Molinari of the DePaul Bench Mob, whose members also include fellow walk-ons Peter Rykbosch, Cory Dolins and Joe Hanel. Together, they gained notoriety for their entertaining courtside displays of celebration.
Leitao says the Bench Mob is an example of a bonding ability that is one of the reasons Molinari is so valuable to the team. He said it is unusual for a player to be able to contribute to a team as much as Molinari does without "scoring 20 points a night."
"We pretty much knew our role wasn't going to be to play meaningful minutes," Rykbosch said. "But, we're going to support our team any way we could, and that's pretty much how the Bench Mob started."
One of his favorite skits was when the four members formed into a baseball diamond and simulated a pitch, complete with a catcher, umpire, batter and pitcher. Rykbosch acknowledged Molinari as the "mastermind" behind many of the Bench Mob's antics.
But Rykbosch's first encounter with his future teammate occurred in a much different capacity: Rykbosch was a referee for DePaul intramural basketball, which Molinari participated in after transferring to the university, completely unsure if this was going to be the extent of his involvement with the sport he was raised on.
Rykbosch noticed Molinari immediately.
"He was clearly head and shoulders better than everyone else," said Rykbosch. "It was pretty fun to watch him crossing kids out and hitting shots."
Molinari said the realization of how much he looked forward to those Wednesday night intramurals allowed him to come to terms with his lifelong passion for basketball.
"I wasn't as happy when I wasn't playing, but I do remember always looking forward to those Wednesday nights when we had intramurals, and that did push me back to where I was like, maybe I should play again," he said. "If I'm enjoying looking forward to Wednesday nights, playing intermural basketball, then maybe this is what I love."
In the spring, Molinari began attending open gyms, where Rykbosch says he continued to stand out.
"He seemed like a really relaxed kid, tried really hard at it," Rykbosch said. "I remember him being a guard that would screen as well, so that was kind of something that I liked, because I like that kind of physical fundamental play."
"It was over a year of not playing basketball that I came to realize just how much I missed it and how much I loved it," Molinari said. "It was just a lot of soul-searching, just trying to find what I was passionate about."
"I always tried to follow my passion even if it seemed like an uncomfortable decision," he aid.
Molinari became a walk-on for the DePaul basketball team in the fall of 2014.
Both Leitao and Rykbosch point to Molinari's impressive dedication to practice as one of the characteristics which led to the scholarship decision.
"Every once in a while, you get a guy that embodies what you want your program to stand for," Leitao said. "He spent his whole life essentially in the gym or in the office, watching film or asking questions, getting better. That's what you want, that's what you want out of all your players."
Rykbosch said Molinari is constantly in the gym, trying to get better.
"When me and Joe were dead tired, he's just like, 'oh, I'm going to go to the gym and shoot,' and we look at him like he's crazy because it's like, 10:30 and we're tired and we want to go to sleep and we have homework to do," Rykbosch said.
Molinari's motivation comes from his love for the game.
"You really can't work hard at something you're not passionate about and you don't enjoy," he said. "This is my last year of college basketball, so I really want to make the most of it."
As a player who's also suffered a serious injury, Rykbosch thinks the perspective that time off from playing provides is a key part of what makes Molinari special.
"When you get hurt like that, you kind of see it's a game, it's going to end at some point, it can end tomorrow due to some catastrophic injury, or you could be lucky and play professionally somewhere," Rykbosch said. "So you just have to take every day one step at a time, and enjoy every day you have out there, and it's what we do as a Bench Mob, and that's what David does. He's going out there and working really hard so he can enjoy it more."
Performance-wise, not much has changed since Molinari was awarded the scholarship, because according to Leitao, nothing needed to. However, both coach and player point to the benefit of Molinari feeling more confident to speak his mind with the team.
"It is empowering to make my voice a little bit louder. It adds a little more weight to it," said Molinari. "It's harder to hold guys accountable when you aren't a scholarship guy, compared to when you are. It definitely makes the weight of my voice a little bit louder in games and practices."
"It's provided the kind of confidence that he can speak his mind and say things to people as a peer, not as a guy that's not on scholarship," Leitao said.
Receiving the scholarship caused Molinari to reflect upon his journey and decision to continue pursuing basketball.
"It just really took me back, because I just would think about the times when maybe I was like, I'll stop playing basketball, and you know, to think that now, I'd have a scholarship on a Big East basketball team, I would never have imagined that," he said. "I would never have imagined it when I went to my D3 school, so it's like really just a surreal moment where I saw this wandering around I did and it's so awesome how it worked out for me."
Rykbosch said the consensus of the team is that Molinari deserves the reward of the scholarship.
"He's a really funny guy, really great to be around, great teammate, great player, and it's really exciting and I'm really happy for him," he said.
"I was just trying to really follow where my passions were, and it really proved to me that that's the way to do it because it will work out," Molinari said. "It'll all work out if you just work hard and try to follow where you think your heart wants to go."
And where does Molinari's heart want to go?
"I think I want to be a coach."