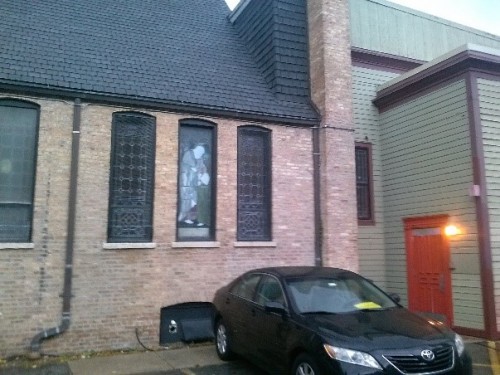 Tyrone Alexander walked down the street, restlessly jumping on top of every passing curb. When he was a young man, Alexander ran away to similar streets to escape hostile parents back home. He then joined the Marine Corps as an engineer for 11 years, but after "becoming sick in the mind," as he called it, he left that life too. Then his mother died.
Alexander started to drink heavily and take drugs. He used the money he made from his talent of fixing things to fuel his addictions. Now Alexander, a middle-aged man, is homeless.
Like many homeless people, he relies upon social services like shelters and soup kitchens to survive.
"Every day—every day—I go to different places because I gotta eat while I'm out here," Alexander said.
Alexander is one of an estimated 125,000 homeless people in Chicago who could face an especially grim winter.
According to a report by the Chicago Coalition for the Homeless, more than 100 soup kitchens and homeless shelters in the city will cut back or completely close their services. The report points to the Illinois state budget impasse and funding cuts enacted by Gov. Bruce Rauner as the source of the trouble.
But in Lincoln Park—known to some homeless as the land of milk and honey—the cuts are not as noticeable. Many soup kitchens and shelters in the neighborhood continue to offer the necessities homeless people depend on to survive during the colder months.
One such place is the St. Vincent de Paul Parish, which serves an hour-and-a-half breakfast at its soup kitchen six days a week. According to its website, the kitchen serves 125 meals a day.
As manager Katie Leifer filled bowls with fruit, she said her kitchen is ready for the upcoming season. The kitchen's volunteers even plan to improve the quality of meals and provide coats and blankets to those in need.
"What we do in the winter is we serve soup because that's warm," Leifer said. "And in the winter we have a lot more people who want to dine in and stay longer because it's warm in here."
Leifer had her reasons for volunteering to help homeless people.
"Just because you're homeless, it doesn't mean you're not hard working," Leifer said. "I think it's really important to acknowledge people. If you see someone on the street, you don't need to avoid looking at them just because they're homeless."
Mike Burns ate his meal on the steps outside the parish. He said most of the people who go to the soup kitchen are homeless. Many are veterans, ex-professionals—one used to be a doctor. There are a variety of reasons how they became homeless.
"Sometimes drugs, sometimes they gave up and quit. Maybe they don't want to come back," Burns said. "Some get dead and never look back. It's all up to the individuals."
Along Fullerton Avenue is the Church of Our Savior's soup kitchen. Mike Beans, a volunteer there, said meals are cooked using ingredients donated by local businesses. He said they also provide a foot clinic and weekly haircuts.
At one of the many wooden benches in the shelter's main room sat Mark Friend. He said he's been homeless for about five years; before that he was a certified nurse. Now he panhandles and eats at soup kitchens like this one during the day, and sleeps on the porch of a church near O'Hare Airport at night.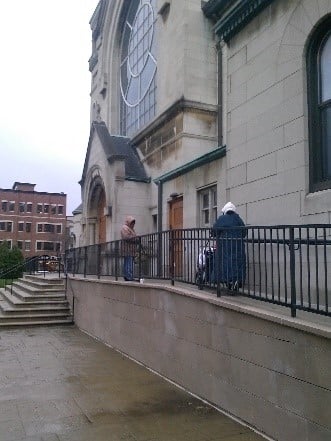 "I think to me, if you're homeless, especially if you live on the streets such as I do, Lincoln Park and Evanston are the best places to have under your belt," Friend said.
"You can make it out here," he said, pausing. "Well, as far as being homeless, you know."
Fullerton Avenue is also home to Lincoln Park Community Shelter. Fawn O'Brien, the volunteer program manager, said they provide short-term housing and meals for 35 people on any given day.
Alexander stopped walking in front of the community shelter. He said sometimes he rejects the social services they provide because of the emotions he is working through.
"I'm ashamed. Sometimes pride get in the way," he said.
But money was what concerned Alexander the most though, who receives $750 a month from social security and disability from Veterans Affairs. To get enough money for necessities and other things, he sells metals and clothes he finds in alleys to stores like Plato's Closet.
"This whole situation with the homeless, it starts with us. The things you do: you do drugs, you do alcohol, man, you partying too much, you don't go to school," Alexander said. "But when you out here, it's up to you."
Places serving Lincoln Park homeless