Confronting the 'fierce urgency of now' on gun control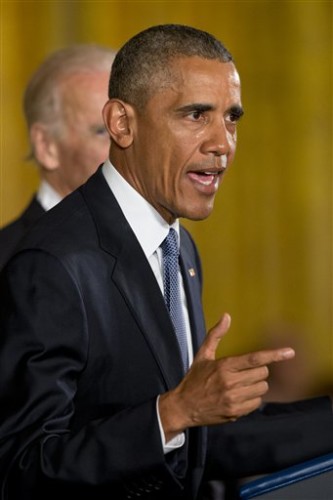 In remarks televised from the East Room of the White House, President Obama laid out his proposal for increased gun control measures Tuesday.
The president's executive action proposes stronger, more efficient background checks and ensuring that all firearms sellers are licensed, increasing the number of Alcohol, Tobacco and Firearms (ATF) agents. The proposal also establishes a new rule for vendors that if their weapons are lost or stolen while in transit they have to report to law enforcement.
The president also proposed a $500 million investment in mental health care access and also to restrict the purchasing of guns on the grounds of mental health reasons. Obama also proposed increasing research by the Departments of Defense, Justice and Homeland Security to create better gun safety technology.
"We are encouraged by his call to action. More than 30,000 people are killed by guns (each year) and if it hasn't affected you personally yet, it's just a matter of time before it enters your universe," Mark Walsh, campaign director of the Illinois Council Against Handgun Violence, said. "Last year there was at least one mass shooting a week. This is not an urban problem, or a black and brown problem; this concerns everyone."
For the past decade, more than 4 million people were the victims of  assaults, robberies and other crimes involving a gun, according to the White House. Last year, there were 52,627 gun violence incidents, according to the Gun Violence Archive (GVA), a not-for-profit corporation formed in 2013 to provide free online public access to accurate information about gun-related violence in the United States. So far, GVA's site says 884 shootings already occurred in 2016. The number of deaths are already over 200 people, while the number of people injured is just over 400.
One of the most notable shootings in Obama's tenure, the Sandy Hook shooting, caused the president to become emotional while speaking about the proposed executive actions. "We know we can't stop every act of violence, every act of evil," he said during the press conference. "But maybe we could try to stop one act of evil, one act of violence."
"The president did as much as he could do with the power he has and this was an inspirational step in the right direction," Barry Kellman, professor of law and director of the International Weapons Control Center at DePaul, said.
The proposal also includes keeping guns out of the wrong hands. This would come through clarification of laws that are already in place. Measures proposed by the president for gun sellers are largely to close the "gun show loophole," which exempts small arms sellers from keeping formal sales records. Some, including the National Rifle Association (NRA) and other pro-Second Amendment advocate groups, say the proposal doesn't target the actual problems surrounding gun violence.
"The problem isn't guns, the problem is people. Criminals don't follow laws — we have all the laws already on the books and no one is prosecuted for those crimes. If existing laws were enforced then we would have less crimes," Andrew from Illinois Concealed Carry, LLC., who asked for his last name not to be used, said. "If you want to get rid of firearms, amend the constitution. Gun control is an issue that politicians on both sides use to divide people."
House Speaker Paul Ryan said shortly after the president's speech that the president's actions will be challenged in courts and would more than likely be overturned by a Republican president.
A Quinnipiac poll released Dec. 23 showed that 47 percent of Americans support stricter gun laws, with 50 percent opposed, but  89 percent of voters, including 84 percent among voters in households where there are guns, support requiring background checks on gun purchases at gun shows or online.