Deportation and the wolf at the door: Immigrant rights organizations upset about raids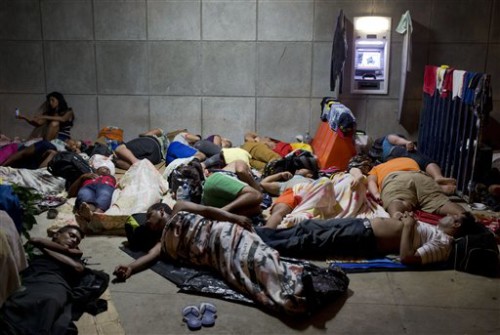 If you hear a knock at the door, Tania Unzueta, a member of the #NotOneMore campaign, warned, don't open it. Know your rights. Report raids if you see them, and, most importantly, don't open the door.
The Obama administration announced raids and deportation efforts would begin shortly after the new year. Unzueta, and other news sources, say that the raids started Jan. 2. The primary target: Central American refugees fleeing violence in Honduras, Guatemala, El Salvador and Colombia to name a few of the home countries.
On Tuesday, the Illinois Coalition for Immigrant and Refugee Rights (ICIRR) addressed the media and undocumented citizens at a press conference  organized by Unzueta outside of the U.S. Immigration and Customs Enforcement, or ICE, offices in Chicago to spread the word about these raids and the tactics of officers to undocumented citizens who may face these deportation efforts.
Unzueta spoke during the conference about friends recounting their experiences. They told her ICE officers with guns and documents went around to different houses, many of them in the Albany Park neighborhood, telling people to pack up their things and come with them.
They then took them to detention.
Another man named Francisco discussed how his home was raided in early November 2015. Shortly after, three U.S. Marshals entered his home and he was taken to detention. He's now fighting the case, but few undocumented refugees get the chance to do so.
"It's complex because there's all sorts of legal arguments involved — and courts and lack of attorneys  — but the basic reality is that people who are here without documents are under threat of their lives completely changing one morning," Unzueta said. "Imagine if randomly around the country there were police officers knocking on people's doors and dragging them to jail. There's a feeling that if the police are taking you that it's because you've done something wrong and they've figured out you're a bad person in this country. The reality is that that's not actually the case. These are everyday people."
ICIRR, as well as other groups around the city, expressed disappointment with the Obama administration, citing his early promises to curb deportation efforts and create a path to citizenship for refugees and immigrants. Neither, many pointed out, have happened.
The growing availability of drugs and weapons, and the growing presence of gangs has placed many in the crosshairs. In a report issued by the Wilson Center that assessed Central America's northern triangle — El Salvador, Guatemala and Honduras — major challenges to a good quality of life include "high homicide rates, rampant extortion,communities controlled by youth gangs, domestic violence, impunity for most crimes, as well as economic despair and lack of opportunity." The U.S. demand for cocaine and other drugs produced in Latin America, as well as the trafficking of firearms from the U.S. to gangs in Latin American countries, are also contributing to the violence.
Families fled in order to escape these harrowing situations, but many now face the risk of going back.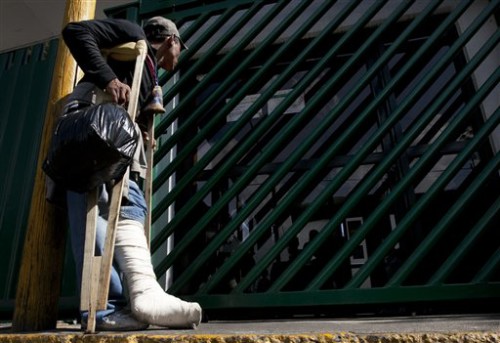 "I'm saddened that the Department of Homeland Security (DHS) has decided that this is necessary. Many of these people are seeking asylum — they are bonafide refugees — and a lot of the violence in these countries is in part related to our policies," Rev. Craig Mousin, DePaul's Ombudsperson and former director of what is now the National Immigrant Justice Center, or NIJC, said. "They have a right to come to our borders and ask for asylum. We're sending them back to more persecution and death."
Those coming from Central America are part of a larger refugee crisis, that also includes those fleeing from Syria and other countries in the Middle East. Their circumstances are similar: both groups are fleeing because they fear persecution, which is a major factor in what may legally separate refugees from immigrants, who come for better economic opportunities among other things.
The Department of Homeland Security reports that between October 2014 and September 2015 more than 235,000 people were deported.
Undocumented people who are taken as part of the raids are typically not able to get a court appointed attorney or legal help or to have their asylum claims heard, which Claudia Valenzuela, detention project director of the NIJC, said is one of the most disheartening aspects of the deportation process. The result, she said, is many undocumented people navigating a very "complicated set of laws — some of the most complicated in our legal system — on their own."
"I know that DHS thinks it's legally enforcing the law but I don't agree that due process has been observed in these cases and I think that, overall, we just need to push back on this very anti-humanitarian stance we're taking as a country in regards to this situation," Valenzuela said.
The effect of these raids on families and on their communities is one that is also important to those following this round of raids. Bernadette Sanchez, a professor of community psychology, said that the psychological effects of these raids and deportations — on children and on their families — could cause depression, fear and a sense of abandonment in children whose parents are taken.
The best way to deal with the influx of Central American immigrants and refugees still eludes politicians. Those running for president, on both sides of the aisle, have proposed plans  or ideas, but the deportation efforts may continue as presidential candidates have their debates.
As of Jan. 6, some facing deportation have had the process paused, though the duration of this pause is unknown. Democrats have expressed their disappointment with the deportations as well, while journalists like James Stavridis of Foreign Policy, suggest a new type of "Plan Colombia," the $9 billion initiative approved by Congress in 2000 that helped reduce violence and narcotics sales to help all of Central America. Others suggest a reconsideration or reminder of America's history of accepting immigrants.
"We're a country of immigrants and somehow that message has gotten lost," Celena Roldan, executive director of the Erie Neighborhood House said. "People are coming here because of safety and hope, and instead we're turning our backs on them."