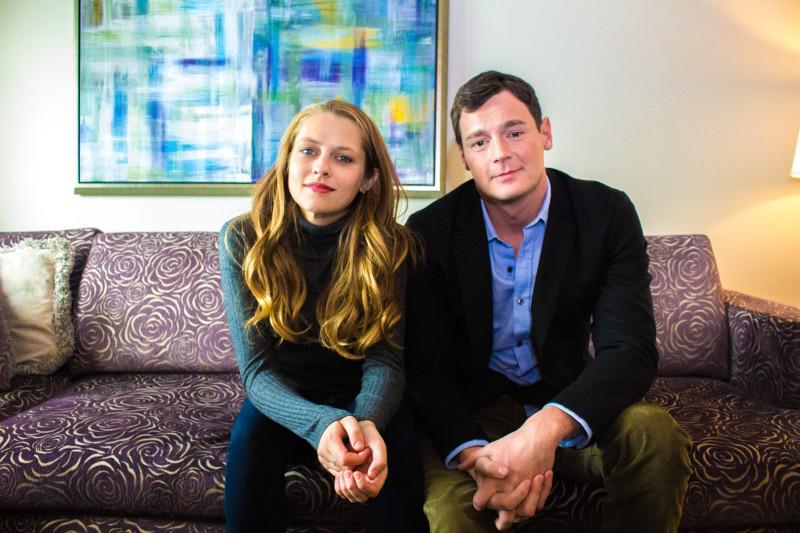 Author Nicholas Sparks ("The Notebook," "A Walk to Remember") is gearing up yet again to break hearts with the latest adaptation of one of his novels, "The Choice," starring Benjamin Walker and Teresa Palmer as Travis Shaw and Gabby Holland, respectively.
Despite the characters' differences, they make a series of life-changing choices for a chance at true love. The unlikely couple has an almost immediate irresistible attraction as they try their best to not be in love with one another.
Best known for his cult role in "Abraham Lincoln: Vampire Hunter" to more recently "In the Heart of the Sea," Walker's intimate side is rarely seen onscreen, but in "The Choice" he seems like a seasoned veteran of romance films.
Palmer is no stranger to romance films, and is possibly most recognized for her role in the zombie love story "Warm Bodies."
The two worked well onscreen as the chemistry seemed real and believable. The biggest takeaway from romance films is the onscreen chemistry between the two leads.
The DePaulia recently sat down with the stars of "The Choice" to discuss first date horror stories, to relating to their onscreen characters.
The DePaulia: Nicholas Sparks films are a staple of the romance genre, and a lot of first dates are to go to see these films. In that spirit, can you share your worse first date experiences that went horribly wrong?
Teresa Palmer: My first date with my husband was pretty bad, I'm going to say. I don't know why, we had written each other for 40 days. We started off with small emails and then turned into these long emails about describing our futures and our dreams. We fell in love over emails.
The first time face-to-face there was such a hype surrounding it, and I played it really cool. I was like "I got this, we know each other, we're good." But then he arrived at my doorstep there was maybe 200 beads of sweat dripping down his face into his mouth and he was just this stuttering mess.
It was sort of anticlimactic and the whole rest of the dinner he kept on just being like, "I'm sorry, I'm just so nervous," and so that was sort of a horrendous first date. But he made up for it the second date.
Benjamin Walker: What did he do on the second date?
Palmer: He completely apologized for his nerves and he opened his heart to me and told me why he was so nervous.
Walker: I went on a date one time, I actually use it on my standup. I have the voicemail that I saved and play it. My date got so cripplingly drunk before the appetizers even came that by the time the entree came I had to just pay and help her get into a cab.
Palmer: Oh, how embarrassing.
Walker: She threw up all over me and all over the cab. But then the next day she left me a voicemail and said, "I'm sorry I get really horrible when I drink and I wanted to know if you wanted to go get a drink tonight?" No.
DePaulia: In the film, Travis and Gabby are living contentedly. Travis on his boat with his dog at his side and Gabby is engaged while studying to be a nurse. But when they meet, they almost instantly know they are perfect for each other. Can you relate to that revolution?
Walker: I've certainly gone through my life such in similar ways to Travis in that he kind of lives under this delusion that he doesn't need someone else in his life. He has his family, friends and his dog just living happily ever after. I've certainly learned in my life how much you need other people. Especially that one person that you devote your life to, and they do the same so that you can grow together, as scary as it sounds.
Palmer: I felt like I could very much relate to Gabby. When we meet Gabby she feels like she's got it all set and she knows what her life is going to look like. She has her partner and her career with everything all perfectly lined up in a row for her. She's not truly her authentic self. When she moves in next door to Travis he holds a mirror up to her where she can finally recognize herself for the first time.
DePaulia: This is the 11th film book adaptation from Nicholas Sparks. How do you feel about being a part of his film franchise?
Walker: I don't think of it like that. The pleasure of this was getting to tell a beautiful story and work with amazing actors. Anything that happens outside of that or any connection that has to another movie or another story is for the viewer to make.
DePaulia: Onscreen the whole cast seemed in tune. Along with the relationship between the two of you how was it filming with what seemed like a family type of relationship with the rest of cast members? People keep asking this, like, "What was like the hardest day on set?"
Both: There wasn't one!
Palmer: No, it was when we wrapped. We were legitimately traumatized when it was over. For me, it reinvigorated my passion in filmmaking. I realized that movies could feel like this all the time.