DePaul professor stars in 'Sherlock Holmes' play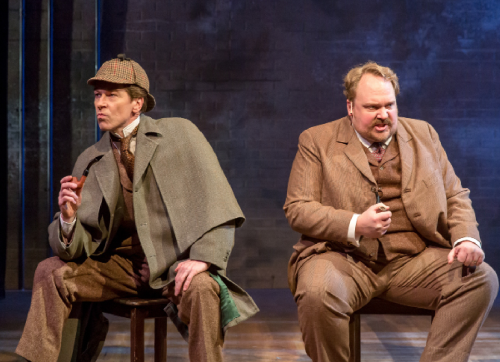 In reality, it would probably be awful to be taught anything by Sherlock Holmes. While the fictional British detective is highly intelligent, he's also narcissistic, can't deal with emotions and has no empathy for others. 
Thankfully, for students of Nick Sandys Pullin, an adjunct professor in the Theatre School, Sherlock Holmes is just his latest role, rather than his actual personality.
Pullin currently stars in "The Man Who Murdered Sherlock Holmes," a musical that follows "Sherlock Holmes" author Arthur Conan Doyle (Michael Aaron Lindner) as he attempts to solve a series of horse murders in Northern England with the help of none other than his fictional character, played by Pullin.
The story is set in 1893, after Doyle writes "The Final Problem," in which he kills off his famous character. After dealing with public outrage, Doyle then has to encounter the man he killed off — as Sherlock Holmes travels from his alternative universe to confront the author before they team up to solve a mystery together.
The musical is currently playing at the Mercury Theater Chicago, and runs through March 20.
"Sherlock Holmes is such a blast to do," Pullin said. "It's not terrifying because you're part of a tradition, and you're just adding to that tradition."
Pullin is performing the role in addition to his work as the producing artistic director at the Remy Bumppo Theatre Company, and his work at DePaul, where he teaches stage combat.
"Stage combat, and how I teach it at the Theatre School, is about taking up space," Pullin said.
His knowledge in stage combat is helpful in the musical, as Holmes and Doyle have to fight off numerous suspects throughout the musical.
"To be able to do the violence, and to do those different things, and to show how Doyle fights and how Stillman fights, and how Moriarty fights, it just becomes a great character study, and I love doing that," Pullin said.
Pullin believes that choreography and stage combat can help anyone training to be an actor, whether or not they use it in their future.
"It's going to inform them about their own sense of space, their own reach, their own aggression, their own emotional response to violence in the world," Pullin said. "And that's really important for me as a teacher."
While he now teaches stage combat, Pullin initially planned to teach English.
"I was in my final term in my last year at Cambridge when I was pretty much convinced that I was going to be an English teacher," Pullin said. "I went home and said to my mother 'I guess I'm going to be an English teacher,' and she literally said to me 'What would you like to do?'"
After the prompting by his mother, Pullin enrolled in drama school at the Guildford School of Acting & Dance, where he received a graduate diploma in 1986 and began acting.
Pullin went on to get three more degrees in English literature, and although he is not teaching English, he finds the knowledge of literature helps him in his current career.
"I've done so much Shakespeare, I've done so much classical theater, and even when I'm not doing things like Sherlock Holmes, or Darcy from 'Pride & Prejudice,' I have so much knowledge of the literature behind it, that it informs hugely of what I do on stage," Pullin said.
In addition to his knowledge of literature, his thirst for knowledge and curious nature also help him throughout his performances, including his current turn as Holmes.
"I'm massively curious about everything," Pullin said. "Every show we do, every character I play is a huge journey into the unknown. I always hope everybody in the show and everybody in the audience will learn something about the world. Or about themselves. Or both."