DePaul student in Brussels: 'We're lucky to report that we are all safe '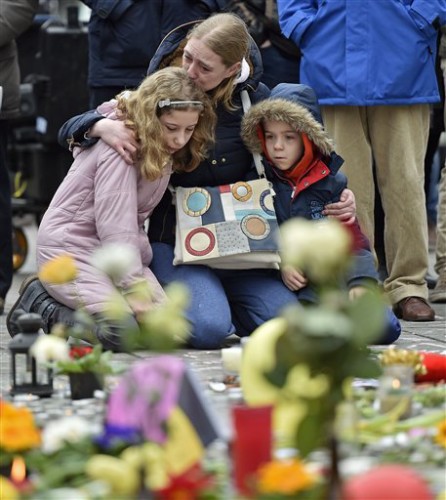 When Natalie Cushman, a DePaul junior who is studying abroad in Brussels, first heard about the bombings on her way to work at the European Parliament she was nonchalant, she said. She did not know the extent of the damage, the number of casualties or the reason behind the explosions.
As the day unfolded, her response changed. The bombings in Brussels earlier Tuesday are the latest terrorist attacks carried out by ISIS. There were explosions at Brussels Airport, the city's main airport, and at a downtown subway station around 8 a.m., the height of morning rush hour. Some of Cushman's peers take a train that stops at this airport, but, luckily, none of them did today.
Cushman said in an email that "As pictures and information began to flood in and the events started trending on Twitter and other media, I began to realize the severity of the issue. Then, I grew increasingly more concerned for my immediate safety as I was still commuting into Brussels."
Cushman, who is majoring in public policy, along with three other DePaul students and 13 other American students from Catholic University of America and St. Joseph's University are studying abroad in the country, in Leuven, Belgium. The city is around 15 minutes away from Brussels. The students are also in an internship program at the European Parliament in downtown Brussels.
Her train to work, which left shortly after the first bomb was detonated, was not delayed, but by the time she got to parliament, around 9:10 a.m., the streets were filled with people and sirens blared — the second bombing, at Maelbeek subway station, happened at or around that time.
Though she and her peers were able to make it to parliament, none of the usual parliament meetings were held Tuesday. The city, like others before it, banded together in solidarity and in mourning. Cushman said that this sense of community is also strong in her group of students. Because of the attacks, no trains or vans were available to Cushman — surge pricing made them around 120 euros or roughly $135.
"The walk through the city was probably one of the most disconcerting parts of the day. We were all on edge walking through the city," Cushman said. "There were more people out at this time than earlier in the day, but the security and military presence was very high. When we arrived to the train, we noticed that everyone had to remain outside to go through a newly formed security line to enter the train station"
The mood since the attacks has been somber, Cushman said, and she and her fellow students held a moment of silence at dinner to commemorate those who died. For now, she and others send their condolences to the families of the victims of those who died at Brussels, as well as Ankara, Istanbul and other recent ISIS attacks.
"My peers and I are lucky to report that we are all safe and accounted for," Cushman said. "Unfortunately, not everyone will be as lucky or able to report their safety today."