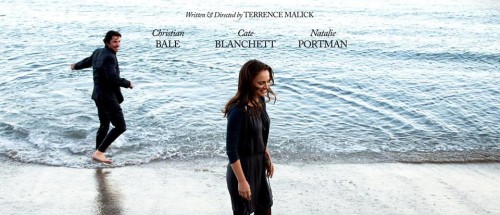 "We have to be sure we are aligned in understanding what the vision of the film is and what his (Terrence Malick's) vision is. It's quite different working with Terry because his priorities are different than any other director," Sarah Green, a producer for "Knight of Cups," the upcoming film by Terrence Malick, said when joined with producing partners Nicolas Gonda ("Tree of Life") and Ken Kao ("Rampart").
Terrence Malick is notorious for his vast amount of footage ("The Thin Red Line," "The Tree of Life"), but how much did he really shoot for "Knight of Cups?"
"We don't have the number off the top of our heads, but it's a lot. In the millions of feet," Green said. "I don't know how many seconds but there's a lot of film in there."
"Knight of Cups" is Malick's seventh feature film to date staying true to the visually pleasing and philosophical driven style. Malick directed and wrote "Knight of Cups" and it was released on March 11.
Christian Bale stars as Rick, a Los Angeles based screenwriter gone to seed as the world around him meshes with the flaws and happenings of his character. After family issues with his father and brother, Rick indulges in the offerings of Los Angeles beaches, mansions, clubs and resorts, as others leech onto his search for love. He also begins to express and learn about the true self that resides in him. "Knight of Cups" also stars Natalie Portman, Cate Blanchett and Brian Dennehy.
"One of the great things about 'Knight of Cups,' as new technology has emerged, where on 'Tree of Life' we shot the vast majority of that on film — which was wonderful and Terry has held onto film as long as possible — but now he's embracing new digital formats," Nicholas Gonda, who has produced two of Malick's films, said. "We shot with GoPro, 35mm and some 65mm, the Arri and of course the traditional film camera, so it's new ground for Terry. He's not only embracing digital, but exploring and experiencing with digital in innovate ways."
"We are all quite similar in our producing style and the way we work is to align ourselves," Green said. "We have an on-going relationship with Terry and when he started talk about this film we got so exited about doing something so modern, so contemporary, so edgy in a town full of possibilities such as Los Angeles. It's going to be very different and feel very different. Every time I try to wrap myself around on of Terry's ideas and work through the process of making a film, I can't help but relate it to my life and get involved, which is one of the most exciting things about Terry's films: they encourage you to look inside."
Malick's impressionistic film was shot back to back with another one of Malick's upcoming projects entitled "Weightless." Both projects were filmed in 50-day periods, one being in Los Angeles and the other being in Austin, Texas. As producers work both on the production side and the business side of filmmaking, they were very hardworking on set to try and minimize any conflicts that might have arisen while conforming to a strict schedule.
"We are based in Austin so we prepped that, then we went to Los Angeles to prep that and then come back to finish in Austin," Green said. "We built that time into our schedule, but it did affect our finance structure because we tired to chose folks who were interested in both so there was no competition between them and everyone would understand that what was good for one was good for the other."
"There are a lot of skills and minds that avoided speed bumps as best we could," Gonda said.
"One of the most remarkable things about Malick's films is finding enchantment," Gonda said. "Audiences can be enchanted and through that apply their own life story and experience to the screen. The audience becomes participants and not just spectators. We hope everyone will walk away with a different way of involving themselves into the story."