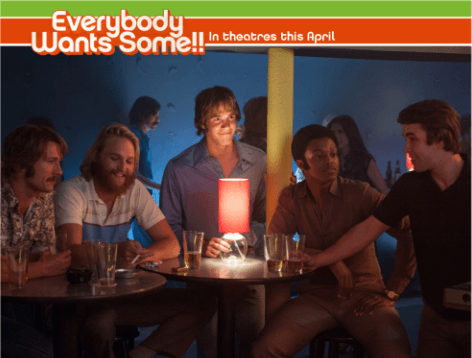 "They (audiences) come in and leave with that; it's timeless," actor Blake Jenner said during a Q&A.
"The style changes, the music changes and the fads change; everything changes but the experience. Coming together as one, figuring out who you are and taking on the town and having fun, that never changes."
The Q&A was on behalf of his upcoming film "Everybody Wants Some!!" which also features his co-stars Tyler Hoechlin and Will Brittain and opens everywhere April 8.
Living up to its predecessors, Richard Linklater fires back with yet another coming-of-age masterpiece. Said to be a follow-up of both Linklater's previous projects, "Dazed and Confuzed" and "Boyhood," Linklater sets out for an "'80s spiritual sequel" while continuing right where those two left off, as the film features a young baseball player entering the first weekend of college ball. "Everybody Wants Some!!" also stars Juston Street, Ryan Guzman, Zoey Deutch and Wyatt Russell.
"We knew coming into this that it had a vibe similar to 'Dazed' and we had to work to keep that in mind," actor Will Brittain said.
"I think we knew that it was going to be a movie that stood on its own, but it has the same feeling when you watch 'Dazed' and that window into that one day," Tyler Hoechlin, who plays McReynolds in the film, said. "It's not like here's the plot, here's the conflict, here's the protagonist, here's the antagonist and then the resolution, 'Dazed' is just not structured that way."
Shooting took place in Austin, Texas on a farm owned by Linklater. The stars of the film stayed in a house together, just like in the film for up to three weeks. Often, they would have bonding events planned by Linklater in the game room where some very intense bets and wages were put to the test.
"We did everything together: Breakfast, rehearsals…" Jenner said. "Milking the cows…" Brittian added. "Cuddling when we had nightmares," Jenner added. "Blake is an aggressive cuddler," Brittian said.
The line in the film "Here for a good time. Not a long time," puts things into perspective for the film, as it represents the college experience for some. The line also had meaning for the stars of the film.
"We were all thinking a version of that while on the film," Jenner said. "What are the odds that we are going to have an experience like this again with this group of guys or just working with Rick (Linklater)? Everyday waking up it was like, all right, one day closer to finishing, we better have a great time because it's not going to last a long time."
"I've been very spoiled and I've been really lucky that the sets I've been on are with some really good people," Hoechlin said. "This one was definitely special. It's one of those things that halfway through you are thinking, oh man this is going to end! It reminds you that if you're going through something good you really got to appreciate it."
"Yeah. Touché. Yeah," Brittain said.