New sexual and relationship violence prevention specialist: "I'm here to talk about anything"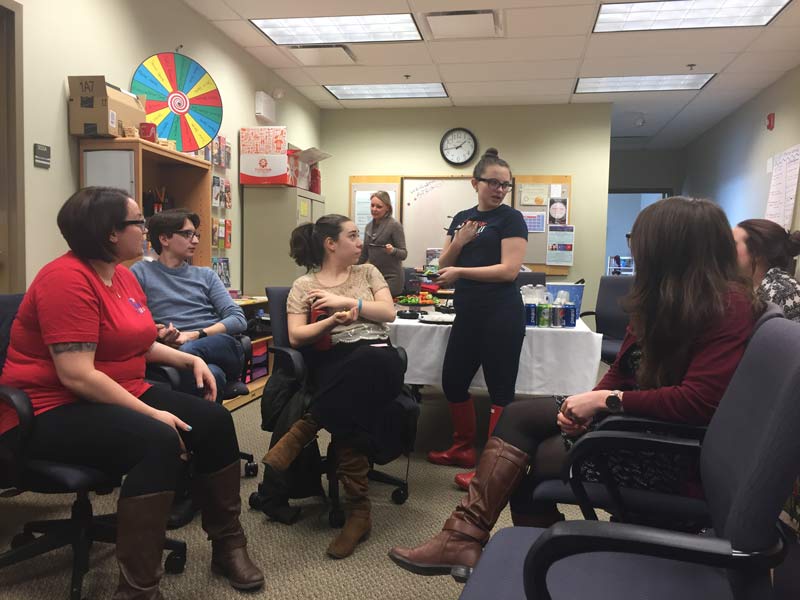 In the Health Promotion and Wellness (HPW) office on the third floor of the student center Friday, an official unveiling of sorts was underway. Hannah Retzkin, the new sexual and relationship violence prevention specialist, hosted a snack and talk open to DePaul's student body as part of Sexual Assault Awareness Month and as a way for students to come by and meet her formally.
Retzkin took over for Rima Shah, who left DePaul late last year. Her role in the office largely centers on prevention efforts, including programs for student orientation and training faculty and staff on sexual and relationship violence prevention measures. Her goal, as well as the goal of others in HPW, is to continue creating creative and holistic approaches to engaging students on topics related to sexual health.
The event invited all members of DePaul's community to come in, grab snacks and chat with Retzkin, who left the topic of conversation mostly open to those who attended. The event was also part of the ongoing series of events for the month on topics relating to sexual and relationship health.
"I love presenting and talking about consent and sex positivity," Retzkin said after the event. "I want to continue to bring those things into the conversation as I work here."
Retzkin has a background in higher education. She graduated from Loyola University and worked in advocacy for seven years. Her most recent experience at Northern Illinois University focused on similar work. She officially started March 1, but before the Friday event, she hosted the "Let's Talk About Sex Baby" event April 7. People who work with Retzkin expressed optimism about Retzkin's role.
"We're very excited she's here, and we're excited to welcome her to the DePaul community," Shannon Suffoletto, director of HPW, said. "We jumped right in."
HPW sponsors Sexual Assault Awareness Month, as well as other events relating to sexual health. For Adair Tishler, a DePaul sophomore who attended the human immunodeficiency virus (HIV) testing last year and other events during their body positivity week, the work of HPW is important to the overall environment of DePaul.
"I think that the topics that HPW cover are extremely stigmatized in our culture and when they are mentioned, the information can be incorrect, non-comprehensive and possibly harmful," Tishler said. "I think that Hannah is extremely open and non-judgmental, which is paramount in a sexual and relationship violence prevention person.  Personally, I think I would be comfortable going to Hannah for any kind of advice."
Tishler also said it's important to keep in mind that "her role is also focused on prevention and a huge part of prevention is not only education, but having people be comfortable enough with you to go to you for education or questions." This is a point Retzkin also talked about.
"I really want the students to know I'm here to talk about anything," Retzkin said. "When talking about sexual violence, it's important to stress that inclusive approach and make sure that everyone is included in the conversation."