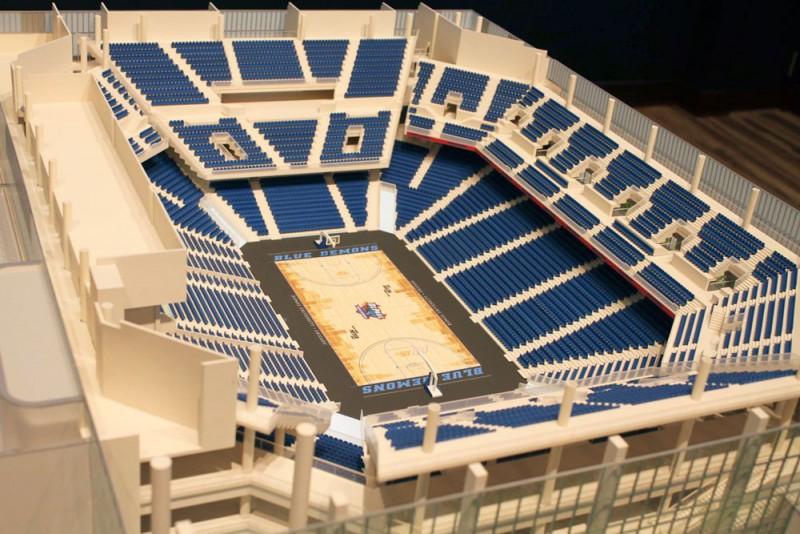 Following a mid-February win over Providence, members of DePaul's men's basketball team stormed the student section at Allstate Arena. Celebrating their biggest win of the season — upsetting the then No. 11 ranked team in the country — the Blue Demons joined students partly because there weren't enough fans to storm the court.  It was the rare moment where students could enjoy success right along with the players, with the student section faced directly behind the basket.
But with the construction of DePaul's new arena, this wouldn't be possible. Once the arena opens in Fall 2017, the way students experience games will likely be drastically different.
Enter the Demon Deck.
The student section, or the now called "Demon Deck," will be raised up to the second floor of the arena, meaning students will have a farther view and it will eliminate most seats for students closer to the floor.
"The idea was really to create an atmosphere that would give students a good vantage point and at the same time, if they wanted to stand an entire game, they would be in their own community," DePaul athletic director Jean Lenti Ponsetto said. "We really wanted to provide them with a concourse area so that there were pregame events, pizza parties, or whatever, you know, students would like for us to do."
Moving the student section upstairs, however, would also free up room to charge additional pricing behind the basket.
At Allstate Arena, DePaul offers season tickets for $144 in the sections opposite along the baseline in the area reserved for students. Single game tickets in advance of purchase cost $30 while single game tickets the day of game cost $33.
The Demon Deck, Lenti Ponsetto said, will be able to hold slightly under 1,500 students. At Allstate Arena, DePaul has the capacity for reserving seats for up to 3,500 students, although Lenti Ponsetto said that DePaul hasn't chosen to do that. DePaul's seating chart on its website shows that DePaul reserves five sections for students, two on the lower level and three on the second.
Lenti Ponsetto said that student seating could be also reserved for downstairs, floating out the possibility of a "seniors only" section as well.
"There is a possibility that we could use both the lower level below the Demon Deck for some students and then use the upper level," Lenti Ponsetto said. "I think it will really depend on what demand looks like.
"It's finalized that it will be a student section. It's whether the section below it will have some students sit in that area."
Lenti Ponsetto said that the Demon Deck was designed with the idea to give students a way to interact pre-game, at halftime and post-game and create more of a "community atmosphere."  She said that separating them between levels "doesn't always lend itself to the ability to do that."
But for students, some are less enthusiastic about the Demon Deck, especially considering the lack of recent success for the Blue Demons.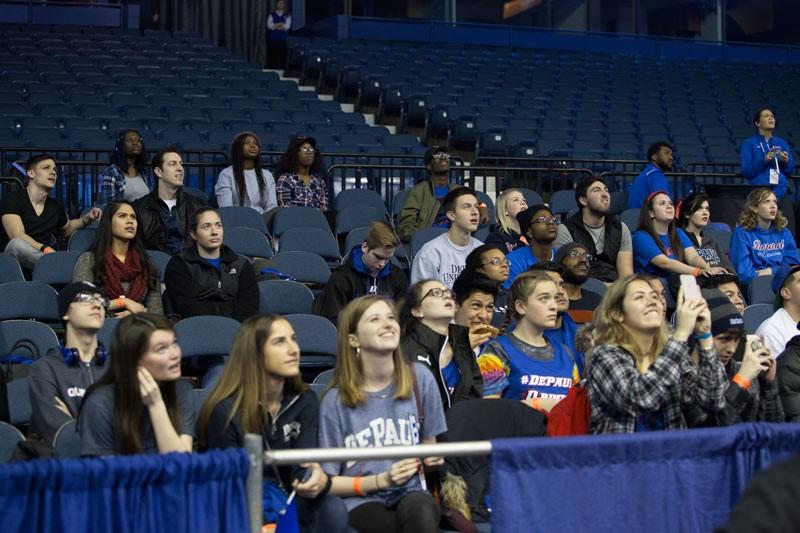 "I think it's a bad idea because the high energy of students in the front set the mood for all of the adults and children sitting behind them," Sean Cooper, a freshman, said in a Facebook post related to the Demon Deck. "But with students so out of sight, the energy will be lost."
It's that energy that could be a concern with students being farther from the court. Although DePaul isn't known for intensity from its student section, fans at places like Cameron Indoor Stadium at Duke or the Breslin Center at Michigan State certainly add to the rowdy atmosphere. DePaul three-star recruit Devin Gage said the energy from the crowd often makes him play harder.
"You may be down 20 points, but if you hear the crowd cheering you on, that can keep you going," Gage said.
While Gage said he doesn't notice the student section specifically, he said he doesn't think it should be a problem because there will be more fans than Allstate. But does he think that students should be closer to the court?
"I think (they) should, that's just me," Gage said.
In the last five years, 12 new men's college basketball arenas have been built around the country. But, only three out of those 12 arenas can fit larger capacities than DePaul's new proposed arena. All three of those buildings have student section seating that is either on the baseline or near center court.
The most recently built arena is the Pavilion at Ole Miss for the University of Mississippi. Ole Miss has a similar capacity to DePaul's new arena of 10,000. A projected study estimated that attendance in the new arena would average about 9,500 people per game for the 10,000 seat arena. However, as The DePaulia has previously reported, both paid attendance and turnstile attendance — those who actually show up to the games — are far off from the 9,500 number. Paid attendance last season was 5,514 while turnstile attendance, or those who show up, was 2,395.
In March, Lenti Ponsetto said that "anytime you move into a new building, there's always going to an uptick in attendance. People want to see what the shiny new and bright thing is."
For Ole Miss, the university's arena opened this season during conference play and the Rebels drew an average of 8,842 fans, up only 10 percent from the previous year's conference play.  DePaul would need a 40 percent increase in attendance to meet its projections.  The University of Mississippi also had a much stronger attendance than DePaul before the completion of its new arena.
Other arenas like the University of Oregon's Matthew Knight Arena saw an increase of 12 percent when it opened in 2011, from 7,122 to 8,018. However, the Ducks have struggled to reach that mark since with attendance being 7,360 over the last five years, even though the Ducks have turned around their basketball program from a 16 win team in 2010 to a 31 win team in 2016.
The University of Nebraska at Lincoln saw the biggest jump in attendance with a 51 percent increase when they moved into Pinnacle Bank Stadium in 2013. The school's attendance has remained steady in the first three years since with an average of 15,551 fans since.
DePaul is banking on a move back to the city will help attendance, making the move from Rosemont to near McCormick Place. The new arena will be seven miles from campus compared to 13 miles from Allstate, but is much more accessible via public transit.
"The reason we are making this move is to enhance and improve attendance to a venue that is a lot more accessible to more of our alumni and certainly more accessible to our students," Lenti Ponsetto said. "The whole initiative is about improving attendance."
The Demon Deck factors into a larger discussion of how DePaul will fill the new arena, set to open in Fall 2017. DePaul's $82.5 million portion of the arena is due by June 1, and the university will recoup its money from four main sources of revenue: naming rights, corporate sponsorships, fundraising and attendance.
Students play a factor in attendance as well. An average of six games occur during the season that are affected by finals and winter break. During this period, the average turnstile attendance has decreased by about 22 percent since 2007.
Students do not have to pay when they reserve tickets to games, but the cost is built into tuition. The university charges a $25 "athletic fee" per quarter, which funds the purchasing of reserved student seats and the ability to host pep rallies and other pre-game activities.  Lenti Ponsetto said this fee would not change when the stadium opens.
But what is changing is that most students will now be sitting upstairs in the Demon Deck.
Lenti Ponsetto said there was consultation for the Demon Deck before approving the final design plans. Besides input from the AECOM, a consultant on the design of the building, Lenti Ponsetto said student groups — like the athletic department's Blue Crew and the Student Government Association — were asked for input as well.
Members from Blue Crew and SGA president Vanessa Cadavillo said former SGA members sat with the architects, and those former members didn't return requests for comment.
"I hope we're in an even better situation where we extend the seating section for our students," Lenti Ponsetto said. "That's what really for me, and I think for our coaches and our students, more than anything else, creates the atmosphere."