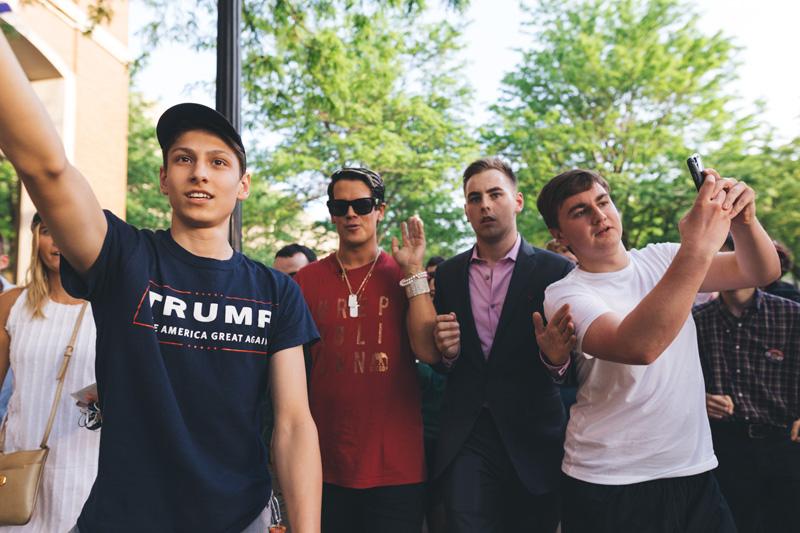 Protesters disrupted an event that featured a controversial speaker Tuesday, causing the Student Center to be shut down and attendees to march throughout DePaul's Lincoln Park campus afterwards.
Milo Yiannopoulos, a technology reporter for Breitbart and a self-proclaimed "internet supervillain," visited DePaul in an event held by DePaul's College Republicans. The event, held in the Student Center, hit max capacity of 550 attendees, most of them supporters of Yiannopoulos' outspoken conservative message.
But during the rally, a group of protesters stormed the stage and interrupted Yiannopoulos, riling up the crowd. One of the protesters was Ed Ward, a DePaul alum who founded Men of Vision and Empowerment, who ran up on stage about 15 minutes after Yiannopoulos began speaking.
Ward stormed the stage with a whistle and yelled "this man's an idiot!" while members in the crowd yelled "get a job!" Shortly after, Ward was joined onstage by DePaul student Kayla Johnson — who had climbed onstage and been removed before the event began — and the noise from the crowd and the protesters drowned out Yiannopoulos.
Meanwhile, a group of about 100 protesters stood outside the doors of the event. Many of these students had stood in solidarity with one another at a counter rally in the Quad beginning at 5 p.m., during which they voiced concerns about ongoing issues of racism on campus. Several speakers mentioned incidents such as April's chalking and the painting found on the quad earlier Tuesday, which included the phrase "F— Mexico."
Police were called to the Student Center and arrived soon after, but didn't intervene, leaving Yiannopoulos upset with the lack of action taken.
Yiannopoulos is being denied entrance back into the Student Center pic.twitter.com/ws7Vuk4KJ5

— Matthew Paras (@Matthew_Paras) May 24, 2016
"You know the funny thing is, we actually may have a shortfall. Breitbart paid a $1000 of their money for (extra security)  for them to do absolutely nothing," Yiannopoulos said.
Yiannopoulos and the crowd decided to leave the Student Center and protest the disruption.  His supporters cheered and proceeded to rush out.
"We can be activists," Yiannopoulos said. "I suggest we walk to the president's office."
The crowd marched around Belden and Yiannopoulos was denied re-entrance to the Student Center, being told that the event was over and he didn't have access to the building.  In a statement from the university, the university said "after prolonged interruptions, featured speaker Milo Yiannopoulos left the venue, encouraging supporters to accompany him, thus ending the event."
It was a vastly different scenario than what some might have expected. At the beginning of the event, Yiannopoulos was joined by freshman John Minster, a member of College Republicans, in what was supposed to be a 20-minute interview session followed by audience Q&A. Fittingly, Minster opened with a question about the opposition Yiannopoulos faces on college campuses. Yiannopoulos specifically cited Black Lives Matter as being a frequent nuisance during his tour.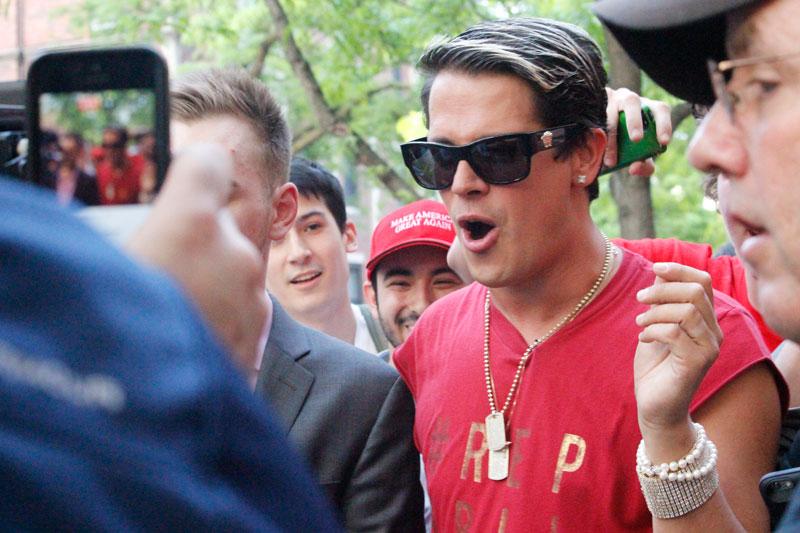 "I don't know why Black Lives Matter protests me. I really don't. Maybe because I'm blacker than they are," he said.
The conversation then moved to feminism, which Yiannopoulos has previously described as being "a cancer."  It was during this question in which Ward interrupted the event, causing chaos.
The protesters themselves faced backlash from members of the crowd. Chants of "build the wall," "CPD" and "Blue Lives Matter"  were hurled at them, and the individual protesters had insults directed to them as well. As one group of crowd members left, a man shouted "you don't have a house!" after one of the female protesters told them to "get out of my house."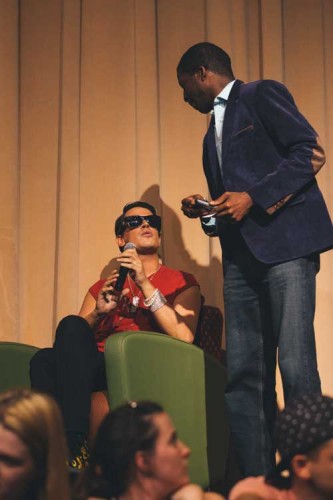 In a video posted to Facebook early Wednesday, Ward said he had no remorse for disrupting the event.
"Let me be perfectly clear, I do not apologize for my actions on DePaul's campus," Ward said. "I don't apologize for refusing to allow a racist, bigot to spew his hatred on DePaul's campus. I don't apologize for shutting the event down. I don't apologize."
As Yiannopoulos marched further down Belden Avenue and into the Quad, he tried to stop occasionally and address the crowd, but was often drowned out by the noise. Yiannopoulos made his way to Fullerton Avenue before getting into a car that left the scene.  
The scene left many students uneasy, upset with the lack of action taken beforehand.
"I didn't expect it to be like this,"  freshman and conservative student Kelly Eisaman said. "This was insane. I know DePaul is like this, a mostly liberal  area. I'm not going to deny that. But I thought things hit the fan. This was ridiculous."  
Eisaman said he was disappointed in the lack of security. A spokesperson from the Chicago Police Department said that one arrest was made, but additional details were unavailable because the suspect had yet to be processed.
"It was a sh- show what happened," he said. "We were minding our own business and trying to listen to someone we wanted to hear."
Others like former Student Government Association senator and to-be EVP of Student Affairs Andrew Willett and to-be senator Michael Lynch said the university should have stepped in beforehand.  
"I personally believe the university should not continue with events that are this controversial," Willett said. "I think they should try to stay a little more neutral. This creates a hostile environment for learning, and our students are not in the best spots right now. Student safety is first and foremost, and this is not productive"
Lynch said "this was something that was brewing for months."  Lynch was also involved in the solidarity protest before Yiannopoulos' event began.
"Everyone has asked the school to step in, and facilitate a conversation," Lynch said. "The school wants to act like that this problem isn't real. The school wants to send out emails and everything else, but it's embedded in DePaul's culture.
"That's what happened today. It was an overflow of emotions."
Before the event began, a member from the College Republicans read a statement from the university that said "we welcome the exchange of ideas in this program, but we also have the expectations that such exchanges will be conducted appropriately."
Following the event, the Student Center was shut down and people were forced to leave. The university said in an email that it will reopen at 7 a.m. Wednesday.
A university spokeswoman said they believed it was the first time the Student Center had to be closed because of an event.
"The university is reviewing events to determine whether any disciplinary action is warranted," a spokeswoman said.
Related: