Former DePaul player Eric Wallace moves from the court to the gridiron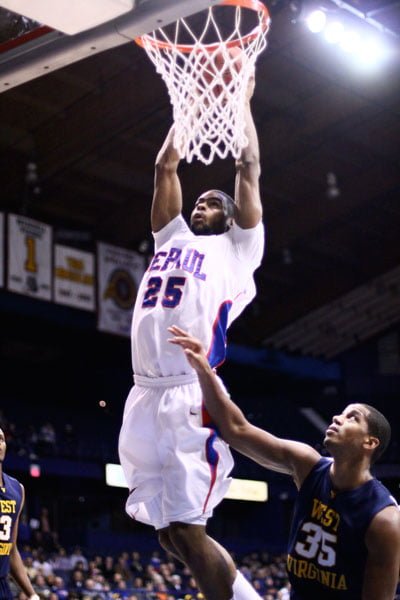 Former DePaul basketball player Eric Wallace has always been passionate about sports, even to go as far as to move across the globe to Australia to pursue an opportunity to play in the Australian Football League. Now 27, Wallace moved back to the U.S. and tried out for tight end on the New Orleans Saints after four months of rigorous training and dedication. Results are pending.
"My training for the NFL began before the decision to commit to football," Wallace said. "I spoke with a number of my friends who play or have played in the NFL, and they expressed their support in the endeavor. I also tossed it back and forth with my father, and it seemed the right decision."
Wallace previously played football until he was 14 years old, when he decided to focus his efforts solely on basketball. His focus was rewarded with praise when he was heralded as a top prospect attending Robert B.Glenn High School in North Carolina.
Wallace joined the DePaul basketball team for the 2009-10 season after transferring from Ohio State. He started in 19 games and played in 24 games total as a guard and forward before exiting the season with a fractured tibia and fibula.
After missing the 2010-11 season because of the injury, Wallace was granted a release from DePaul and concluded his college basketball career at Seattle University. After being touted as one of the top recruits, many would have thought Wallace's athletic career was finished in Seattle. However, soon Wallace was well on his way down under to try out in the AFL combine.
"I was enticed by the idea of making history in an relatively unknown sport, relative to mainstream U.S. sports that is," Wallace said. "There had yet to be an American to play in their professional league, and the league wanted to tap into the extreme athleticism and size that the U.S. has avaliable in its departing collegiate athletes."
After competing for a spot in tryouts, Wallace accomplished his goal and became the first American athlete to make the lateral move from basketball to Australian football after the North Melbourne Kangaroos picked him up as a rookie. He spent three years in the league, making a name for himself as "Beast" as well as making "great friendships."
An Australian Rules football game looks most like a rugby game in the United States, yet it also incorporates elements from soccer, American football and basketball. The field is egg-shaped and is both wider and longer than an American football field, and like American football, players are allowed to complete forward passes but must either kick or hit the ball with a fist to a teammate. The players also tackle each other to stop the opposing team; however they do not use pads. Like basketball, play begins with a center bounce much like a jump ball, and players must dribble every 16 yards they carry the ball. Like soccer, goals are scored with kicks. At each end of the field, four uprights mark the goal. The inner uprights are worth six points while hitting the post or outer uprights is worth one point. The league plays from March to August and finals usually start around September.
Wallace played the position of ruckman in Aussie rules, where he utilized his imposing 6-foot-7 inch, 225 pound physique and basketball past to grab throw-ins where the ball is thrown vertically in the air and catch balls offensively. The ruckman is typically the largest player on the field because of the height and strength needed to battle the ball away from the other team's ruckman.
"North Melbourne Football Club showed me how to be a professional athlete," Wallace said. "The learning curve was extremely steep, (but) I learned how to adapt quickly and became a formidable Aussie rules footballer in the short time I was abroad."
While in Australia, Wallace learned how to train and diet like a professional athlete and credits his intense study of great Australian footballers as his recipe for success in the foreign sport. Since returning to the U.S. this December, he has been training similarly through "emulation of the greats."
Before returning, Wallace weighed his options after being offered overseas basketball opportunities and a continued opportunity in the AFL, but ultimately decided to commit to American football after discussing options with friends and his dad.
After four months of training, Wallace received a message from ex-DePaul coach David Booth, who now works as a scout for the New Orleans Pelicans. He mentioned the Saints were always looking for athletic talent, especially after the success of former Saint and college basketball player Jimmy Graham.
"To be an elite athlete like (Wallace) is, you have to have drive," DePaul men's basketball assistant coach Billy Garrett said. "There are probably four or five tight ends in the NFL right now that didn't play college football . . . (and) when you train as a Division 1 elite athlete for four years (and) you can catch a ball, you have a chance."
Garrett joined the DePaul coaching staff in May 2009, and helped coach Wallace during his one season at DePaul before Wallace's midseason injury that put him out for the remainder of his time at DePaul.
"(After returning home), I began working with Zach Frazier of D1 Sports Winston-Salem," Wallace said. "Over the course of 2 to 3 months I was learning the basics of football namely: route running, ball skills, football stance, et cetera. I would also YouTube a number of premier tight ends in the league like Jason Witten, Antonio Gates, and Jimmy Graham."
Wallace is also committed to striving for greatness outside of his athletic life as well. He is the founder of his own brand, Polymathic Ambitions, which he said is still in its "grassroots" stage.
"A polymath (is) a treasured individual, a jack of all trades, a Renaissance Man, a multidimensional being," Wallace said. "(A polymath must) look to experience a multitude of professions, careers, skill sets, hobbies, et cetera. Not only as an athlete, but as a person."
His dedication to his brand was part of what brought Wallace to the Saints training camp. He strives to achieve in many different enterprises including, but not limited to, athletics. After the AFL, the NFL was a natural next step for Wallace.
"I want my life to reflect my polymathic ambitions," Wallace said. "From collegiate basketball, to professional basketball, to Australian Rules Football, to potential NFL. This is just the beginning."