DePaul community murals honor university icons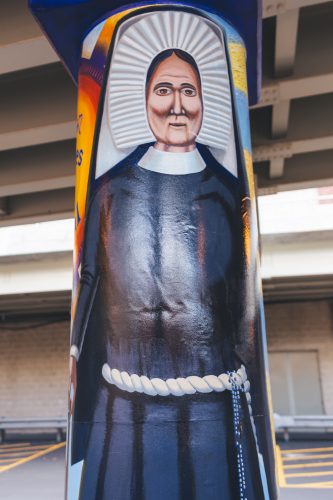 Documenting a legacy can take many shapes and formats — portraits adorning a room, names on arenas and other buildings or an entire musical — but for DePaul the process of honoring its past, present and the people who have walked around its campuses will take the form of murals on pillars.
Students walking by Cacciatore Stadium, near the Fullerton "L" stop likely noticed the new murals. In rich, ethereal blues and lively oranges and reds, figures from DePaul's history come to life thanks to acrylic paint and Brother Mark Elder and his Art 291 class.
The art, conceptualized through small group discussions last spring and created by Elder and his 291 class, appeared in the summer — first through outlines then through paint.
From those discussions, a vision started to come to life.
"This is meant to be an illustrated history of our university," Elder said. "Over the next five years there will be more installments (…) we'll bring out people who are respected at DePaul and in the DePaul community."
Some, like Ray Meyer, were easy and well known choices. Others, like Benjamin Hooks — a 1948 DePaul Law School grad who fought for civil rights — and Dolly Staton, an Olympian who ran track when there was no women's track team at DePaul, were also easy and depicted a lesser known part of DePaul's history.
Mark is no stranger to murals at DePaul. On the other side of Wish Field, St. Vincent DePaul's face watches over games. For the students who were able to help bring this year's murals come to life, the experience has been life changing.
"It's great to see the murals from start to finish and leave a physical trace of myself on campus," Emily Spurgeon, a senior art major, said. "Getting to work with great people on these projects and seeing the finished product was an added bonus."
The project is not finished yet. Over the next five years, Elder said, there will be more installments showing figures and events important to the DePaul community. Events also won't be locked to the past — there is a likely possibility that current figures may be immortalized, though not before their time here is done.
"We want to bring out people who are respected at DePaul and in the DePaul community," Elder said. "One plan might be a pillar featuring the events of 1968, which had a lot to do with reshaping DePaul. As we get closer to contemporary times we might have more discussions about who to put there."
There are 24 planned compositions thus far. The plan is to continue finalizing designs and who will have their likeness on a mural next. Until then, Spurgeon and others in the DePaul community will admire the works under the "El."
"It's nice to see artwork by students on campus because there's no place on campus where art by students is shown," Spurgeon said. "Students get to walk down history and think about what it means to them and to the campus, as well as what they want their own legacy to be."