House Divided: Megally brothers face off on the field
Growing up in the Megally family household, Simon and Aidan Megally would most likely be found in their unfinished basement playing one-on-one soccer against each other. It was down there that the Megallys first practiced perfecting the moves they would some day use on opponents at Wish Field and Loyola Soccer Park.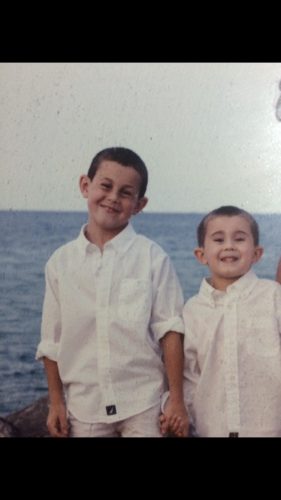 "Those were the days," Aidan said. "We would set up two little goals and just go after each other for hours."
"Our basement was a decent size and wasn't super nice, so
we could kind of beat it up," Simon said. "We would get done with practice, go home, do our homework and then we would be in the basement playing soccer all night."
Their days of playing in their parents' basement are now over, and the Megally brothers now compete at the college level. Simon is a senior forward and captain for the DePaul men's  soccer team and his younger brother Aidan began his freshman year at Loyola this fall, playing midfield for the Ramblers.
Four years after Simon pledged himself to DePaul, he will finally have his first chance to play against his brother when the Blue Demon's face off against the Ramblers Tuesday.
"I don't even know what to expect (when we play)," Simon said. "I've been looking forward to this (since) the day he committed (to Loyola). I think at first I'm just going to be laughing because he's going to be on the other side of the field."
Despite playing for the same club, the Sockers, from a young age until high school, Simon and Aiden have never played in an organized soccer match together. In fact, the only organized play they have seen together were two times Simon was able to visit Aiden's club team during DePaul's long winter break. During the practice, the two played on the same team during a scrimmage.
"It was interesting turning the page from being brothers to being teammates," Aidan said. "I'd say we're pretty competitive."
(After the practice when) we were on the same team, we ended up not talking the rest of the ride home because we were so angry at each other," Simon said.
Unsurprisingly, the brothers were soon on great terms, and they've really enjoyed the time they've been able to spend together now that Aidan lives in the city. The past few years, they weren't able to watch much of each other's matches due to schedule conflicts and proximity. However, now that they both live so close, Simon has been able to  watch five of Aidan's home games, and Aidan has seen two of Simon's.
Aside from their hours in their basement, the Megallys learned their love of soccer from their summers with family in Ireland. Their mom is a first generation Irish immigrant, and the Megallys visited their relatives whenever they had free time.
"When we were in Ireland our backyard was really big compared to backyards here," Simon said. "So it was all about activities in the backyard. We were either hitting golf balls in the backyard or playing soccer. I got big into the English Premiere League (in Ireland) as well, so I was always watching."
Although they spent time in the same soccer club and played together in Ireland and their basement, the Megallys have molded into two different types of players. They both approach the game differently and play soccer to their own strengths.
"If we're both in the attacking mid role, I'm very sporadic and like an Energizer bunny," Simon said. "I'll run all over the field, and, sometimes, I'll run too much and I'll try to force too many passes. He has the opposite. Calmness is something I've worked on over the years, but, after watching him, he has something I never had when I was his age."
"He's more aggressive (than me)," Aidan said. "He's more a physical player and I'm more tactical. I think he's more athletic too."
When pressed to elaborate about how Simon is more athletic, Aidan said to not include the athletic part because "that will go straight to his ego", but he later gave his permission to print the quote.
Similarly Aidan had to adjust to the more aggressive play of college-level soccer.
"It's a lot quicker, more physical,"Aidan said. "I definitely get tired fast because the game is quicker, so you have to keep up with fitness. You definitely don't have as much time on the ball."
Aidan chose Loyola after a lot of time deliberating which school would be best for him, but in the end he and Simon agree he made the right choice.
"He wanted to be his own player," Simon said. "He definitely looked (at DePaul) a bit, but I think in the back of his head (he knew) it'd be better for him to go somewhere else. As much as I want him here, I think it was better for him to go somewhere else."
The Megallys will play each other Tuesday when the Loyola men travel south to Wish Field at 3 p.m. Tuesday.
"I'm very excited," Aidan said. "A little nervous."
"I think it's one of those special moments that I'll always remember," Simon said.