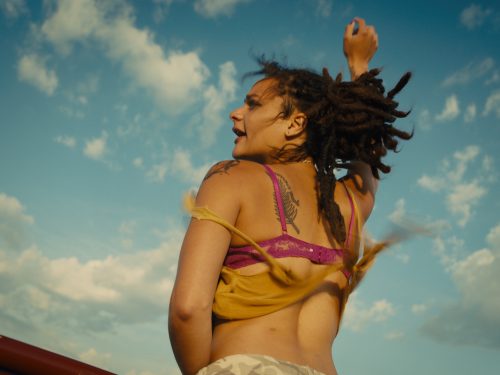 For Star, played by actress Sasha Lane, casted merely weeks before the initial scheduled date on spring break in Panama City – her attractive, bold decision-making sprouts the dawn of a new dream.
In a parking lot of a midwestern Wal-Mart (coincidentally a hot spot for director Andrea Arnold to cast her beloved millennial-aged ensemble), Jake (Shia LaBeouf), with his charming eroticism but daring approach, lures Star from her dumpster-diving for dinner routine and her reproachful, abusive relationship with her father to join a group of misfit young adults on a magazine sales road trip.
Marking Andrea Arnold's fourth feature film following her 2011 adaptation of "Wuthering Heights," "American Honey" excels her capability of shining her frequent low-income main characters into a rather enlightening successful arc.
Quickly, Star is paired with Jake to comprehend the trials and tribulations of the magazine crew. Without Jake's daring attentiveness and sly door-to-door sales tactics, Star's near future would be left abandoned at the next scheduled truck stop without hesitation by the group's disdainful leader Krystal (Riley Keough). Jake's ambiguous relationship with Krystal halts Star's initial interpretation of Jake's demeanor (his unqualified use of a small handgun or his victimizing in-home sales) but Star's lofty aggression towards the new opportunities gratifies her many right and wrong doings.
What really exemplifies Arnold's film is the risky behavior associated with trying to generate a few bucks. Immersing itself on an actual road trip with disorderly runaways from every end of the U.S., the curated free-roaming feel to the plot demands a natural and bold realization to the happenings of Star's unforeseeable end.
Arnold tosses the viewer into sequences with contemporary pop tunes that hone the emotion (whether subtle or not) of the drifting stratagems floating across the bland route from Texas to South Dakota. With purpose, "American Honey" extends far past the road trip genre to describe an environment with pure understanding and heightened realism.
The script, which is also penned by Arnold, has a near three-hour runtime initially may seem extensive. Although that extent is an accurate window of time for the aimless, cynical agenda that Star and the rest of the money-hungry misfits abide to.
Star soon realizes her niche for successful magazine subscriptions when she reluctantly flees away with three lucrative, cowboy boot wearing southerners who fall victim to Star's persuasive, tipsy nature. It's Jake's tendency to howl like a wolf – abruptly ending Star's afternoon with the boozing cowboy trio – as they skedaddle away in a stolen car to a lonesome field as the two stars share an intimate scene of perpetual connection.
As Star begins to grapple with her recent business venture, the tone of the movie is dictated through her experiences. Through random encounters with a trucker in a fiery oil field to a late night obligatory meeting with Krystal, Arnold escalates scene after scene correlating to Star as she lives, involving herself within her reality. The movie does fall short in encompassing the rest of the magazine crew and their overall arcs, but the vibrant thrill of LaBeouf and Lane overwhelmingly make use of the allotted screen time.
The aimless linger of Star's presence and the meandering of storylines is lasting.
From one of the first scenes dancing along to "We Found Love" on a cashier counter, the film starts a spectacular journey of living in the moment. The empty landscapes of the midwestern plains provide a surreal layer to the eccentric ensemble.
"American Honey" proves the depths of storytelling, and the subsequent success of Andrea Arnold and her portrayal of an emerging "Star."