Women's soccer falls in Big East tournament
The DePaul women's soccer team concluded their season with a 5-4 penalty kick loss to Georgetown in the Big East semi-finals Friday.
After a full game and two overtime periods, the match was concluded in penalty kicks. In the final penalty kick for DePaul, the Blue Demons' shot ricocheted off the crossbar and Georgetown won.
However, DePaul began the game with an early lead.  In the 18th minute of the match, senior defender Taylor Schissler sprung sophomore forward Franny Cerny with an 80-yard pass from DePaul's zone that landed in the opposing team's box. Cerny outraced the Georgetown defender and scored.
However, in the second half, the Hoyas' offense finally came alive.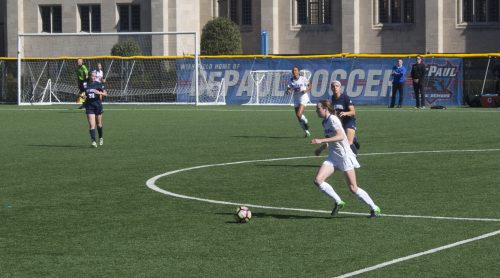 In the 65th minute of the match, graduate student defender Marina Paul scored after the team got a chance on a corner kick.
The Blue Demons ended their season with 45 total goals, one goal short of the school record set by the 2004 team.
Junior midfielder Alexa Ben ended the year with seven goals and three assists. She is second in all-time assists at 21 and is fourth in total career points at 61.
Senior forward Abby Reed finished her career with DePaul the third all-time career goal scorer for the Blue Demons with 27 goals.
The women's team finished the season 10-6-2 overall and 7-2 in conference. The team had the worst overall record since DePaul joined the Big East in 2012 due to their lackluster start in the beginning of the season. Conversely, however, the women recorded their second-best Big East conference record ever and out-scored Big East opponents 25-9 with their red-hot offense.
Next year, three of the five leading scorers will return to the team, but they will need to find another forward to step up and score for them when senior forwards Ana Greik and Reed graduate.