Blue demon rundown: men's soccer
The DePaul men's soccer team fell in the first round against Villanova in their first Big East Championship game Sunday.
DePaul's junior goalkeeper Quentin Low stood tall for 110 minutes, but could not fend off the Villanova shooters during the shootout. The Villanova Wildcats won 3-1 after five shots in the shootout.
With their win Sunday, Villanova advances to the Big East Championship semifinals Thursday.
Low was tested six times during the game and him the back line managed to keep a 23-shot attack by the Wildcats a 0-0 game after double overtime.
Although they were outshot 23-14, the Blue Demons had their fair share of chances. In the 83rd minute, the Blue Demons had two chances that nearly put the team up by one goal late in the game.
Senior midfielder Simon Megally crossed a ball to sophomore forward Jake Scheper who got his head on the ball. Unfortunately, his shot ricocheted off of the post.
Soon after, senior defender-midfielder Kevin Beyer shot a ball that hit the crossbar.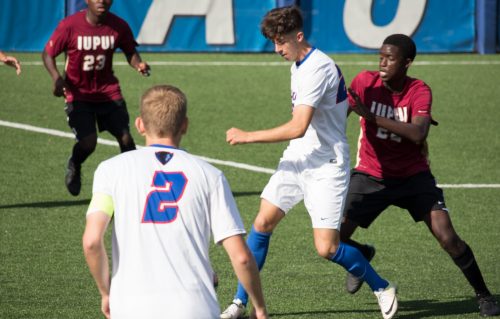 This season marks the end for team leaders and seniors forward Erik Rodriguez, defender Caleb Pothast, Megally and Beyer.
Megally and Rodriguez recorded seven goals each this season, a career high for both players.
The men outscored their opponents 28-21 this season, however, many of the tallies the team put up before conference play and were plagued with scoring woes midway through the season.
Despite their trouble, the team rallied late in the year and managed to make a playoff push by getting to the sixth and final spot in the Big East Tournament.
The future still looks bright for the Blue Demon men in the coming years.
Junior midfielder Hans Wustling ended the season with 16 career assists – only six assists behind DePaul's all-time leader Klaus Lunde.
Much of the future rests with its current freshmen. Forward Stijn van der Slot had three goals and two assists this year and defender Max de Bruijne had three assists.
Freshman forward and midfielder Zach El-Shafei had two goals and two assists during the season, and recorded the double overtime thriller goal against Butler.
Look out for the Blue Demons' young core to step up and potentially win the Big East in the next few years.